Articles
A Creative Underwater Shoot in the Channel Islands

Has anyone else gotten ready for a dive trip months ahead of time? While waiting for the date to arrive, you start planning out all sorts of images in your head. Having already created a shot list, you determine what gear to bring and dream of the conditions that await you. Then Mother Nature throws you a curve ball.
Last year I was lucky enough to help lead a four-day trip to the Channel Islands in Southern California with Bradley Photographic and Backscatter Underwater Video & Photo. But while I, like everyone else, had planned to shoot the kelp forests the Channel Islands are known for, we were in for a rude awakening. Coincidentally, the group departed the same day a massive swell hit the California coast, forcing our boat to anchor on the leeward side of Catalina Island for the vast majority of the trip. To add insult to injury, the entire side of the island was devoid of kelp, and in its place the invasive sargassum algae had taken hold.

I could not be "swayed" from shooting at slower shutter speeds… I found I was constantly looking at subjects in a new light, not just at "what" the subject was, but how it was reacting to the environment. This large clump of eel grass was getting blown around with the surge, so I stayed here and shot at many different speeds until I got a look of movement that I liked. This was shot at 1/5s with two 4,000-lumen video lights at 3/4 power

So much for my artistic visions of light beaming through kelp canopies, being bombarded by sea lions, or slaloming around giant oil rig beams. But after a few dives of the same garibaldi and sargassum, something changed. Having the same subjects on each dive forced me to try different techniques and compositions that I otherwise would likely have never thought of. I started playing with self-modeling, ambient-only lighting, and slow shutter speeds. I felt a renewed freedom, which allowed me to appreciate the same subjects differently on every dive. It also brought back some of the creative fun and uncertainty that I had experienced when I first started photography.
By the end of the trip I felt rejuvenated, ready to continue trying new techniques back at home and happy to have enjoyed the trip with a wonderful group of divers. And, to top it off, on our last day we were lucky enough to encounter a bit of kelp at Anacapa Island! Just remember, when life gives you lemons, if you squeeze hard enough you're sure to get some juicy rewards.

Since video lights have a much lower output than strobes, I tried using that to my advantage. I worked on lighting subjects close to me with my video lights, and allowed the light fall-off to keep backgrounds as silhouettes. This was shot with a single 4,000-lumen video light at 3/4 power

The fields of sargassum algae reminded me of the golden Californian hills. I slowed my shutter speed to 1/13s to get a windswept look and got close to further bring out their color with two 4,000-lumen video lights at 1/2 power

Once I got stuck coming up with ideas for just fish and algae, I started adding divers to the mix. Here, Jason Bradley shows off his (patented) fish call of tapping his dome port to get the attention of a garibaldi

What to do when you run out of subjects? Put the camera on a delay and do some self modeling. The hardest part about this shot wasn't the setup; it was trying to get seated on the rock. As I saw a lot of large boulders, I thought it would be fun to do a thinker-esque pose

Another self modeling shot, this time positioned near a large sea fan. Since you can't see the exposure while modeling, you have to estimate where to be in the frame and count down in your head to know when the camera is going to take the shot

The highlight of the trip happened shortly after our departure from the dock in Santa Barbara. As our boat was heading out to the Channel Islands, a large pod of dolphins started bow-riding, and due to the bioluminescence in the water from plankton, they looked as though they were glowing. This image was shot at ISO 64000!

As image stabilization continues to improve in cameras, it allows you to shoot at much slower speeds and still produce sharp images. Here, I slowed down the shutter to 1/5s to show the swaying motion of the sargassum algae

Playing with strictly ambient light helped me to think more critically about highlights and shadows. I often shot backlit subjects to highlight edges of the reefs and add sun rays to help fill the negative space in the water column

Trip leader Jason Bradley found the promised land! On our last day we finally found kelp forests at Anacapa Island

---

Bradley Photographic and Backscatter have another Channel Islands trip scheduled this year from September 22–26.
RELATED ARTICLES
Be the first to add a comment to this article.
Newsletter
Travel with us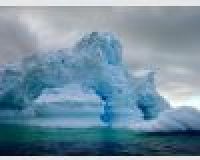 Antarctica
Plan Your Adventure >
Featured Photographer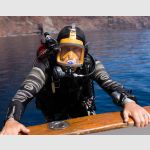 Jason Isley
Expert Photographer
Jason left UK in 1995 to travel Southeast Asia and soon discovered scuba diving in Cairns, Australia. Having completed his PADI Divemaster he then trained as an underwater cameraman and towards the end of 1996 joined Simon...