Articles
From Compact to DSLR: Testing SeaLife's Flex-Connect Arm System
Editor's Note: SeaLife supplied Flex-Connect arms and accessories to DPG to test out in a variety of conditions with different camera setups.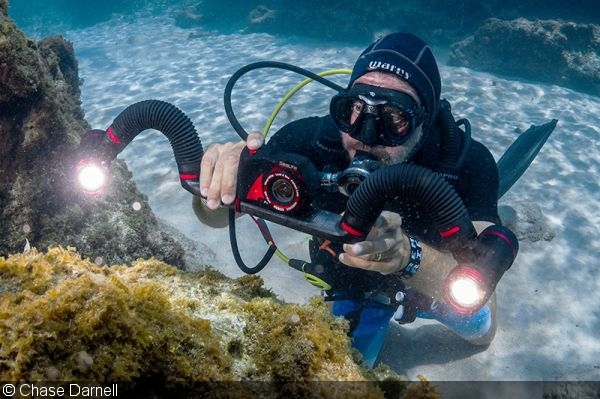 Maybe it's just the analogy to our own anatomy, but for many the notion of strobe arms has always been associated with two (or more) straight, solid poles locked together by a clamp. But is this really the most streamlined, user-friendly way to attach strobes to your camera system? Maybe we should be a bit more "flexible."
The concept of flex arms isn't revolutionary in underwater imagery. For years, videographers enjoyed the flexibility and versatility of bendable arms connected to a constant light source. Increasingly, however, manufacturers are hoping to apply this technology to still imagery—from the novice all the way to the pro-level system.
SeaLife is one such company, having released the comprehensive Flex-Connect system of trays, arms, grips and accessories. To see just how well this system would meet the demands of a compact camera or DSLR user, we tested it out with the SeaLife Micro 2.0 permanently sealed compact camera, as well as the mid-level Nikon D7000.

We wanted to test how Flex-Connect arms would perform with both macro and wide-angle subjects—and across the camera level spectrum, from compact all the way up to DSLR (shot with Nikon D7000 and Flex-Connect)

About the SeaLife Flex-Connect System
SeaLife's Flex-Connect system is comprised of more than a dozen elements, including trays, grips, and video/strobe adaptors. Flex-Connect ball joint adaptors allow the arms to be connected to any standard 1" ball, while Y-S adaptors make mounting strobes directly to the arm possible. This means the system can be customized for virtually any camera, be it a proprietary SeaLife Micro 2.0, GoPro Hero, or a DSLR.
The heart of the system is the Flex-Connect arm, which features a 100-degree bending motion. The arms are manufactured from fiber-reinforced polycarbonate and stainless steel for increased durability. Traditional flex arms can pop apart when bending the arm too far, but the Flex-Connect arm has an internal locking mechanism that will not come apart even when trying to bend the arm beyond 100 degrees. The segments are 7 inches in length, but can be combined with a quick "click" to expand to 14 inches, or even longer, if needed. This audible "click" is part of SeaLife's proprietary Flex-Connect technology, whereby each element is connected with a single, convenient snap.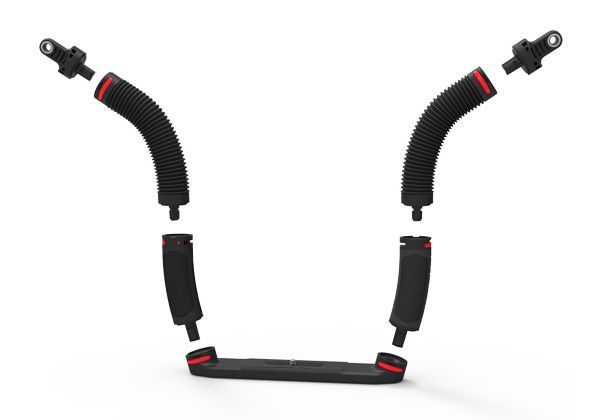 Testing SeaLife's Flex-Connect
Gear Used
Compact Setup:
SeaLife Micro 2.0
Sea Dragon 2500 Photo/Video Lights
Flex-Connect Dual Tray
Flex-Connect Grips
DSLR Setup:
Nikon D7000
Sea & Sea MDX-7000
Sea & Sea YS-D1 Strobes
Flex-Connect Arms
Flex Connext Y-S Adaptors
Flex Connext Ball Joint Adaptors
The goal of testing the SeaLife Flex-Connect system was twofold: First, we wanted to assess the quality and performance of the product. Secondly, and on a larger scale, we wanted to examine whether Flex-Connect arms provide a viable alternative for both compacts and larger formats such as mirrorless cameras or DSLRs. When testing the Flex-Connect system, we evaluated it on its own merits as well in comparison to our years of experience using traditional arms and other similar flex arms.
For the DSLR test, we chose to use the mid-level Nikon D7000. We made this decision as this camera, while not a bulkier full-frame DSLR, is significantly larger than the kind of compact camera that the arms might normally be associated with. Likewise, we attached mid-sized Sea & Sea YS-D1 strobes.

Talk about flexibility: The Flex-Connect arms can be adjusted to a variety of positions, and you can even quickly "pop off" a light for off-camera creative lighting (bottom-left image)

Flex-Connect with a Compact Setup
The SeaLife Micro 2.0 is extremely simple to set up and start shooting. With such an easy-to-use setup, it was very relaxing to dive knowing that, even as I encountered different lighting conditions, the camera was already taking care of exposure. The camera truly caters to shooters who desire to focus more on their dives and less on camera functionality. The Flex-Connect system complements the ease-of-use of the Micro 2.0 beautifully, allowing for easy repositioning of your light sources. Furthering the straightforward approach of the camera design, these arms really cater to a smooth and easy transition from straight arms to flexible ones.

Flex-Connect arms help simplify the process of strobe adjustments, leaving more time to capture unique moments, like this charging eel (shot with SeaLife Micro 2.0 and Flex-Connect)

With the Flex-Connect system, you don't have to worry about multiple arms and clamps. The Flex-Connect arms are easy to adjust, making changing shooting orientation a simple process. With the ease and fluidity of these arms, a photographer keeping things streamlined with the Micro 2.0 is able to experiment with different lighting techniques without the hassle of tightening and loosening clamps, which can be tricky and time-consuming.
I found the arm system was very sturdy and held its position well. Even while shooting video and swimming with a subject, the lights did not deviate due to drag in the water. In addition, unlike many other flexible arm systems, with the SeaLife system, readjustment of the arms produces virtually no noise. This stealthy arm system greatly improves the chances of catching unique behavioral images by not frightening the subject when adjusting the arms.

Switching from macro lighting to wide-angle—like when a turtle flies by—doesn't involve tightening and loosening of clamps when using Flex-Connect arms (shot with SeaLife Micro 2.0 and Flex-Connect)

The Flex-Connect system also proved very functional for instances of close-focus photography. With the ability to bend the lights tight to the camera and aiming forward, it was possible to light both sides of a subject even when just 12 inches away.
The addition of continuous lights was necessary while shooting in swim-throughs and under ledges, and made shots of some medium-sized macro life possible. The flexible arms made it a breeze to readjust light position to ensure the entire field of view was receiving the proper exposure.

Our most dramatic light repositioning is when we switch from landscape to portrait orientation. This task is made much easier with the flex arms

Flex-Connect with a DSLR Setup
By Joseph Tepper
The Sea & Sea D7000 housing used for this review features the typical built-in handles designed to allow the direct mounting of strobes via an arm system. In this case, it was easy enough to attach Flex-Connect arms via Flex-Connect Ball Joint Adaptors and standard clamps. The modular nature of the Flex-Connect system had a certain simple elegance: I could snap together the system with three clicks—one for the Y-S strobe adaptor, one connecting the two 7-inch arms, and then finally the ball adaptor. With another couple of clicks, I could extend the arms to 14 inches.

The Flex-Connect arms look right at home on a DSLR setup, and by connecting two together you can increase the span of your strobes to 14 inches

When I first assembled the system above water, my instinct was to leave the arms to the side, as I would normally do with traditional straight arms. Instead, I found that bending the two arms over the housing proved a more streamlined, compact solution. But it also came with an added bonus, serving as an impromptu handle. I can honestly say I've never had an easier time carrying around my bulky DSLR housing than with these arms folded over. For example, when exiting the water back onto the boat, I could stick my arm through the loop to hold the camera while keeping my hands free to hand up my fins.
The fiber-reinforced polycarbonate and stainless steel gives them a simultaneous feeling of flexibility and stability. One downside to the heavier material was the added weight to the system—my rig was somewhat less buoyant and I don't know of any arm floats that would fit the diameter of the Flex-Connect arms.

While it became more of a struggle to light large wide-angle scenes with the flex arms, they did prove easy to maneuver when doing close-focus wide-angle (shot with Nikon D7000 and Flex-Connect)

When shooting super-macro with a diopter, the front of my camera is often within an inch of the subject, meaning the strobes have to be as tight to the housing port as possible. It can be difficult to achieve these tight angles arms and clamps, but with the 100-degree (in any direction) mobility of the Flex-Connect arms, I could put the strobes where they needed to go—and let the arms figure out how to make it work.
When it came to shooting wide angle, I did find using the Flex-Connect arms a little more challenging. I have come to rely on providing even strobe coverage by paying attention to the angles formed by the straight arms and clamps. With flexible arms, you can certainly place the strobes in the required position, but I lost some frame of reference provided by the angular nature of traditional ball and arms.
Having said that, with the controls of a DSLR being more complex, it's really nice to not have to spend as much time messing with joints and arms. All that tightening and loosening is really amplified when you also need to worry about manual exposure, histograms, or focus bracketing. If there's one thing we've learned from testing out SeaLife's Flex-Connect system on larger cameras, it's that all the benefits of flex arms apply just as they do when used with compacts.

Some flexible arms produce a squeak when the arm is moved. The Flex-Connect arms are silent and sturdy, so it's possible to capture behavior images without frightening the subject (shot with Nikon D7000 and Flex-Connect)

Who Should Consider the Flex-Connect Arm System?
Without a doubt, the simplicity of the Flex-Connect system pairs wonderfully with the ease-of-use of the Micro 2.0. But this shouldn't put off the user of a DSLR or mirrorless camera from setting aside balls and stick arms to give flex a try. There are a lot of positives, including the time saved not having to constantly tighten and loosen clamps and the flexibility to maneuver strobes tightly. And then there are the little things, such as the luxury of creating an improvised carrying handle by folding over the arms.
Sure, it will be hard to convince traditionalists to make the switch to flex arms. And for some situations they may be outmatched by extreme currents or heavier, bulkier strobes. But it's really hard to beat the flexibility, simplicity, and value of using arms like these.

RELATED ARTICLES
Be the first to add a comment to this article.
Newsletter
Travel with us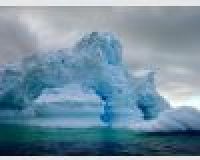 Antarctica
Plan Your Adventure >
Featured Photographer
Todd Winner
Photographer
Todd began diving and creating underwater images in 1990. Since that time he has had the honor of receiving numerous international awards for underwater and travel photography.