Articles
Brian Skerry Explores & Shoots One Of The Last Pristine Reefs
July 21, 2008 @ 02:00 AM (EST)
In the wake of the recent stories that we've published regarding shark tournaments in America, and the House of Representatives last week approving the Shark Conservation Act of 2008, we felt it was appropriate to point out a great feature in the July issue of National Geographic by Kennedy Warne and shot by our friend Brian Skerry. They headed to Kingman Reef, part of the Line Islands Atoll in the middle-of-nowhere Pacific, and described by Marine Ecologist Enrique Sala as one of the last remaining truly pristine reefs in the world.

Sala explains how the bio-mass equation on Kingman reef is very different from some of the colorful "pretty" reefs that we are used to seeing. Today's reefs are adorned by myriad colorful reef fish, and the bio-mass is centered around this population of prey, as it relates to the food web. Whereas a truly healthy reef such as Kingman Reef has its bio-mass centered around the predator population. While prey reproduce quickly and replenish populations several times per year, predators reproduce less frequently and in smaller numbers. Predators also live longer - at least in the absence of man they are designed to live longer. Over 85% of the bio-mass of Kingman Reef is comprised of top predators, and of that number, 3/4 are sharks. This is the total opposite of what we are accustomed to observing , and is indeed counterintuitive to what we see on land, where few large predators have a seemingly endless supply of prey.

The take away from this great feature is how reefs can unravel in a matter of decades from the top down, eventually turning healthy reefs into ecological wastelands, as we have witnessed with many reefs around the world. Humans have fished a significant portion of the larger top predators from our reefs and oceans, and if we continue, eventually we can lose our coral reefs. Removing the ocean's predators begins a irreversible spiral with dire consequences. In a world where legislation, conservation and even awareness seems to be only reactionary, often it is too late to turn back the hands of destruction. It is so vitally important that we enforce illegal fishing laws, and conserve what is still left while we still can. We take the ocean for granted. It is the largest and most important ecosystem on earth. Nearly a billion people rely on the ocean for basic sustenance. and the ocean impacts our climate. Hopefully we act before it's too late.
RELATED ARTICLES
Be the first to add a comment to this article.
Newsletter
Travel with us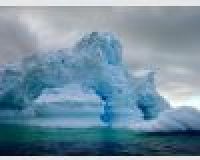 Antarctica
Plan Your Adventure >
Featured Photographer
Todd Winner
Photographer
Todd began diving and creating underwater images in 1990. Since that time he has had the honor of receiving numerous international awards for underwater and travel photography.