Articles
Book Review: "The World of Blackwater" by Mike Bartick
"The World of Blackwater" by Mike Bartick

For the past decade, Californian Mike Bartick has lived in the Philippines, where he works as the resident photo pro at the famous Crystal Blue Resort in Anilao. As one of the pioneers of the blackwater diving scene, Mike has spent hundreds of hours diving in the abyss with his camera, and after six years of creative image making he recently released his much anticipated e-book, The World of Blackwater: An Illustrated Guide to the Life and Techniques of Blackwater Scuba Diving in Anilao, Philippines.

Diamond squid (Thysanoteuthis rhombus)

The 263-page book starts with a foreword by David Johnson, ichthyologist and curator of fishes at the National Museum of Natural History, Smithsonian Institute. David has studied the larvae of marine fish for the past 40 years, and makes the very important point that blackwater diving has transformed his work and revolutionized his research. Instead of examining specimens collected from the deep, he now gets to learn more about these critters using underwater photographs taken during blackwater dives. Mike then presents his own introduction to blackwater diving, where he explains how he started out shooting at night, and why he loves doing it. He discusses his early experiments with the downline equipment and his camera gear, and how he adapted his methods over time to turn the activity into a successful commercial venture for others to enjoy at Crystal Blue Resort.
The basics of blackwater diving are simple enough: Zooplankton head to the ocean's surface for nourishment after dark before returning to the abyss at sunrise. This daily migration occurs every night in every ocean that can be separated into three zones, the sunlight zone, the twilight zone and the deep ocean. Most of the migrating zooplankton is made up of crustaceans, mollusks and larval fish, and by heading out into deep water at night, divers can encounter some of this mysterious marine life by attracting it to shallow water using bright lights attached to a drifting line.

The first chapter of the book explains how to set up a blackwater dive and what equipment you need
The Downline
Unlike other books that just show you great images, Mike begins by documenting exactly how the dive is conducted and how to set up the downline and lights. Aspiring blackwater divers can learn all they need to know to get started in this book, including what equipment you need, when to dive and where. I, for one, intend to follow his instructions and set up a blackwater line soon, and the first thing I realized is that I am going to need more lights—lots more lights! Mike recommends that you add a minimum of at least 100,000 lumens of light to each line, so it is not surprising this attracts the attention of the critters below! Other small details that are critical to successful blackwater dives are explained, including soaking the lines to allow a plankton cloud to develop, and where to do this to increase your chances of success. After discussing the mechanics of blackwater diving, the rest of the book is separated into galleries of different creatures, showcasing hundreds of Mike's awesome images and providing valuable information about each subject.

The holy grail of blackwater cephalapods, the blanket octopus (Tramoctopus gracilis)
Image Galleries
Cephalapods are one of the highlights of any dive, but they are even more welcome on a blackwater dive. Octopuses and squids both have their own dedicated galleries, and as you can see here, some of the strangest looking and most photogenic octopods appear from the abyss at night. Each iconic octopus has its own dedicated page of information and images, where Mike documents each critter, their prey and common behavior, as well as discussing the key differences between male and female of each subject.

A larval stage mantis shrimp floating in the abyss

The next chapter of the book is dedicated to crustaceans. Crabs and shrimp are the most recognizable critters for most divers, with lobster larvae being particularly common as well as mantis and other kinds of shrimp. Ampiphods, copepods and isopods from the deep are also all included and common. As before, an extensive gallery of images and descriptions allows Mike to show off his vast portfolio of blackwater images, while discussing each creature in detail and how best to encounter them.

Each chapter of the book includes a gallery of the most commonly encountered species

Another intriguing aspect of blackwater diving is encountering larval or juvenile fish of species you might normally encounter during the day. It can often be hard to identify many of these specimens, but others are obviously smaller versions of their adult selves and make for amazing images. Many varieties of deep sea, reef and pelagic fish can be seen, and some special critters include pompano fish with long elaborate tentacles, flying fish, moray eels, tiny mahi mahi, and even minute sailfish and ribbonfish. Flounders and other flatfish look particularly exotic in their larval stage and each subject looks amazing framed against the blackwater of the night.

Larval crocodile toothfish (Champsodon sp.)

Jellyfish also have their own gallery, as do other gelatinous creatures and worms, the like of which many of us regular divers will have never encountered before. After covering a huge array of alien-like marine life within the guide's first 235 pages, the end of the book focuses on the relationships between these creatures, their strategies for survival and most importantly, how to go about photographing them.

Strange creatures from below often look like vistors from another planet

As Mike explains, blackwater diving brings together scientific knowledge, photo skills and dive skills like no other form of diving, and for those new to blackwater diving, it can be an intimidating step. He theorizes that his previous career working as a chef prepared him well for the activity and believes the five P's—proper preparation-prevents-poor-performance—are highly applicable for underwater photographers too. He lists essential camera equipment and good settings to get you started, as well as specific lighting techniques such as inward lighting that is especially useful at night. According to Mike, photographers should aim to start with a shutter speed of 1/200s or faster and use aperture and ISO settings to create the best exposure. A 60mm lens is recommended and a decent focus light is also critical to success.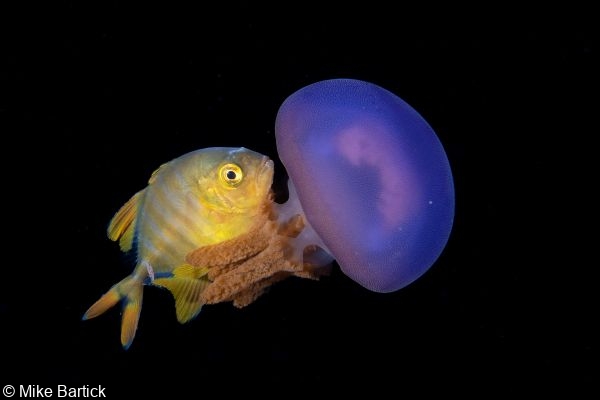 A jack seeking protection in a purple jellyfish

The final part of the book is dedicated to artistic ways of creating the best blackwater images by using surface reflections and motion blur to enhance already unique shots. In his final thoughts, Mike explains why he decided to release The World of Blackwater as an e-book and his plans for regularly updating it in the future. His hope is that by making it digital, everyone will have access to it at any time, and will be able to reference it on any device. I will most definitely be saving a copy of this book on my laptop and phone for future reference when I am out in the field. I cannot wait to build my own blackwater rig and explore at home in the Caribbean soon!

Special techniques such as motion blur take blackwater images to the next level

---

The World of Blackwater is available as a 263-page PDF on Gumroad or an 184-page iBook on Apple Books, priced at $25.
RELATED ARTICLES
Be the first to add a comment to this article.
Newsletter
Travel with us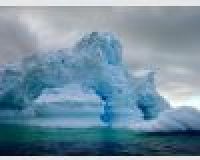 Antarctica
Plan Your Adventure >
Featured Photographer
Nicholas Samaras
Photographer
Nicholas Samaras, is one of the most passionate and committed underwater photographers. His love and dedication to sea and its creatures in combination with his characteristic effort to bring out to surface the beauty of the...