Articles
Book Review: "Silent Kingdom" by Christian Vizl
The powerful use of black and white to highlight familiar animals is a trademark of Silent Kingdom

Black and white photography is traditionally viewed as being somehow more edgy and artistic, something that marks the photographer as a serious shooter. However, with most pictures, it tends to look like a bad Instagram filter. Monochrome images are all about the subject, lighting, and contrast. They can display something in a wholly different and striking way, but all too often they are just attempting to make a bland picture look artistic.
It takes a lot of thought, experience, and skill to shoot in black and white. This is doubly true when we talk about underwater photography, where light, shadows, and subjects are tough to control. In his new book Silent Kingdom: A World Beneath the Waves, Christian Vizl shares his vision for underwater photography in monochrome, and the result is a remarkable journey through the undersea world we all enjoy.
What Is the Silent Kingdom?
This book is, at heart, about the pictures and Christian's photography and his journey through the ocean. He describes it best when he writes:
The ocean is a world that has so many things to say, so many stories to tell, so many lessons to teach, but its voice can only heard by our hearts. The images in this book are a reflection of what I hear beneath the waves.
The book is an artistic journey that takes the viewer along with Christian as he explores everything from frigid Artic waters to warm, shallow tropical seas. The subjects run the whole gamut of marine life, and they are essentially a bucket-list of animals that most underwater photographers hope to shoot.

Christian Vizl talks about the beauty of the ocean and the challenges it faces, and what he hopes the photographs in his book will inspire in readers
The Book
The physical book is imposing. It is big, 224 pages long, and printed on high-quality paper; this is not something you throw in your carry-on luggage for some light reading on the airplane. The paper quality is outstanding, and this lends the book some serious weight. Quality paper is essential to do justice to Christian's photos, and there are hundreds of them to view. Physically, this book is everything a proper photo coffee-table book should be.

Right away, you can see the clean, minimalist style that flows very well with the photos

The layout is essential to make a photo book that draws in the viewer. In this sense, Silent Kingdom also shines. The images are clearly displayed, most on their own page. There are some double-page spreads, but these are not overwhelming, and they are tastefully done. The entire look is minimalistic, and this only enhances the style of photography on display.
While the focus of the book is photographs, there are several essays by some of the biggest names in underwater photography and marine conservation found throughout. Written by Dr. Sylvia Earle, Ernie Brooks, David Doubillet, Michael Aw, and Nora Torres, the essays are thoughtful and very timely. The pieces speak to Christian's art, but they are heavily weighted towards a message of conservation, something that Christian is clearly also passion about.

Silent Kingdom contains five essays (if you include Sylvia Earle's introduction) authored by some heavyweights of underwater photography and marine conservation
The Writing
Silent Kingdom is a photo book, but the writing in it cannot be ignored. The writers are far too prominent, and their message far too important not to address. This creates an interesting dilemma for the reader, as there is occasionally a disconnect between the essays and the photos. Depending on the reader, this can either be a positive experience that enhances the theme of contrast in Christian's work, or it can be slightly distracting.
All the essays are very well written, and each one is worth reading. The contrast comes from their themes. Some are overwhelmingly about ocean conservation, while others focus more on Christian and his work. The message of saving our seas is very noble, and we need to do everything we can to get it out. On the other hand, the photos are about beauty and artistic style. It is up to the reader to interpret the essays and come to their own conclusions.

The Photos
Christian Vizl is an excellent photographer with his own distinct vision—let's get that out there right now. His photos are always true to his style and to see them all in a single volume makes for an enjoyable and inspiring experience. To write a review of art is an almost impossible task, and everyone will have their own opinions on artistic expression. Our experience with these photos was very favorable.

The "old school" presentation of Christian's photos makes a refreshing change from the way we typically digest underwater images through social media

Most of us are inundated by underwater images all the time. There are thousands of cameras in the water around the world on any given day, and the proliferation of social media has made sharing these images instantaneous. This tidal wave of pictures creates image fatigue, and it is easy to get very blasé about the many excellent photos being shared. It takes something extraordinary to catch our eye and to make us stop and take notice.
Christian's work catches your eye and forces you to pause and appreciate it. Shooting black and white is a whole different medium of photography. It requires a firm grasp of light, shadow, and contrast. In viewing Christian's work, it is apparent that he is very good with all of these, but especially so with contrast.

Christian's style is all about strong contrast

The use of contrast in these images happens on several levels. First is with the subjects, whether it is a manta or a shrimp. The subjects pop, and they all contrast with their backgrounds. Dark animals often have white backgrounds and vice versa. This brings the eye instantly to where the artist wants it to go. Finally, you will find contrast in his choice of images. There is a large variety, and you never get bored with a specific subject.

The Journey
Going through the book page by page is meant to symbolize a journey, and it is essential to any photo book. A book with this many images will have a wide variety, and some you will like more than others. However, there is no way to tell what images each viewer will react positively to, and that is what makes photography fun. Taken as a whole, the images make sense and are consistent in quality.

The use of light and white backgrounds is a refreshing change from all the black backgrounds we see today

When opening the book and seeing the table of contents, it would appear that there are chapters, but this is not the case. This only indicates what pages the essays are on. If you flip through the book, you will see it generally grouped by subject. For example, you will find all the seals, mantas, sharks, etc. grouped together. For most of the book, this works very well, but it breaks down occasionally, and towards the end the organization seems a little more random. While this is not a big deal, it would have been nice to have those images placed in the respective areas throughout the book.

Who Should Buy This Book?
The simple answer is anyone! One thing that is great about Silent Kingdom is that it is not a book only for divers and underwater photographers. This reviewer has shown it to non-divers, including kids, and they all spent quality time looking through it. I just placed the book down where they could see it, and everyone picked it up and spent time looking through it.

Silent Kingdom features a wide variety of subjects, yet it manages them in a nice, simple manner

This broad appeal will hopefully help spread the message of conservation that this book promotes. You don't need to sell divers on the need to save our oceans, but on the other hand, if you can get a bunch of school kids to take notice, then you are making real progress. The nature of the subjects also encourages a broader audience. Some photo books are so specialized that casual readers have no idea what they are looking at. These photos are clean, the subjects are well known, and the artistic use of black and white will make people pick it up.
For underwater photographers looking to add to their photo book collection, this is an easy buy. It will likely be different than anything they have, and that alone is worth its weight in gold in today's saturated image market. The price is also very reasonable at US$50 (the price printed on the jacket). Most coffee-table books run almost double that, so this is a much easier purchase decision.

Final Thoughts
Silent Kingdom is a breath of fresh air. The photography work is exceptional and demonstrates a master's touch. Christian Vizl shows us his unique style, and it shines in this book. The included essays are thoughtful and timely, even if we did nitpick about how they flow as part of the book. There are many images in this book that will blow you away, and those alone are worth the price of admission. Of course, there are some that people won't find as compelling, but that is the nature of photography.

One of our favorite shots from the book. It shows a photographer at the top of his artistic game

---

Silent Kingdom: A World Beneath the Waves will be coming out in May this year and can be preordered from Amazon via the publisher's website.
RELATED ARTICLES
Be the first to add a comment to this article.
Newsletter
Travel with us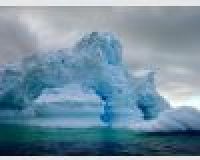 Antarctica
Plan Your Adventure >
Featured Photographer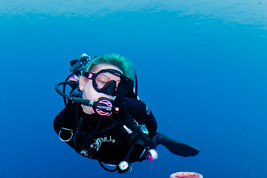 Allison Vitsky
Photographer
I learned to dive in 1992, but I never had much interest in imaging (underwater or on land) until 2006, when I visited the Solomon Islands. The combined exposure to Indopacific marine life and some fantastic photographers on...