Articles
Shooting the Blue Heron Bridge with the Backscatter Mini Flash
Looking for an all-in-one snooting strobe? Consider Backscatter's Mini Flash

In an increasingly complicated imaging tech world, sometimes less is more. That's perhaps the best way to sum up Backscatter's simple-yet-versatile Mini Flash. We have enough to worry about with finicky subjects, challenging dive conditions, and impatient photographers waiting in the wings. The last thing you want to stress about is an overly complex strobe.
The Backscatter Mini Flash (MF-1) has just one big dial. Simple, right? Perhaps deceivingly so. Through this one dial, you can adjust the strobe output to six different power levels—with the max registering a guide number of 16. That's enough to light close-focus wide-angle scenes or as a dedicated macro strobe with the Optical Snoot (OS-1) attachment. Wait, there's more. You can also use the Mini Flash as a 500-lumen focus/video light. Could such a small package offer big results?

The even lighting produced by the Mini Flash can be used for creative techniques like bokeh
Under the Bridge
When it comes to testing out new gear, there is no place like home. Fortunately, my backyard dive site goes above and beyond when I go under the Blue Heron Bridge. Instead of clicking ruby slippers together to achieve my goal, I just gave the Mini Flash five quick taps to get going. A green light blinks to confirm the strobe is in standby mode.
My Nikon D500 and 105mm macro lens aren't what you'd consider a compact setup. But at just 5.5 ounces in the water, the Mini Flash is a real relief in terms of both weight and ergonomics. I lightened the load even a bit more by MacGyver-ing a float collar with some cut up neoprene.
There's no need for long, awkward arms, off-camera tripods or co-opting your dive buddy to aim your strobe when taking super-macro images. Depending on your rig, the Mini Flash can be mounted straight onto the cold shoe mount or just off the camera with a short arm. Once you've switched on the strobe, a simple turn to the right activates the blue light, which signals "ready" mode. So let's dive in.

With the Mini Flash, snooting is a breeze: The focus light shows you the exact target area of the flash
Mini Flash, Big Performance
Although primarily designed to be a compact, dedicated macro strobe, the Mini Flash has the tech specs to be used for more than just snooting and the small stuff. Typically, I used the fifth-highest output for black background snooting and usually a notch or two less for close-focus wide angle.
The Mini Flash is billed to shoot 1,400 shots on one charge of its 18650 Li-ion battery. According to the instruction manual, the Mini Flash will show a yellow light when the battery runs low—but I never even got to that point. Even after a three-hour (shallow) dive, the strobe still showed a blue indicator light. In any case, the battery charges in a surface interval ideal time of just one hour.
I found that even with reflective subjects—barracudas, fireworms, and gobies—the strobes provided even lighting without hotspots. Even the white spots on the fireworms, which I usually fix in post, came out perfectly exposed right out of the camera.

The Mini Flash didn't blow out reflective subjects, such as this barracuda

A perfectly exposed fireworm shot using the Mini Flash

Macro photography often requires quick bursts to focus-bracket small subjects, so I also wanted to test the recycle time of the strobes. I spied a lane snapper and decided to capture a quick yawn by rattling off a series of shots. With a higher-level power settings, the strobes performed on the first and second shots, but did seem to lose a little output by the third shot. However, with a mid-level power setting and wider aperture, the results were very consistent.

On lower- or mid-level power settings, the strobe recycles fast with a consistent output, while on higher power settings, as the third image shows, power begins to drop off after a couple of frames

Overall, I was blown away by the power output by the Mini Flash given their compact size. You might think these tiny strobes wouldn't have enough power to light up macro shots with closed apertures or bright wide-angle scenes, but they did—and very evenly, I might add. There is just a bit of time needed to adjust to positioning, as the Mini Flash is long and narrow, unlike your typical strobe.

Snooting with the Mini Flash
New underwater photographers often strive to create stark black backgrounds in their macro images. There are a variety of methods to produce these kinds of shots: Using a high f-stop and fast shutter speed with a subject positioned with open water in the background is the most common.
However, this strategy is less than practical with a variety of subjects—be it a muck macro animal buried in the sand or a cleverly camouflaged critter hidden on a vibrant reef. When it comes to macro underwater photography, we need to constantly craft dependable results. We need to take composition into our own hands. Enter the snoot.

The impressive output from the Mini Flash makes it possible to produce stark snooted images

We are well into the age of the snoot—a light shaping device that attaches to strobes and can be used to make a spotlight or produce creative lighting. The problem is that snoot setups are often complex and finicky to work with. You must remotely mount the strobe to a mini tripod or have a friend aim it for you. And even then, it's not an exact science.
With the Mini Flash, it's possible—and not complicated—to snoot directly from your camera system with precision. That's because the strobe features a 500-lumen LED aiming light that shows exactly where the beam will hit. Granted, you may need to fiddle a bit with the focus light placement. But you'd have to do that anyway if the strobe were mounted externally.

A good strobe is critical for bringing out detail and texture in subjects

Then, all you have to do is line up, push the blue light one more time, and the light beam should perfectly illuminate your subject. For a more defined effect, you can slip in an aperture insert to specify the circle of light. It takes a little hand–eye coordination to line it up, but once you do, it's then just a matter of your positioning. The rest is a piece of cake. I tried it with sedentary subjects and on movers like my fireworm friend, who after a few shots had had enough and decided to move along.

Thanks to the quick recycle time of the Mini Flash, I was able to capture this fireworm on the move
Going Wide with the Mini Flash
While Blue Heron Bridge is one of the best macro dives in North America, it's not exactly rife with wide-angle subjects. So, I headed up to Ginnie Springs, a series of crystal clear freshwater cenotes accessible even for non-trained cave divers. While there is plenty of natural light in the caves, objects such as trees, roots, and ledges create shadows that require significant strobe power to light properly—a perfect test for a pair of Mini Flashes.

Soft, even lighting makes it possible to create a balanced shot with both natural and artificial light sources

As I descended into the site "Little Devil," I saw an opportunity to photograph my dive buddy to add a human element and sense of scale to the scene. I kept my Mini Flashes positioned outward at nine and three o'clock to keep the light as balanced as possible. When it comes to close-focus wide-angle lighting, often less is more. In this case I kept the Mini Flash at mid-power to avoid hotspots. As you can see in the image below, even at this setting the strobes lit up the diver's eyes and surrounding environment.
The diving at "Devil's Eye"—a round sinkhole—is a bit more challenging. River water gushing in with the force of a fire hydrant and limited light would be challenging with any strobe. But even with currents and thick gloves, I had no problem adjusting the power dial to fit the wide variety of shooting conditions. At the bottom of the sinkhole, I faced towards the surface and turned the power up to illuminate the foreground of a diver descending through the colorful tannic waters. Outside the hole, I turned down the power to add a kiss of light to illuminate spring water bubbles rising to the surface.

No hotspots on this tight scene: The Mini Flashes made it easier to navigate tight spaces

Just a kiss of light to illuminate the foreground with the diver silhouetted behind

You'd never guess a "mini" strobe could be used to light a wide-angle scene

Bubbles simmer up from under the rock bed, illuminated by the Mini Flashes
Final Thoughts
For underwater photographers who flock to the Blue Heron Bridge for the awesome macro opportunities, I can't think of a better companion than the Mini Flash. Backscatter's first proprietary strobe really shines at a dive destination like this, whether you're shooting environmental fish portraits with a creamy bokeh background or using the matching Optical Snoot to create a dark, uncluttered backdrop for your critters of choice.
But while this easy-to-use strobe has the potential to bring snooting to the masses, the Mini Flash has other tricks up its sleeves. It has an incredibly small footprint that makes it the perfect strobe to pair with your compact and lightweight camera system. It can do double duty as a solid 500-lumen focus light. And, though it won't necessarily replace a big strobe with the power to light up the reef, it is still more than capable of taking on many wide-angle scenarios, such as close-focus wide angle or adding a crucial kiss of light in an ambient light situation.
So whether you're headed to Florida's spectacular dive sites for critters or caves—packing one strobe or two—Backscatter's ingenious little Mini Flash has got you covered.

Whether it's snooting, close-focus wide angle, or something in between, the Mini Flash is a compact and versatile lighting solution

---

See more of Suzan's work on her website, www.niteflightphoto.com, in her Photographer of the Week feature, or in her jaw-some article on photographing alligators in Florida.

---
When purchasing underwater photography equipment like the products mentioned in this article, please support DPG by supporting our retail partner—Backscatter.com
RELATED ARTICLES
Be the first to add a comment to this article.
Newsletter
Travel with us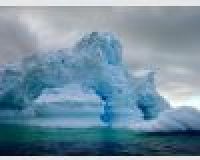 Antarctica
Plan Your Adventure >
Featured Photographer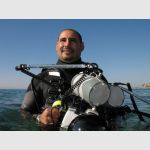 Noam Kortler
Expert Photographer
Noam Kortler is connected to the sea since he can remember him self. he was born on the coast of the Mediterranean sea of Israel and was diving and surfing when ever he could He moved to Eilat, the south popint of israel to...