Articles
Best Lenses for Shark Photography

There are no more awe-inspiring underwater photography subjects than sharks (sorry macro lovers). But unlike how this class of apex predators is portrayed in mass media, every shark behaves differently. As a result, no two shark species can be photographed the same way with the same lens. Here's our list of top lenses for photographing sharks and—more importantly—what situations fit each lens best.

The Lens: Fisheye Prime Lens
Recommended Models: Sigma 15mm, Nikon 10.5mm (Nikon), Panasonic Lumix G 8mm (Panasonic and Olympus)
When to Use It: A fisheye prime lens offers a minimum focus distance that is essentially nonexistent, meaning you can focus right on the dome port, or more specifically, a curious shark with its nose pressed against it. As such, it's best suited for shark photography where you can almost guarantee the sharks will be touching your dome port. With a 180-degree field of view on most cameras, a fisheye lens also produces a forced perspective: In these images the shark appears larger than it actually is, making it seem like it might pop right out of the frame. Alternatively, having the ability to produce sharp, ultra-wide images is useful for photographing scenes with very large, approachable subjects such as whale sharks. It's also a great choice for split images at the surface, when paired with a large dome port.
Suitable Subjects: Situations where reef and pelagic sharks—gray reef, nurse, great hammerhead, blue sharks—are so close they are bumping into your camera. A great choice also for getting as close as possible to huge tiger and whale sharks.

A fisheye prime lens is best used when interactions with sharks are guaranteed to be less than a foot between nose and dome port, like snorkeling with blue sharks off Rhode Island
The Lens: Fisheye Zoom Lens
Recommended Models: Tokina 10–17 (Nikon and Canon), Canon 8–15mm (Canon and Sony)
When to Use It: A fisheye zoom lens offers the ability to take those forced perspective images at the shorter focal length, or use a longer focal length to fill more of the frame with a shark further away. Some photographers don't like the forced perspective and distortion created by a fisheye prime lens, so using a fisheye zoom at a longer focal length will create more traditional-looking images. This lens is best for shark dives when there is some incentive (chum or bait) to draw the subjects within arms length. The extra focal length will come in handy if, say, a tiger shark decides to visit a reef shark dive, but stays in the distance.
Suitable Subjects: Great for baited shark dives where you're likely to encounter reef sharks, silvertip sharks, blue sharks, oceanic whitetips, etc.

Using a fisheye zoom lens gives more flexibility when dealing with slightly shyer subjects. Zooming in with a longer focal length can help better fill the frame when the shark stays 5 or 6 feet away
The Lens: Rectilinear Zoom Lens
Recommended Models: Nikon 12–24mm (Nikon), Canon 16–35mm (Canon), Olympus 9–18mm (Olympus), Sony 16–35mm
When to Use It: Unfortunately, not all shark subjects are as friendly as we would like. Species such as great whites and hammerheads often keep their distance from divers in abundance of caution. Using a rectilinear zoom lens provides the most flexibility when dealing with species that can range from arm's length to 15 feet away. You won't have the same fisheye effect or ultra wide-angle field of view as with fisheye and fisheye zooms, but you will be able to photograph a wider array of situations, depending on the shark's behavior.
Suitable Subjects: Great white sharks, schooling scalloped hammerhead sharks, or any other skittish species of shark like Galápagos and silky sharks.

Arguably the most versatile of wide-angle options, the rectilinear lens is able to fill the frame with animals who want to keep their distance. It won't produce the eye-popping fisheye effect, but it also won't limit a shy subject to a tiny size in the final image
The Lens: Fisheye Wet Lens
Recommended Models: Inon UWL-100, Fantasea BigEye Lens, Ikelite W30 Wide Angle Lens
When to Use It: Compact users have a bit of an advantage over interchangeable lens camera owners. If the sharks are shy, the longer lengths of compact's built-in lenses will help fill the frame with the subject, even if it is a little blue-hued do to the distance between you and the subject. But if the shark subjects decide to come in close, all you have to do is snap on a fisheye wet lens to create an impactful, close-up image. A fisheye wet lens is a conversion lens that increases the field of view, while simultaneously also decreasing the minimum focus distance. Getting closer to the shark, while still being able to fit the entirety of the animal in the frame, will allow you to add color and contrast through the use of strobes.
Suitable Subjects: Shark dives where certain species (gray reef sharks, whitetip reef sharks, nurse sharks) are likely to come too close to fit the entire subject in the frame with the compact's built-in lens.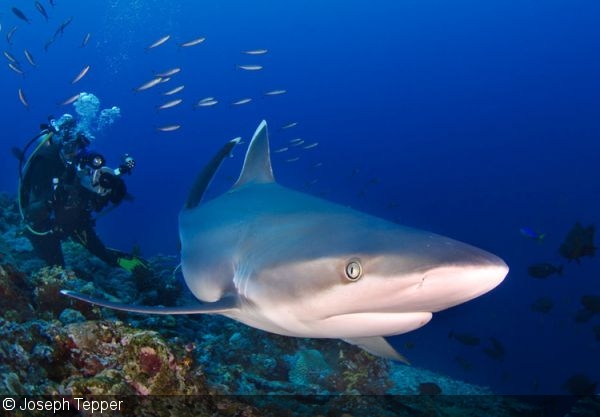 By adding a fisheye wet lens, compact users can get closer to the shark than otherwise possible with the built-in lens. This will help produce more contrast and color in the final image with a minimized water column and more significant strobe impact

---

When purchasing underwater photography equipment like the products mentioned in this article, please support DPG by supporting our retail partner—Backscatter.com.
RELATED ARTICLES
Be the first to add a comment to this article.
Newsletter
Travel with us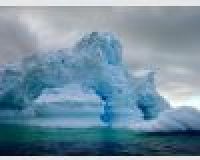 Antarctica
Plan Your Adventure >
Featured Photographer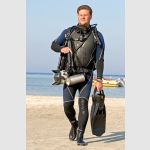 Selmeczi Daniel
Expert Photographer
Daniel Selmeczi lives in Szolnok, Hungary. Coming from a country with no seasides, the love of diving captured him at a later age but from there on there was no stopping until reaching the Naui and TDI Instructor levels....