Articles
Behind the Shot: World Oceans Day 2019 Contest Winner
A very rare Neoturris pileata jellyfish in a cloud of small crustaceans (Leptomysis mediterranea)

My name is David Salvatori and I have been taking pictures underwater since 2007. People close to me know me as an avid world traveler who searches for remote destinations and unique subjects. During these trips is when I can concentrate on my photography. The rest of the time my obligations at work leave me little time to go to sea. However, there are times in the year when I can organize a few days of diving locally by taking advantage of a weekend or bank holiday.
I live in Italy, surrounded by the Mediterranean Sea. This country offers great opportunities for divers and there are many places where you can dive and photograph very interesting underwater subjects and seascapes. One of my favorite places is the Strait of Messina, a narrow stretch of water between the Italian peninsula and the island of Sicily. Here, my friends Domy Tripodi and his wife Giuditta live and run the Ficarella Diving Club in the small town of Saline Joniche.

Domy Tripodi and his wife Giuditta, who run the Ficarella Diving Club

Located in the Calabria region, Saline Joniche is on the extreme southern tip of the Italian peninsula. Here, the coast along the Strait of Messina facing Sicily begins to turn southbound, towards the Ionian Sea. Domy is a PSS instructor and his passion is the sea and underwater photography. I got in touch with Domy on Facebook a few years ago and I have always followed with great admiration his photographic work. His hallmark is beautiful, clean, well-composed, impactful shots. What makes them even more impressive is the fact that many all of his shots have been taken with a compact camera and very limited use of post-production tools.
The diving facilities are thoughtfully laid out and simple. They are composed of a fenced garden, office, refilling station, and rinsing facilities. The best part is a large space dedicated to hanging out with your fellow divers, chatting and relaxing between dives. The way Domy runs the operation fascinated me right from the start, as it is in perfect harmony with its surroundings. The philosophy is to invite you to relax and enjoy the diving even before actually going to sea. Gearing up has been transformed into a sort of laic liturgy.

David's wife Cristina interacting with a playful cuttlefish

Close-up of a flying gurnard (Dactylopterus volitans)

A Salpa maxima tunicate reproducing asexually with a chain of several individuals
The Dive Site
The diving spots where Domy takes his clients are scattered along the coast around Reggio Calabria. Generally, they start from Scilla in the north, pass through Reggio city, and then continue south down to Saline. All dives are run from the shore without any need for a boat. You load all the equipment at the diving center and then head to the diving spot by car. The furthest drive is about 40 minutes north to Scilla, but it only takes a few minutes to reach Saline, where most of the sites are located.
Tight schedules and large groups are things that Domy doesn't like at all, and he leaves that to other operators. Instead, he invites customers to dive, relax, talk, and share stories and experiences. Domy loves sharing tales about the wonders of "his sea." As well he should, as all the sites often hold surprises, confirming the extraordinary biodiversity and health of these waters.

A shame-faced crab (Calappa granulata)

A couple of butterfly blennies (Blennius ocellaris) together in a pen shell (Pinna nobilis)

A group of Mediterranean trumpet fishes (Macroramphosus scolopax)

The "Sea of Domy," actually the Strait of Sicily, is a place where the steep walls full of gorgonian sea fans and crystal-clear waters of the north change into endless bottoms of sand and mud in the south. This diversity of terrain has led to the discovery of a vast number of subjects with important biological and ethological value.
One of the elements ensuring the presence of many subjects, often rare or unique, is the strong current present in the strait. This is caused by the morphology of the seabed, which is very steep along the coasts. The strait connects two seas, the Ionian Sea and the Tyrrhenian Sea, with different sea levels. These characteristics, combined with strong tidal and lunar phases, create an impressive mixture of water that brings deep-dwelling pelagic subjects very close to the shore in shallow water. Furthermore, proximity to the African coast contributes to the exceptional biodiversity of this place. Conditions sometimes allow the migration of various Lessepsian and foreign species, which otherwise would not be seen in these waters. The occasions are rare, but your best bet to find them is late spring.
This year, the Easter holiday in late April gave me the opportunity to organize four days with Domy, who had predicted that a very rare combination of currents, winds and lunar phases would create exceptional conditions. The hope was that this would lead to the aggregation of billions of various types of tunicates in very restricted areas of the coast.

A long-snouted seahorse (Hippocampus guttulatus) posing on a Mediterranean fanworm (Sabella spallanzanii)

A beautiful Hippopodius hippopus marine jellyfish, very rarely found in coastal waters
The Dive
We were very excited, but even our wildest expectations paled in comparison to what we witnessed in those days underwater. It was an incredible aggregation of primordial life! In some moments, the concentration of life was so dense that we could not perceive the sea water, giving us the feeling of being suspended in a biomass soup. Carefully exploring the huge biomass, we spotted a number of very rare creatures, such as the Neoturris pileata jellyfish. We found hundreds of them, which was simply incredible!
The presence of these animals is a unique feeding opportunity for a whole series of other creatures usually living in shallow water, such as the Pelagia noctiluca jellyfish. These common Mediterranean jellyfish really seemed to enjoy the rare and colorful meal provided to them and it was also a real joy for underwater photographers!

A videographer from David's diving team struggles to get through the very dense soup of tunicates

A curious unidentified small fish in its juvenile stage found in the cloud of Leptomysis mediterranea shrimps

A Pelagia noctiluca jellyfish feasting on a Neoturris pileata jellyfish

Other types of animals, such as small shrimps, fishes and jellyfishes, showed up in front of our lenses in vast numbers, especially during night dives. It seemed like we were in one of the well-known black-water dives of Anilao, and not in Italy. I think this area has enormous potential for this type of diving, even though strong currents and frequent crossings of large ships pose a risk for small boats in the middle of the strait.
During these incredible dives, I often found myself wandering in the soup trying to think of ways to compose good shots. My wife Cristina was with me, as she always is in all our adventures in life. One morning, while we are immersed in a particularly dense concentration of tunicates, I saw Cristina approaching me swimming slowly. Her gaze was lost in the enormous biomass—her expression was amazed and happy. Sensing an opportunity, I snapped a few pictures, catching this moment of interaction between a human and primordial nature.

The winning shot – Location: Saline Joniche (RC), Italy. Equipment: Nikon D850, Isotta housing, Tokina
10–17mm fisheye, Ikelite DS161 strobes. Settings: f/13, 1/100s, ISO 500
The Competition
Our vacation ended soon after, and after final hugs with our friends, we headed back to Rome. Back home, I read about the Sixth World Oceans Day Photo Competition organized by the UN Division for Ocean Affairs and the Law of the Sea, its partners, and DPG. I noticed that the contest's curator was Ellen Cuylaerts, an internationally renowned underwater photographer that I personally know and respect, and I saw that several other great ladies of underwater photography, such as Cristina Goettsch Mittermeier and Adriana Basques, were on the judging panel. This lineup of judges was really what motived me to submit something to the competition.
My shot of Cristina floating in the tunicate soup seemed to fit perfectly into the category "Human Interaction: Making a Difference." While mankind is destroying the Earth and its oceans every day, the image of a woman expressing her feeling of wonder in front of the miracle of life seemed like a very strong and relevant message for the category. I was thrilled to see the photo chosen as the category winner and also awarded the overall winner of the competition.
I look forward to more diving around the world with Cristina, my partner in life and in leisure. She brings me good luck and always seems to be present in my most successful underwater images.

A small squid closely approaches Domy Tripodi's red Isotta housing

Mediterranean black water: Inside the cloud of tunicates countless small, beautiful and unidentified creatures can be found, like this unique pelagic jellyfish

---
About the Author: David Salvatori began shooting underwater in 2007. His main interest today is around nature photography and conservation issues. He spends all of his free time planning and undertaking photographic expeditions to raise awareness about some of the world's most endangered species. He also loves writing articles on his trips and collaborating with underwater magazines. His work has been recognized by some of the most important international underwater photography and nature photo competitions. He published his first photographic book, "Reflections from the Past," in 2015.
RELATED ARTICLES
Be the first to add a comment to this article.
Newsletter
Travel with us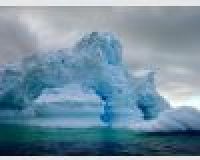 Antarctica
Plan Your Adventure >
Featured Photographer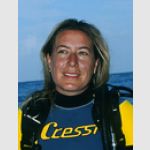 Catalina Perales-raya
Expert Photographer
Catalina is a professional uw-photographer, and also a marine biologist. Catalina has published articles and images in many magazines and books all over the world. Her vast experience includes research for several Research...