Articles
Behind the Shot: World Oceans Day 2017 Contest Winner
A floating iceberg at Scoresby Sound, Greenland, Arctic

In 2015, I had the opportunity to join a very interesting expedition to the Arctic along with some of the world's most renowned underwater photographers, including David Doubilet, Ernie Brooks, Jennifer Hayes, Michael Aw, and Dr. Sylvia Earle—one of today's most inspirational ocean conservationists—plus over 60 other photographers, artists, and scientists.
The Arctic is regarded as one of the most enchanting wilderness regions of our planet, yet it is being severely impact by the increase in global temperatures—warming twice as fast as any other place on Earth. In our daily lives, we are all starting to see some of the negative effects of climate change, but in the Arctic region, change is happening on a dramatic scale. The sea ice extent has been steadily decreasing year upon year, and at the time we were there, in 2015, it was one of the worst years on record.

Pack ice and an endless sky, 81 degrees north, Arctic Circle

Over-under of drifting icebergs with a glacier in the background, Scoresby Sound, Greenland, Arctic

It was with these grim realities in mind that "Artists for the Arctic" embarked upon the expedition to the Arctic. The goal was to produce imagery that would inspire a greater appreciation for the plight of the Arctic region and draw attention to the grave impacts of climate change that are already taking place.
Overfishing, pollution, climate change, acidification and other human pressures are threatening the fundamental nature of the ocean, and the animals that depend on it are being pushed to the brink of extinction. These marine creatures, viewed by so many people as nothing more than food, have no voice. Thus, the higher purpose of my images is to be a voice of the ocean and for the ocean, in the hope that people can catch a glimpse of what they really are—beautiful sentient individuals, with feelings and different personalities, exhibiting complex behaviors and living fascinating lives that science is only beginning to understand.

A polar bear wanders through a pack ice area, 81 degrees north, Arctic Circle

A walrus and her calf rest on an ice floe, Fuglefjorden, Svalbard, Arctic

A harbor seal swims near the surface at Amsterdam Island, Svalbard, Arctic

The Idea
I believe photography is capable of providing a vital service to humanity, promoting understanding and initiating change. As such, my goal is creating poetic images that show the incredible beauty of nature and have the power to change perceptions—sparking the love and empathy that we all have inside. I believe that if we want a future for this planet, we need to appreciate that our lives are interconnected and our own well-being is directly linked to the well-being of these animals and the ecosystems in which they live. As Dr. Earle put it matter-of-factly, "No water, no life. No blue, no green… If the ocean dies, we die."
Photography is all about light. It is the single most important aspect when it comes to creating appealing, inspiring and touching images. Beyond technical issues, what's most important is how one applies and manipulates available light in order to create pictures with a dramatic effect, using contrast and tonalities as a means to emphasize form and structure. My focus is on the emotional impact of the final shot, the connection with the viewer on a deeper level.

The last rays of sunlight find cloud-shrouded mountains surrounding floating icebergs, Scoresby Sound, Greenland, Arctic

A serene floating iceberg after sunset, Scoresby Sound, Greenland, Arctic
The Shot
In the case of my winning image, we where exploring the Fuglefjorden glacier in Svalbard with our Zodiacs. It was a beautiful, calm morning, and the whole bay was covered in small pieces of crushed ice. On our way to the glacier, we where surrounded by stunning steep mountains covered with ice and snow—it was simply breathtaking.
The vastness of the scenery is almost impossible to convey in a picture, so I waited for a kittiwake to fly into my frame, hoping I could better convey the immense scale as well as a sense of movement and vitality in an otherwise static environment. I wanted to try and capture a sublime moment in time, the essence of being there, in that experience and in the presence of that particular animal, capturing its splendor and its soul.

The winning shot – Location: Fuglefjorden, Svalbard Islands, Norwegian Arctic. Equipment: Canon EOS 5D Mark II, Canon 24–105mm lens at 24mm. Settings: f/13, 1/200s, ISO 500

Beyond the issue of our survival is the issue of how we experience our life and how we celebrate it. Our experience is intrinsically linked to how we communicate and bond with everything around us—especially with the living things that surround us. For me, it is the ocean and its incredible creatures that inspire me to celebrate life. Thus, my photography is intended to be a celebration of the marine ecosystem, the life that dwells within it, and the wider underwater world.

A polar bear casts a wistful gaze in our direction, 80 degrees north, Arctic

---
About the Author: Christian Vizl was born in Mexico City in 1972. He has a degree in Business Administration, and has worked as a diving instructor, cave diver, rafting guide, and sailor. He has been an enthusiast photographer since he was 15 years old, but began his professional underwater photography career in 2010.
About the Book: Produced by some of the world's best wildlife photographers and artists, "Elysium – Artists for the Arctic" reveals the magnificence of a white horizon and the charismatic icons of the polar north: polar bears and seals, the brotherhood of walruses, birds of the northern sky and the hypnotic attraction of icebergs and glaciers. An explorer team of renowned and respected photographers, cinematographers, explorers, artists and scientists spent three weeks traveling through Norway, Svalbard, Greenland and Iceland, in an effort to both qualify and quantify human-induced climate change in the Arctic.
RELATED ARTICLES
Be the first to add a comment to this article.
Newsletter
Travel with us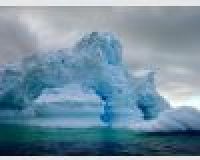 Antarctica
Plan Your Adventure >
Featured Photographer
Caroline Istas
Photographer
Caroline Istas studied History of Art and Photography in Brussels. On holiday in Vietnam she fell in love with the underwater world, Rainbow Divers and most importantly; her husband now!