Articles
Behind the Shot: Paradise Over and Under
By Katy Danca Galli, April 8, 2013 @ 06:00 AM (EST)
By Katy Danca Galli
I've been diving in Florida my whole life and never got the chance to dive abroad, until last summer when I was lucky enough to go to the Bahamas on a trip with the magazine I worked for at the time.
It was literally my third time not only just using an underwater rig for my Canon 5D MKII, but my third time shooting underwater…ever!
Katy's shot won Bronze in the Novice category at OWU 2013
The Idea
We were staying on an out-island off Grand Bahama in mid-July and the water was crystal clear and almost completely secluded. After a week of shooting mostly reef shots, our divemaster asked if we wanted to see some spots that were off the beaten path—one's that were beautiful, but too shallow to dive.
We made our way on an inflatable rib to manta hole, which has no mantas but does in fact have a blue hole. After unsuccessfully trying to photograph sharks in the shallows, we took a walk over a sand bar to this sweet little tide pool with mangroves and lots of fun little critters in turquoise water.
Grand Bahama's perfect blue water makes for great split shots
The Shot
You know when you have those days where you click the shutter and you just instinctively know everything you're shooting will be a success? For photographers who embrace this phenomenon, it's the BEST feeling you'll ever have. This was one of those days.
I was so completely in the zone, I didn't even register the tide was almost gone until I saw a pretty pink conch and realized I had only a few minutes left to shoot. While my buddy and divemaster chatted on the sandbar, I frantically tried to remember everything I'd read on shooting over-unders.
The key was framing the both the clouds and the conch in the shot—so I kept shooting and shooting. When I finally looked up from the viewfinder, I realized I was in less than a foot of water, the divemaster was calling my name, and I had a wicked sunburn from my neck to my toes.
The final result!
For me, this image will always remind me that underwater photographers are very lucky to do what we do, and our options to take amazing photos should never be limited—even in two feet of water.
RELATED ARTICLES
Be the first to add a comment to this article.
Newsletter
Travel with us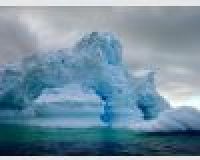 Antarctica
Plan Your Adventure >
Featured Photographer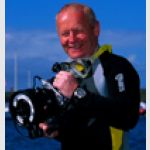 Tony White
Expert Photographer
Tony White is a full time professional underwater photographer. Originally living in SE London he now resides in Cape Town South Africa where he carries out most of his work. His journey to underwater photography started some...