Articles
Behind the Shot: Great White Split
Incoming! The award-winning over-under image of an approcahing great white shark

Let's rewind the clock to November 2017, way before I had met Andrew Fox and his expert great white shark cage diving team. I have to say that back then I wasn't all that drawn to great whites and the whole cage diving scene. However, Nikon Australia approached me to ask if I'd like to lead an underwater photography workshop expedition and board Andrew's boat. It would be a three-night white shark liveaboard trip that Nikon and Andrew could promote. Of course, I duly accepted—why not, right?
The trip would be leaving from Port Lincoln in South Australia, which is a short flight for me from Sydney, and the pickup from the airport to the boat is a short car ride. So, it was all arranged and off I went for a recon trip, prior to the expedition. I had no idea how life-changing this trip would be, from an underwater photography point of view. I remember being in the cage and seeing my first great white emerge out of the blue and swim within a few feet of me. What a magnificent beast! It's a surreal experience, for sure, and one that gets very, very addictive indeed!

Diving with great whites—unforgettable and addictive

Now, fast-forward five years, and I've led or attended around 10 great white shark trips on-board Andrew's boats and encountered many different sharks. I've learned they all have very different personalities and behaviors, and they each translate differently into a still photograph. I was very happy and proud of the portfolio of images I've accrued, but something was still missing—a spilt shot, of course! An over-under photograph of a great white shark is something of a rarity, something different, something really difficult, something really exciting. I mean, all great white shots are exciting at the time of taking them—it's an awe-inspiring animal to be that close to—but I wanted to create something a little different, a picture with connection without being too terrifying, a charismatic shark.
I don't claim to be the first person to shoot a great white split—far from it, many have done it before. But not me; I needed my own picture. The first and foremost priority to getting this image was safety, for me and the shark. I talked with Andrew (a master white shark photographer himself) at great length about the best way to go about this. It was decided a pole-mounted mirrorless camera would be the safest bet. Fortunately for me, I come from an engineering design background, so I set about designing and building a highly robust remote release pole. It had to take the weight of my Nikon Z6 II camera in its Aquatica housing and one of my self-designed 12" split shot ports.

A more straightforward image of a great white shot from the submersible cage

Furthermore, I then had to go through what Andrew calls "Special Crew Jedi Ninja Training" to be allowed to stand on the marlin board at the back of the boat to get the shot. It's all about safety really: how not to fall in and how to interact with the shark wrangling crew working down there. I'd chosen the Nikon Z6 II camera because I needed a high-speed camera with great low-light capabilities—at 14fps and smooth high-ISO images, it was the only choice. I wouldn't be using strobes, as they would only slow me down. I may only get one chance.
Then began the waiting game. I needed glassy ocean conditions and just the right shark. A shark that was not too big or aggressive, a more relaxed and curious shark that would swim in a calm manner toward the camera. One evening, it all came together. The wind and swell dropped and this shark turned up at the stern of the boat. It circled around for half an hour or so and displayed the temperament that I needed, so I made the decision to attempt the shot.
Shortly after placing my camera housing into the water, the shark cautiously approached, allowing me to quickly fire a sequence of frames, before pulling the camera out of the shark's way. I knew right then I had achieved what I set out to do.

Besides the much-coveted split shot, shooting up from below also produces great results

---

Matty Smith is no stranger to shooting split shots, and his portfolio "A Parallel Universe: Windows Beneath the Waves" contains a selection of his favorite and most successful images taken half over and half under the water. This collection has won him several highly acclaimed international awards from the BBC and National Geographic, among many others, and worldwide recognition of his unique signature style. His work has been exhibited all around the world, from the London Natural History Museum in the UK to the Australian Museum in Sydney, and he speaks publicly about his style and approach. Matty is a staff photographer for Ocean Geographic Magazine and a brand ambassador for Nikon Australia and Aquatica Digital.
RELATED ARTICLES
Be the first to add a comment to this article.
Newsletter
Travel with us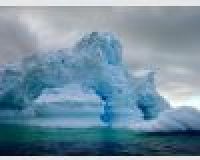 Antarctica
Plan Your Adventure >
Featured Photographer
Sean Wu
Expert Photographer
Fashion and commercial photographer Sean Wu makes a splash for a living. He imagines, creates and then captures underwater scenes that defy trends and suspend gravity. Wu have produced remarkable images for beauty, fashion and...