Articles
Behind the Shot: First Think Pink Photo Competition Winner
Nicholas More was awarded first prize in the first Think Pink Photo Competition, organized by Dive into the Pink and hosted by DPG. Proceeds from the competition are used to support the fight against breast cancer.

The gray seals of the Farne Islands have made this UK dive spot a true playground for photographers

The Farne Islands are a group of around 15 to 20 islands (depending on the tide), lying two miles off the northeast, Northumberland coast of England, in the North Sea. The National Trust owns the islands, after previously being inhabited by Benedictine monks. There's now no permanent human population—the only residents being the National Trust rangers—but the islands are home to one of the UK's largest gray seal colonies.
The gray seals (Halichoerus grypus) are a big draw for divers, but there are also healthy reefs surrounding the islands, festooned in kelp and colorful soft coral known as "dead man's fingers." The reefs support fish life as well as crustaceans such as lobsters and crabs. Many ships have met their end on these offshore reefs, so there are also numerous wrecks to dive. In addition, the islands attract hordes of "twitchers" due to the abundant seabirds such as puffins and Arctic terns.

Dead man's fingers (Alcyonium digitatum) provide a touch of color in these chilly waters

The Farne Islands' gray seal colony numbers some 5,000
The Idea
In August 2016, Adam Hanlon from Wetpixel kindly invited me along to dive these very special waters.
The water temperature was around 54°F and so required a drysuit. Seals are known for being very playful and inquisitive, but nothing could have prepared me for what was about to happen. As soon as I jumped in, the seals mobbed me—they were everywhere! It was actually difficult to know where to point the camera. The younger pups were particularly mischievous and were gently biting my fins and strobes—and me!
I had set up for classic wide-angle shots, firing off numerous frames of the seals with several different backgrounds such as against the kelp or into Snell's window.

The seals make great subjects for wide-angle environmental portraits

With a fisheye lens like the Tokina 10–17mm, you can nicely include Snell's window

The Shot
As the dive progressed, one young seal became very interested and relaxed with me. It seemed fascinated in the reflection of itself in my dome port, resting its nose on the glass and staring into the lens. Realizing this, I adjusted my strobes to pull them in tight to the dome to be able to light the now close-focus wide-angle opportunity that had presented itself.
At this point, I was lying on my back in only a few meters of water, shooting into Snell's window. The young seal continued to play with its reflection and then suddenly started to mouth at the dome. Jackpot! This continued for at least five minutes before it finally lost interest—but it was more than enough time for me to get the shot I was looking for.

The winning shot – Location: Farne Islands, Northumberland, UK. Equipment: Nikon D500, Nauticam housing, Tokina 10–17mm fisheye lens at 10mm, dual Inon Z-240 strobes. Settings: f/9, 1/200s, ISO 400

You'll remember these playful ocean puppies long after you leave the Farne Islands

---
About the Author: Nicholas More is a dental surgeon with an obsession for underwater photography. He lives with his wife Rachel in Leistershire, UK. Nick started diving in 1991 and is now a PADI Divemaster with over 2,000 dives. He predominantly likes to shoot big animals and fish portraits, with sharks being his favorite subjects, but he also has a soft spot for charismatic macro critters. See more of Nick's amazing images in his Photographer of the Week feature.
RELATED ARTICLES
Be the first to add a comment to this article.
Newsletter
Travel with us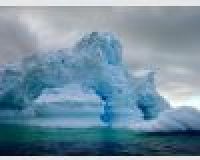 Antarctica
Plan Your Adventure >
Featured Photographer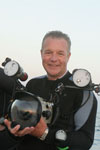 martin Edge
Expert Photographer
Mentor, coach, facilitator, educator. Whichever words are used to describe him, there is no doubt that Martin Edge is one of the most experienced and gifted instructor of underwater photography there is. His latest book...