Articles
Behind the Shot: The 2020 DPG/Wetpixel Masters Competition Winners
By DPG Editorial Staff, April 17, 2020 @ 06:00 AM (EST)

The 2020 DPG/Wetpixel Masters Underwater Imaging Competition produced another eclectic crop of inspiring photos. Captured at both well-known and uncommon dive destinations—from Japan to Australia, Mexico to Greenland—these spectacular images encompass a wide range of photographic subjects and styles. We wanted to know a little more about how these pictures were crafted, so we asked the Gold and Silver winners to let us in on their methods, techniques, equipment, and settings. Read on to discover the winning formulas behind the shots…

Wide Angle Unrestricted (Gold)

Lord Howe Island is one of the least explored yet most iconic places in Australia. A snorkel down at Ned's beach means a welcoming party of silver drummer fish, rainbow wrasse, mullet and the occasional Galápagos shark. On this day, a determined spangled emperor fish tussled among a school of drummers, competing for prime position. I noticed that when the emperor came to the surface between the drummers, it would spurt a stream of water into the air. I wanted to capture this unique behavior and needed to shoot at a high shutter speed with natural light. The water was so clear that when the curtain of water was released you could see the surrounding island behind. All the elements aligned: the morning sun, dramatic cliffs, sandy beach and a single emperor displaying this extraordinary behavior.

—Scott Portelli

Title: Spurt
When: June 2019
Where: Ned's Beach, Lord Howe Island, New South Wales, Australia
Equipment: Olympus OM-D E-M1 Mark II, Olympus housing, 12-inch custom "Matty Smith" dome
Settings: f/11, 1/500s, ISO 320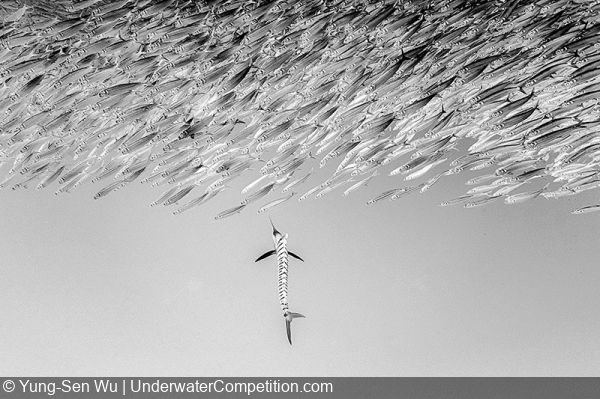 Title: Strange
When: December 2019
Where: San Carlos, Sonora, Mexico
Equipment:
Sony a9, Sony FE 12–24mm, Seacam housing
Settings: f/5.6, 1/500s, ISO 2000

Wide Angle Traditional (Gold)

Most photographers—myself included—want to record the amazing beauty of the colorful ocean. On this occasion, however, luck wasn't on my side when trying to shoot hunting marlin, as the water clarity was poor and the colors were less than vibrant. I knew it would be an ideal opportunity to try black and white, a challenge I have always been interested in taking on. Focusing all my efforts on composition, I tried to get into a good position to capture the incredibly fast swimming marlin, keeping a close eye on the shape-shifting baitball. As the day came to an end, my luck had changed and I was very fortunate to be able to record this special moment. Thanks to Richard Barnden for taking me to this beautiful place!

—Yung-Sen Wu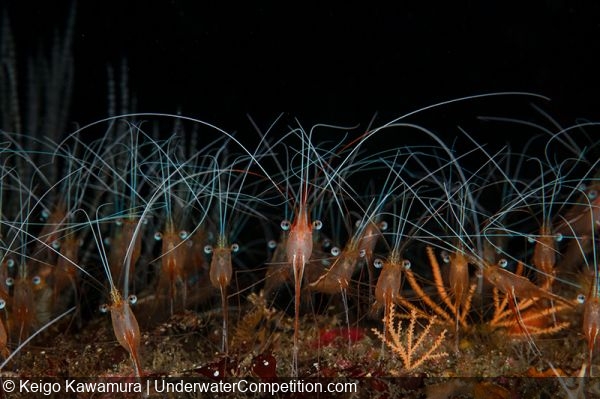 Macro Unrestricted (Gold)

Unicorn shrimp usually inhabit depths of around 650 to 1,000 feet, but they rise to about 130 feet when breeding. While Izu Oceanic Park has tens of thousands of shrimps, there are only a few suitable places to shoot them, depending on the tides, the currents, and the visibility. To get this shot, I had to go to this spot many times, because it was only possible to stay for 15 minutes at a time, once a day. Finally, after a lot of perseverance, I was fortunate to have the ideal conditions to capture an image I was happy with.

—Keigo Kawamura

Title: Eyes
When: May 2019
Where: Izu Oceanic Park, Shizuoka, Japan
Equipment: Canon EOS 5DsR, Canon 24–70mm lens, Zillion housing, Sea&Sea YS-D1 strobes
Settings: f/22, 1/200s, ISO 400
Title: Red Carpet
When: December 2019
Where: Anilao, Philippines
Equipment: Canon EOS 5DsR, Canon 100mm Macro lens, Sea&Sea housing, Ikelite DS161 strobe, Retra LSD snoot, dual MiniGear torches with orange filters
Settings: f/7.1, 1/100s, ISO 100

Macro Traditional (Gold)

Commonly found in Anilao at around 30 to 40 feet, sea pens make for beautiful photographic subjects, especially as a background for a commensal goby. My plan was to light the sea pen using two high-power torches with orange filters and a fast shutter and low ISO to cut out the ambient midday sun, and use a snooted strobe to return the goby's original color. For the composition, I tried both the top view and eye-level frontal view, but an elevated frontal view showed off the sea pen's glowing fringes best. Once I'd set up the shot, I spent over an hour with the gently swaying sea pen and the skittish goby to finally get the shot I wanted to achieve. The aperture was stopped down to get this dreamy bokeh effect, with f/7.1 providing enough depth of field to keep the goby's head in focus.

—Yatwai So
Wide Angle Unrestricted (Silver)

We were all geared up and I was ready to jump in the water. We had been making a few holes in the ice where we were to go down into the dark, freezing waters—a world of giant icebergs frozen into the pack ice. My model, freediver Anna von Boetticher, wearing only a 5mm wetsuit, was getting ready to ascend. This shot was taken during her first test dive. I was very concerned for her safety, but I still managed to get the shot. It's all about being well prepared and knowing your equipment.

—Alex Dawson

Title: Frozen
When: March 2019
Where: Tasiilaq, Eastern Greenland
Equipment: Nikon D850, Sea&Sea housing, Nikon 8–15mm Fisheye, two Bigblue VL15000P video lights
Settings: f/5.6, 1/80s, ISO 400
Title: Dragon's Teeth
When: December 2018
Where: Cenote Vaca-Ha, Yucatán, Mexico
Equipment: Sony a7R Mark II, Sony 16–35mm lens, Sea&Sea housing, five Sea&Sea strobes
Settings: f/7.1, 1/80s, ISO 3200

Wide Angle Traditional (Silver)

Caves are characterized by unfavorable conditions for the photographer: absolute darkness. Nevertheless, the world of flooded caves, in which a diver floats in a state of weightlessness between beautiful stalactites and stalagmites, has always captivated me. It motivates me to capture this beauty in images and share them with people who do not have the chance to visit this precious world. As I was floating peacefully in this cave, something made me turn around, and the view reminded me of fairy tales full of dragons.

—Petr Polách
Macro Unrestricted (Silver)

The circumstances around this black-water dive were difficult. After the Taal volcano eruption, the critters all seemed to disappear and the visibility dropped. The sound of earthquakes could be heard every night during the dives. The water was cold and I was very sick with a head cold. Shortly after the start of the dive, I spent a lot of time near the surface trying to equalize. Suddenly, my dive guide began signaling frantically for me to come down. I debated for a moment what he might have found. I decided to just go for it and pushed myself down. Luckily, my ears equalized on descent and there before my eyes, the beautiful blanket octopus. We swam alongside her and then, like magic, she opened up her blanket to show herself in her full glory.

—Katherine Lu

Title: Female blanket octopus
When: February 2020
Where: Anilao, Philippines
Equipment: Nikon D850, Nikon 60mm f/2.8G ED lens, Nauticam housing, OrcaTorch 910V light
Settings: f/25, 1/250s, ISO 400
Title: Friends
When: March 2019
Where: Anilao, Philippines
Equipment: Panasonic LX100 Mark II, Nauticam housing, Nauticam CMC, Inon Z-240 with Iardino snoot, Inon S-2000 for backlighting
Settings: f/10, 1/4000s, ISO 200

Macro Traditional (Silver)

Anilao's muck dives are always full of surprises, and when I came across an old beer bottle that had become a home for a pair of gobies, I knew I had an unusual subject to try and shoot. Little did I realize it would take four dives down to that same bottle before I got "the shot"! On the last dive, everything was perfect: My snoot was aimed at the bottle at the ideal angle and the goby's eye was in perfect focus. Just then, I spotted something coming from behind the goby—a juvenile lionfish on its way out of the "house"!

—Enrico Somogyi
---

Read "Behind the Shot: The 2020 DEEP Indonesia Competition Winners" to find out what the winning photographers told us about their images.
RELATED ARTICLES
Be the first to add a comment to this article.
Newsletter
Travel with us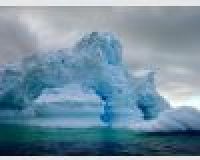 Antarctica
Plan Your Adventure >
Featured Photographer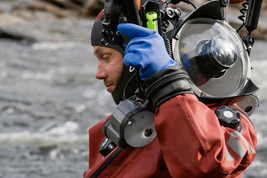 Magnus Lundgren
Expert Photographer
ABOUT MAGNUS Instagram - magnuslundgrenphotography "It is all about positive change for me, as an image may lure a person's mind and move the heart. I always use my own passion for nature to inject fuel into my...