Articles
Behind the Shot: The 2020 DEEP Indonesia Competition Winners
By DPG Editorial Staff, April 11, 2020 @ 06:00 AM (EST)

The awarded images in the DEEP Indonesia Underwater Photo Competition blew us away yet again this year, proving once more the creativity and technical skills of talented underwater shooters from all of the world. But what exactly went into creating these stunning images? What gear and settings were used? And what tricks and techniques did the photographers employ? To find out, we quizzed the Gold and Silver winners and asked them to share their imaging secrets. Here, then, are the revealing stories behind some of the award-winning shots…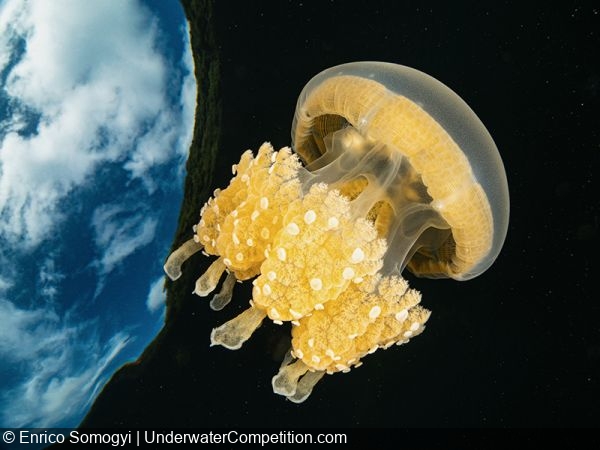 Compact Cameras (Gold)

Palau's famous Jellyfish Lake reopened in January 2019 after having been closed for two years to allow its resident golden jellyfish population to recover, and I was lucky enough to visit the following month. Armed with my wide-angle setup, I tried to capture pictures of the jellies along with the surface, shooting everything in portrait format. Reviewing my images that evening, this photo stood out, and I realized that when it was turned to landscape format, it looked like the jellyfish was orbiting the Earth.

—Enrico Somogyi

Title: Around the World
When: February 2019
Where: Jellyfish Lake, Palau
Equipment: Panasonic LX100 Mark II, Meikon housing, Sony Fisheye Converter behind 5-inch dome port, two Retra Flash strobes
Settings: f/11, 1/320s, ISO 200
Title: Nippy
When: October 2018
Where: Essex Rocks Island, Jurien Bay Marine Park, Western Australia
Equipment: Canon EOS 5D Mark II, 16–35mm lens, Nauticam housing, two Inon Z-240 strobes
Settings: f/18, 1/200s, ISO 400

Animal Behavior (Gold)

As I slid into the warm water with my snorkel, these sea lion pups swam directly over to join me. Thriving on my attention, the mischievous pair began play-fighting in front of my lens. Chasing, gently nipping and propelling themselves out of the water—sometimes landing directly on me—these "puppies of the sea" even brought me a starfish to play fetch with. If for a moment their attentiveness diminished, I would simply spin in the water, a behavior which they seemed to delight in, displaying their enjoyment by mimicking me in response. Experiencing these big-eyed frisky mammals perform their aquabatics has been one of my most precious moments underwater.

—Jenny Stock
Animal Portraits (Gold)

The most exciting thing about the ocean is that you never know what you'll encounter next. So when your dream subject suddenly appears in front of your lens, you'd better be ready to get the shot—there's no time for waiting around and thinking! While black-water diving in Anilao, I've never come across a subject as beautiful as this larval fish, and I knew that this may be the only chance I would ever get to photograph it. I was so thrilled to review the image after the dive and discover that all the elements had come together in an impactful image.

—Eric Hou

Title: Swing
When: January 2020
Where: Anilao, Philippines
Equipment: Canon EOS 5D Mark IV, Sigma 50mm lens, two Inon Z-240 strobes, Scubalamp V12K video light
Settings: f/25, 1/250s, ISO 400
Title: Twilight
When: July 2018
Where: Red Sea, Egypt
Equipment: Sony a7R Mark III, Canon 8–15mm Fisheye, Nauticam housing, two Seacam Seaflash 150D strobes
Settings: f/18, 1/80s, ISO 640

Reefscapes (Gold)

My buddy and I were snorkeling around to practice sunset split shots before our scheduled night dive. When the crew called us back after sunset, I decided to skip the dive and enjoy this peaceful moment and the enchanting view. While I was taking in the last of the rosy twilight, a few short blasts briefly disturbed the tranquility. As the two boats cruised by, they became integral parts of my picture.

—Fressia Peng
Divers (Gold)

The underwater world of flooded caves is beautiful and some of the most wonderful caves are those in Yucatán, Mexico. The state is characterized by a total absence of rivers. All water flows through a system of underwater caves, hundreds of miles long. This picture was taken during a cave dive downstream in Cenote Chun-Ya. In these caves, of course, there is no light, so you don't need to wait for the "right light": You have to use flashes or continuous lights, or both. This shot was taken using five flashes. My aim was to capture the beauty of this very temple-like cave.

—Petr Polách

Title: In the Magic Temple
When: November 2019
Where: Cenote Chun-Ya, Yucatán, Mexico
Equipment: Sony a7R Mark II, Sony 16–35mm lens, Sea&Sea housing, five Sea&Sea strobes
Settings: f/9, 1/80s, ISO 3200
Title: Clear the Room
When: December 2019
Where: Hairball 1, Lembeh Strait, Indonesia
Equipment: Olympus Tough TG-5, Olympus housing, two Inon D-200 strobes
Settings: f/6.3, 1/100s, ISO 100

Compact Cameras (Silver)

I was lucky enough to come across this scene during my first visit to Lembeh. I had never seen a fish spitting sand, and I was determined to photograph the unique behavior. I ended up spending 20 minutes with the goby couple trying to capture the right angle, the ideal light, and the perfect moment. This kind of image isn't easy to shoot with the Olympus TG-5 because one has no direct control over the shutter speed. It was only later, after showing the divemaster, that I was told that the female was pregnant!

—Miguel Ramirez
Animal Behavior (Silver)

Seeing cormorants hunting sardines is one of the many amazing encounters that a diver can experience at Los Islotes. While the dive site is most famous for its large sea lion colony, the cormorants can really steal the show! They may be built for flight but they are also extremely well adapted to the underwater world. On one particular late afternoon dive, I focused entirely on capturing their interesting behavior in the dappled light that many of us love so much in our pictures. Getting a picture of the cormorants is easy. However, getting a good picture is quite difficult, as the cormorants are very dark and the sardines extremely reflective, making balancing the exposure rather tricky. It took some adjustments and quite a bit of patience, but finally I managed to capture this image, which shows the dynamic of this situation very well.

—Hannes Klostermann

Title: Strange Encounters
When: November 2019
Where: Los Islotes, La Paz, Mexico
Equipment: Nikon D500, Tokina 10–17mm Fisheye, Nauticam housing, Zen 230mm dome, two Inon Z-240 strobes
Settings: f/13, 1/250s, ISO 100
Title: Blue Smoke
When: November 2019
Where: Biatabang, Ternate Island, Alor, Indonesia
Equipment: Canon EOS 5D Mark III, Canon 100mm Macro lens, Nauticam housing, Retra Flash strobe, Retra LSD snoot
Settings: f/10, 1/8s, ISO 320

Animal Portraits (Silver)

On a morning wall dive in Alor, I decided to shoot macro, hoping to find a longnose hawkfish on a gorgonian sea fan. Luckily, we found a pair of them, but they were fairly deep, so I had to leave them as my deco time was getting shorter and shorter. On our ascent, our guide Midung found a freckled frogfish that was sitting among blue tube sponges. I had a technique in mind that I wanted to try on this dive which I also used on the hawkfish. I used my Retra LSD snoot—held in position by my wife Emily—to light the face of the frogfish. I then used a slow shutter speed and slightly panned the camera, blurring the tube sponges to give this effect. The tube sponges were underneath a ledge, which helped achieve a darker background.

—Joe Daniels
Reefscapes (Silver)

After half an hour of endless great shark action, we started drifting with the strong current back towards the lagoon. As we got up to the shallows, I noticed some awesome waves breaking and creating amazing patterns. Just as I was framing the perfect wave, I noticed a blacktip reef shark near the surface and managed to capture this shot.

—Alex Dawson

Title: Patrolling the Reef
When: June 2019
Where: Tiputa Pass, French Polynesia
Equipment: Nikon D850, Nikon 14–24mm lens, Sea&Sea housing
Settings: f/8, 1/250s, ISO 400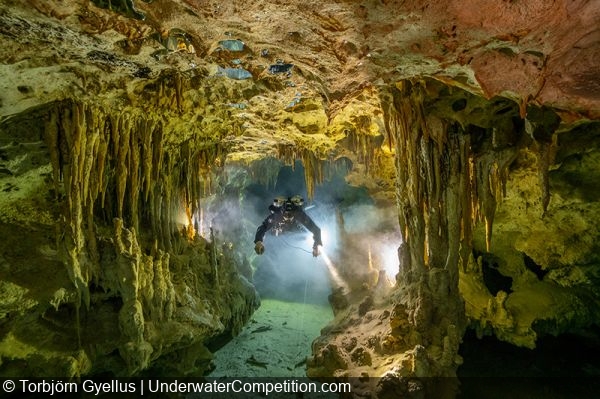 Title: Through the Mist
When: March 2019
Where: Chan Hol, Quintana Roo, Mexico
Equipment: Sony a7R Mark II, Sony 16–35mm lens, Nauticam housing, Sea&Sea YD-D1 strobes, Bigblue 33,000-lumen and 15,000-lumen lights
Settings: f/11, 1/20s, ISO 1600

Divers (Silver)

Last year, I fell in love with the caves of Yucatán and decided to do my second cave course in Mexico. After completing the course, my instructor Kim Davidsson suggested that we dive together in a cave called Chan Hol ("little hole" in Mayan). The cave has a small entrance in a tiny pond of water, but as soon as you're inside, it opens up, with over three miles of tunnels and chambers! Kim was the first person to explore this cave, so I had the perfect guide and model. He showed me some nice decorated spots in a remote part of the cave and assisted me when deploying the off-camera lights. On purpose, we stirred up just a little silt to get that misty look. After a few adjustments, I found a nice balance between the backlighting and the strobe lights in front and was really happy with the result.

—Torbjörn Gyellus
RELATED ARTICLES
Be the first to add a comment to this article.
Newsletter
Travel with us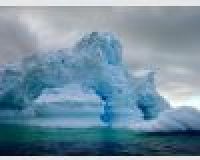 Antarctica
Plan Your Adventure >
Featured Photographer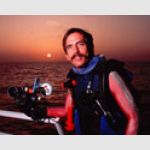 Doug Perrine
Expert Photographer
Doug Perrine is widely regarded as one of the world's foremost marine wildlife photographers. His photographs have been reproduced in virtually every major nature magazine in the world, as well as in thousands of books,...