Articles
Behind the Shot- Seadragon Silhouette
By Richard Wylie, March 5, 2012 @ 09:00 AM (EST)
By Richard Wylie
I'm relatively new to underwater photography, but as marine biologist with over 4,000 dives I'm by no means new to diving or looking for marine life—a fact that that comes in handy when looking for critters like the Weedy Seadragon.

I lecture at a local university and first started using a Canon point and shoot to show my students what they were missing on our marine science trips. However, underwater photography soon became a passion on its own. I am always trying to accurately capture the wonder and sheer beauty of the marine environment.

The Idea
I live and work in an area called the Mornington Peninsula, which is situated within the state of Victoria in the temperate, southern part of Australia. I'm a tropical marine biologist but followed my wife here 7 years ago and now love the incredible diversity and the unique temperate marine life—weedy seadragons being at the top of the list.

Seadragons are generally found in well-vegetated, coastal areas in depths ranging from 5-150 ft. Portsea Pier provides easy access at only 15-foot-depth and has a stable population of seadragons with a good coverage of leafy vegetation. When looking for seadragons, don't be shy to enlist the help of a local diver or Divemaster, as they can be awful tricky to spot.

A shot of a male weedy seadragon (with eggs) to show the type of vegetation that they can be found in and how easily it is to swim by without seeing them – this was taken on snorkel with a class of students.


The Shot
On the day I took the award-winning shot, the weather was pretty rough: high waves, windy and low visibility, which made finding anything worth photographing difficult and taking a photo even harder.
I liked this photo but still had a lot of backscatter.
I was very lucky to find this little guy, and in fact I thought that I had found a leafy seadragon, which would have been extremely rare to find in this area. Instead, I realised that it was just very young weedy with all of its camouflage appendages still attached, which is very unusual to see!

I tried to get a decent photo with the strobe, but even if I was able to minimize the backscatter I couldn't quite eliminate it. I then decided to see what it would look like without any flash and use the late setting sun to capture it in silhouette. The first couple of photos were interesting but not quite right.
Getting there….
I had to wait for the right moment between the waves breaking up the light from the sun above, the seadragon sitting in the right spot, and getting low enough to frame them together. The end result had me under the vegetation on my back, the weedy in profile, sun shining just right and the final photo below!
It was also a fantastic lesson in adapting to the situation at hand to get a salvageable shot– plus I still got to dive with the wonderful weedy seadragon, so no complaints from me!

Final image - Canon DSLR (550D) with Ikelite Housing and an Ikelite DS51 strobe. ISO 100, f/14, 1/200sec
RELATED ARTICLES
Be the first to add a comment to this article.
Newsletter
Travel with us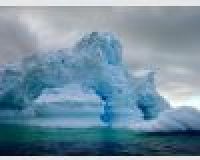 Antarctica
Plan Your Adventure >
Featured Photographer
Andre Crone
Expert Photographer
Award winning photo journalist Andre Crone started diving when he was 24 years old. He bought his first underwater camera as soon as he got his first diving license. He started his production company Elysia Productions four...