Articles
Behind the Scenes with Belugas
By Bartosz Strozynski, April 25, 2012 @ 09:00 AM (EST)
By Bartosz Strozynski
It's no surprise that photographers usually want their photos to do all the talking.
However, since I was asked to tell the story behind my picture "Photo Flirt" that won the OWU 2012, I will try my best to share the key facts that you can not see in the image, but had big influence on final result. I hope that in doing so, you will gain a feel for the environment and conditions I faced and it will inspire your art.
You probably have never seen a picture of the aurora in black and white. This amazing light show welcomed me at the White Sea, and it lasted only one night during the time I spent there. This was further proof for me that you should always take pictures in the moment, instead of believing there will be another chance in the future.
During the day, the White Sea looks very different—deep whiteness everywhere, very low temperatures and low contrast landscapes.
Even in Russias's far North, there is good enough infrastructure – lodging and food – that enables photographers to focus and enjoy the diving. Such an extreme environment attracts extreme and very ambitious people, who stay outside even when the temperature falls to negative 30 degrees at night.
All diving takes place under the frozen sea. Diving spots may be pretty remote from land, so to get there with heavy equipment, it requires some logistics. The standard form of transportation used in the frozen north is a snowmobile with a string of sledge trailers behind. It is an easy and convenient way of getting around.
In order to dive under a frozen sea, the first step is to make an air hole. For regular ice diving, the people in charge will prepare them daily; but in a place where Belugas can be met, the air hole is maintained permanently.
Ice diving is associated with some risk related to environment conditions and so a special scuba equipment configuration is needed. Normally a cave diving configuration is the best, but in this case we needed two cold-water tested regulators on two independent valves, strict buddy diving, and good topside rope assistance. The biggest risk is regulators freezing. One-hour dives in below freezing water turns your first stage into ice ball!
Most of my diving is done in cold – or very cold – water and my photographic equipment is adapted so that usually I don't have any technical issues. However, this was my first trip when I faced technical issues caused by humidity: the usual nightmare of electronic equipment, when you bring stuff back to room after using it in very cold environment. My advice is not to stress your equipment too much with temperature changes; instead, warm it up step by step to make sure you don't miss another dive opportunity due to break down.
As photographers, we rarely have photos ourselves in the field, due to logical reasons. I suggest always asking your friends to make some shots of yourself. In time you will really appreciate it. This picture, where you can see me ascending, I got thanks to my friend Andreas Jaschek.
Belugas are amazing, and curios, although very shy mammals. To get good picture of them requires a huge effort. When you approach the air hole, sometimes you can see them underwater.
After the extensive effort, I was finally awarded. I managed to make quite a lot of very unique Beluga pictures.
Wintertime in the White Sea is a really challenging environment for photography, especially for underwater activity. Everything is beautiful, but being exposed to wind, cold water, rapidly changing weather and lighting conditions, "shining" snow in huge contrast, photography becomes extreme exercise. In this environment planning and execution are under serious pressure, and output is always big question mark.
I am happy is that I managed to catch an award-winning picture. Now I can't wait to get back into the freezing-cold water. I hope I can share it with you in the short future.
RELATED ARTICLES
Be the first to add a comment to this article.
Newsletter
Travel with us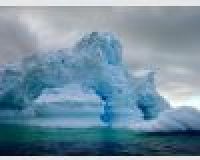 Antarctica
Plan Your Adventure >
Featured Photographer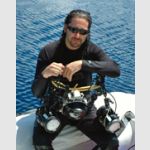 Jason Heller
Expert Photographer
Jason Heller is a New York City based commercial photographer specializing in underwater, travel & lifestyle photography. He is also the founder and publisher of DivePhotoGuide.com, a popular portal for the global community...