Articles
A Beginner's Guide to Surf Photography Equipment

Traditional underwater photography housings are great at a lot of things. They keep out water at bone-crushing depths. They feature impressive ergonomics and control. But would you want to take your underwater photography setup into 10-foot-tall surf? We doubt it.
Surf vs. Diving Housing
Housings can be broken down into two main categories—surf and diving. Diving housings are mostly constructed from aluminum, feature access to many controls, and have the ability to add lots of artificial lights with strobes. They're also large, cumbersome, and don't do all that well in heavy surf. Oh, and you'll probably end up with sand in your O-rings.
If you want to take images in serious surf (anything over 4–5 feet), there are significant advantages to investing in a surf housing. The primary advantage of a surf housing is its lightweight form: Many are constructed from a combination of ultra-light aluminum and polycarbonate. Second, they are able to take a beating in the surf. A final key component is the ability to add on a pistol grip, which makes getting the image—while you're getting tossed about—much easier than having to hold onto (two) handles.
While many dive housings are constructed from durable, yet dense, aluminum, surf housings feature ultra-light aluminum, which makes them easier to maneuver in the surf

If you're deciding which housing is right for you, there's a simple question to ask: Do you want to take it scuba diving? If that answer is yes, you'll need a dive housing in order to prevent flooding. This dive housing can also function well in some watersports photography, generally when conditions aren't too rough. Meanwhile, a surf housing is more than capable for freediving, shallow water activities and surf photography.

If you intend to take pictures in waves like this, you'll need a dedicated surf housing
Choosing Your First Surf Housing
So let's say you've decided to take the leap into serious surf photography and keep your underwater housing just for diving. How do you go about choosing a surf housing or even what camera to put in it?
Sure, you can get good results with a GoPro or other action camera, but nothing beats the ability to shoot at fast frame rates and have some control over settings. Surf photographer Russell Ord recommends sticking with the equipment you already have, especially for DSLR shooters. Diving in and out of waves with a new camera is probably not a good idea unless you're very familiar with it.
Just like for dive photography, there are a myriad of surf housing manufacturers. These include the following: AquaTech, Liquid Eye, and SPL. Many serious surf photographers also turn to custom manufacturers to build a housing unique to their demands.
Surf housings come in both pistol grip and side handle variations. They feature less control over camera settings but are far more durable than dive housings

Depending on the level of your DSLR, housing prices can range from roughly $1000 to $1500. Most manufacturers only offer a single housing to correspond to each camera body. However, some companies have multiple housings for the same camera, with "professional," "intermediate" and "beginner" models. Whether choosing between these housings or between companies, Russell's advice is to start with the cheapest, entry-level housing and learn how to use it in the surf before investing in something more expensive. "Start with a small, basic setup and get good at it," says Ord.

It's best to start with a small, cheap setup to get used to taking pictures in mid-sized surf. Once you're comfortable, you can upgrade to higher-end cameras and custom housings
Lenses for Beginner Surf Photographers
Like underwater photography, surf photographers use a variety of lenses to suit a variety of purposes. But to start out, a medium-range focal length is ideal: The 50mm lens is among the most common. While even the most entry-level underwater photographer wants to get close to a subject, this can be more dangerous in surf photography when the subjects are massive waves and fast-moving surfers. Using around a 50mm focal length lets you fill the frame with the subject, without having to be within arm's reach.
Once you're comfortable in the waves (i.e., in the barrel or right behind it), then a fisheye will allow you to get even closer and produce an impactful image. Surf photographers often use wide-angle and tele-zooms, such as 24–70mm or 70–200mm. While these lenses are more versatile in changing conditions, they are also heavier and more cumbersome—better suited for an intermediate surf photographer.
Smaller ports reduce weight and drag in rough conditions, making the job of moving and controlling the camera easier

Like underwater housings for interchangeable lens cameras, your surf housing will likely require a port specific to the lens (unless it's a custom design). Surf housing ports either come in flat or dome form. The large domes are designed specifically for ultra-wide angle lenses to take split shots. Again, this is an advanced technique, so you're better off starting with a compact lens like the 50mm and a compact port to match.
Accessories for Surf Photography
Perhaps the most important accessory for the new surf photographer is the pistol grip. This key accessory makes getting the image while you're getting tossed about much easier than having to hold onto two handles. When you're learning to understand how the waves behave while trying to take pictures, it can be tough to hold onto the side of a housing and press the shutter button while getting hammered by a wall of water.
A pistol grip is a great investment for a newcomer to surf photography, allowing you to continue to shoot the surfer subject while ducking underwater

A basic, two-stage pistol grip attaches underneath the housing, so you can hold it as if it were a handgun. With this you can more easily hold it out of the water as you brace for the wave.
Some surf photographers also utilize artificial strobe light to illuminate foreground subjects. Since strobe light only reaches so far, it's usually used just with fisheye or ultra-wide angle lenses, which can be tricky to use for beginner surf photographers, as mentioned above.
Put off investing in a housed flash until you're comfortable shooting in natural light with a longer focal length lens
Final Thoughts
They say it's not about the camera being used, but the person using it—and that could not be truer when it comes to surf photography. The surf can be an unforgiving place, and learning the ocean's rhythms will help produce quality images more than an expensive, complex camera setup. Starting out with something small and simple is a great way to dip your toe into surf photography.

RELATED ARTICLES
Be the first to add a comment to this article.
Newsletter
Travel with us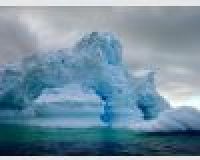 Antarctica
Plan Your Adventure >
Featured Photographer
Michael AW
Expert Photographer
Pursuing the art form of documentary photography, Michael AW is well known for his saturated colour imagery. His work on environmental issues and natural history, have been featured in BBC Wildlife, Asian Geographic, GEO,...