Articles
Bartosz Stróżyński's Three Arts in Antarctica
By Ian Bongso-Seldrup, October 2, 2020 @ 07:00 AM (EST)
One of Antarctica's iconic residents, a crabeater seal, shows Bartosz who's boss

In February 2017, an intrepid group of Polish artists representing film, music and photography sailed on a yacht to the bottom of the world. Inspired by the journey, and Antarctica's wild nature and extreme conditions, the team, led by photographer Bartosz Stróżyński, faced some unique artistic challenges.
The project aimed to use culture and art to arouse an interest in Antarctica, its beauty and the threats it faces. During the expedition, the group reported live on Polish radio and organized the first ever concert by a Polish artist on the frozen continent. The expedition also resulted in a book about the project and a photographic exhibition featuring Bartosz's images that is still touring Poland three years later.
The culmination of the project, Bartosz's documentary film "Three Arts in Antarctica," sees its premiere at the 10th annual Wildlife Conservation Film Festival (WCFF), which is virtual this year and runs from October 1st to November 8th. We caught up with Bartosz and asked him about the idea behind the project, the challenges involved, and what it takes to photograph a leopard seal…

Bartosz has been enthralled by the beauty of Antarctica for more than a decade

DPG: Why is Antarctica such a special place for you?
I have been in love with Antarctica for many years. I went there for the first time in 2009, and my personal and professional life took a 180-degree turn. From that moment onwards, everything I have been doing in terms of diving, photography, and film has been linked to Antarctica and the Arctic. It is kind of an obsession: When you witness this enormous beauty, breathtaking landscapes, animals not seeing humans as a threat, it stays with you forever. I knew I would go there again and again and again.
I released the book AntArktyka. Podwodne zauroczenie (Antarctica and the Arctic: An Underwater Passion), published by National Geographic Poland in 2014, after numerous photographic expeditions to the poles. I began giving public lectures and presentations about Antarctica, sharing my emotions about the place, my interactions with its animals—the continent seen through the eyes of an artist. The aim was for people to better understand Antarctica, in the most accessible way possible.

Antarctica's beauty extends below the waterline

DPG: How did the idea for "Three Arts in Antarctica" come about? What was your goal?
The origin of the idea was in 2009 during my very first diving expedition to Antarctica. It was one of those cold and fresh mornings in Antarctica. While everybody was still sleeping, I grabbed my camera and for the first time in my life went out to capture the sunrise. It was a beautiful, mysterious morning close to one of the peninsula islands. In the far distance, I was shocked to see a sailboat, almost disappearing in the dark clouds. I couldn't believe such a small vessel could cross the Drake Passage, one of the most dangerous seas in the world. It was a eureka moment. I remember that morning I promised myself that one day I would come back to Antarctica on a sailing boat and experience this place in a very different way.
Years later, after many Antarctic and Arctic expeditions, I returned to the idea, but at that stage it wasn't just about going there: I wanted to change people's awareness about Antarctica. Over time, I learned that many people don't understand what Antarctica means and why it is so important for our future. I also knew that some people may be skeptical about, or even tired with, the current narrative about climate change. I wanted to find a different way to reach people, a more accessible approach, hopefully with a longer-lasting impact.
Having been involved in photography, film and music productions for some time, I felt art and culture provided the answer. The idea was to have people follow well-known artists and their intriguing activities somewhere at the end of the world, reported daily live in prime time on Poland's most prestigious radio station—and somewhat indirectly have them learn about Antarctica. We wanted to use art and culture to draw people in and share as much of Antarctica's beauty as possible, leaving an impression of this unique place in people's heads and hearts. I believe beauty can effect change—the more we appreciate something, the more we care.
And so, after years of team building, fund raising, and planning, we finally took a small team of artists on a sailing boat to Antarctica.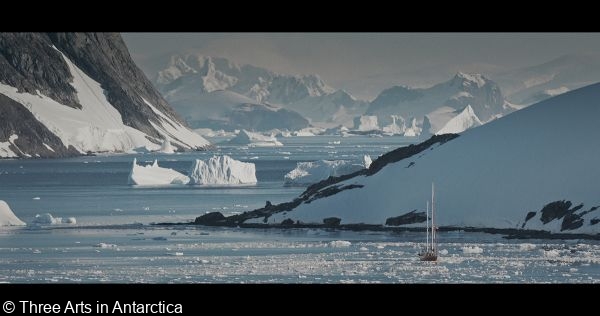 A sailboat dwarfed by Antarctica's rocky slopes and treacherous icebergs

Adam Nowak, leader of cult band Raz Dwa Trzy, performs in Pleneau Bay—the first ever concert by a Polish artist in Antarctica

DPG: How long did your preparation for the trip take? What logistic hurdles did you overcome?
In total, it has taken about six years, from the initial planning to this month's premiere of the "Three Arts in Antarctica" documentary film. The lead-up to the expedition was about two-and-a-half years: defining clear targets for the mission, budgeting and fund raising, artistic team building, involving key media and then marketing and public relations, building the social media community around the project, all the logistics—the sailboat rental, the mobile recording studio, film cameras and lenses, a reliable data storage system, satellite communications, music instruments, scuba diving equipment, underwater film and photography gear, and many other things!
It was around 800kg in total, 80% of which was equipment—25 suitcases, eight pieces of hand luggage, some smaller backpacks, pockets full of batteries and fragile items. All of it was brought by seven people from Poland to Antarctica, about 10,000 miles one way, with two connecting flights, two days stop in Buenos Aires, many days across the Drake Passage, many weather complications. Overall, it was more than 30 days on the boat. Transporting such high value equipment by air, there was a significant risk of losses, delays, breakdowns, potentially making the expedition impossible even before it started. But thankfully, with my long experience with air travel, everything went according to plan and we returned home with nearly no issues.
After the expedition of over a month, the post-production phase has taken more than three years. During this period, I wrote and published a book, produced and held a photographic exhibition, and finally produced the documentary about the expedition.

Bartosz captures the stunning beauty of Antarctica—both above and below the waterline—for his book accompanying the expedition

Six different species of seal live in Antarctic waters

DPG: Leopard seals, crabeater seals, fur seals, penguins—how do you approach photographing Antarctica's unique subjects?
Photographing and filming animals underwater in Antarctica is always a challenge. Some people say it is a matter of luck, but I disagree. There is some luck involved in finding good opportunities, but you have to be ready to execute the shot successfully, while respecting the animal's comfort zone. Even with a top camera, great diving gear, and an amazing subject in front of you, you can still come home with nothing.
Topside shooting is less complicated and less technically demanding, but much more difficult artistically. Showing penguins or fur seals in a creative, non-repetitive way is very difficult. We were very lucky to have snow, which added a different, appealing dimension, but again, at the end of the day, it was about being ready to seize the opportunity.
I particularly love leopard seals, and whenever I go to Antarctica, I can't wait to interact with them underwater. One of our key targets was having a leopard seal story in the film. Using both the boat and our Zodiac, we spent many hours looking for them and finally managed to spot one swimming leopard. Only one during the whole trip! I spent years, days, hours to get 35 minutes in the water with this amazing animal.
Antarctica is always unpredictable and gives only what it wants to give. After days of weather complications, delays cross the Drake Passage, navigating icebergs at Petermann Island, everything changed overnight. We got a prize from nature: 10 full days of beautiful sunny weather, an unexpected interaction with a crabeater seal, and a couple of hours underwater with animals treating me like another seal.

The team was blessed with perfect conditions for shooting

DPG: Tell us about the film and photography gear you used on the expedition.
Before the expedition, we agreed that we all wanted artistic spontaneity. We wanted to keep the experience fresh and the results unpredictable. As I had already shot extensively in Antarctica, I wanted to find a new photographic challenge. After some research, I came across wet plate technology, an early photographic process that is almost magical, but extremely demanding, especially in a cold environment. I had to get hold of a very old camera, learn chemistry to the level required to prepare the various chemicals, and understand how to troubleshoot the results. Shooting in Antarctica using this technique was a very tough experience. After repeated attempts, each taking around an hour, I was completely demotivated from the lack of good results, and I wanted to give up. But I kept trying and finally the magic materialized.
Filming was very involved. We had three camera operators, including myself underwater. Topside we used two Sony FS7 camcorders recording 4K with a full range of Canon and Tokina lenses. Underwater, I used a Red Helium 8K S35 cinema camera in a Nauticam housing, and for stills, a Canon EOS-1Ds Mark III in a Seacam housing with a Canon 14mm lens and Seacam strobes.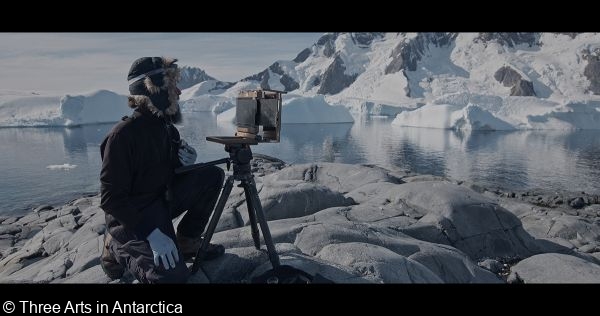 Another first for Antarctica: Bartosz and his wet plate camera

A memorable interaction with a crabeater seal captured on film

DPG: What was the reaction to the expedition, and the subsequent exhibition and book?
Before we left for Antarctica, we built a large community around the project. We had the support and patronage of Trojka, one of the biggest radio stations in Poland, National Geographic Traveler Poland, and environmental magazine Salamandra. Large numbers of listeners tuned in to our daily live reports from Antarctica on the radio, and we had an amazing reaction on social media. Adam Nowak's concert was very successful: Hearing a local music star play in a very different place was very intriguing for many.
Our photographic exhibition presenting the disappearing beauty of Antarctica has been touring for nearly three years across galleries in Poland, and I believe this will continue. The book, published by Bezdroża in 2018, presents "Three Arts in Antarctica" in every detail, from day one in 2009 till our return to Poland, sharing lots of great stories and pictures.
I believe the expedition created a huge amount of interest around Antarctica, unprecedented in the Polish media. Hopefully, it changed people's perceptions about this amazing place.

DPG: What do you hope viewers will take away from watching the documentary?
I hope people will fall in love with the beauty of Antarctica, or at least feel some emotional connection with this special place. And the more we understand something, the more we care about it—so, it is my hope people also appreciate better what we stand to lose.

The trailer for the "Three Arts in Antarctica" documentary film

DPG: What are your future film and photography projects? Any plans to return to Antarctica?
In the coming months, I will complete work on my third photography book, and finish another album with my band. Then I'll come back to Antarctic projects—I have a few on my list! One, no surprise, concerns leopard seals again, but seen from a rather different point of view, this time linking art with science. Unfortunately, because of the pandemic, Antarctica is closed for the coming season, so various decisions are on hold right now. Hopefully, that will change soon.

Bartosz's Antarctic projects: "I have a few on my list!"

---

Bartosz Stróżyński would like to thank the team, everyone who supported the project, and the sponsors who made "Three Arts in Antarctica" possible. www.trzysztuki.pl

---

The "Three Arts in Antarctica" documentary film, produced and directed by Bartosz Stróżyński can be watched online during this year's virtual Wildlife Conservation Film Festival (WCFF), between October 1st and November 8th. The festival is screening 250 international documentary films and is hosting daily live chats with global filmmakers, scientists, and conservationists. The $12 Festival Pass gives you 24/7 access for 40 days and allows you to watch on your TV, phone, tablet, or computer.
RELATED ARTICLES
Be the first to add a comment to this article.
Newsletter
Travel with us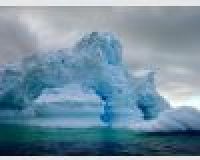 Antarctica
Plan Your Adventure >
Featured Photographer
Debi Henshaw
Photographer
For more than 15 years Debi ran a design and production agency in the UK with her husband David who also shares her passion for diving and UW photography. Now living on the beautiful Spanish Island of Menorca in the...