Articles
Baja's Manta Mystery
What is behind the mysterious disappearance of the manta rays off La Paz, Mexico?

In 2003, the giant mantas that aggregated at La Paz's dive site "La Reina" disappeared. Researchers theorized as to why, but the sudden and apparent removal of all the individuals became a local and international enigma. Where had they gone?

A Manta Mystery
Giant mantas are large pelagic animals that can travel huge distances. Had they just moved on? No one remembers a time without giant mantas in the Bay of La Paz or around the seamounts and pinnacles of El Bajo and La Reina. Perhaps they had been fished for their valuable gill rakers. Could this researcher's enigma actually be a murder mystery? Most of all—aside from all of the questions—the mantas' disappearance was just sad.
The feeling of loss had slowly become one of acceptance—for me, at least. The hope of their return became no more than a pipe dream. When visiting divers inquired about the mantas, I'd have a simple-but-devastating reply: "No, the mantas are gone."
Sporadically, divers had seen mantas at La Reina over the last couple of years: One or two animals here and there, shy and timid. But it was nothing compared to the swooping, gliding, and inquisitive mantas of old.

The loss of the manta rays was a devastating blow to divers and underwater photographers

The mantas were once present in large numbers and often comfortable getting close to divers
The Return of the Mantas
In July of this year, I experienced something underwater unlike anything else before. My heart raced. My pulse skyrocketed. Fifteen years of loss and acceptance was swiftly replaced by joy and love. Like an infatuated schoolboy seeing his first love return or a girl hearing a Shakespearian sonnet spun by the bard himself, I was filled with a love only the ocean can provide.
The manta swooped in right beside me. I swear she was smiling—grinning from cephalic fin to fin. "We are back," she might have whispered.
We are now well into the 2018 season and the mantas have stuck around. Very few scientists are willing to commit a theory explaining the mantas' absence and subsequent return to La Reina. In search of an explanation, I spoke with Dr. Frida Lara from Pelagios Kakunjá and marine biologist Paul Ahuja. Both scientists expressed delight in the mantas' return, but they stressed that now is the time to observe and study. Little is known about these animals here in La Paz.

The mantas have returned to La Reina. But how long will they stay around?

Little is known about the region's manta rays. Scientists, researchers, and local dive shops hope to change that
A Scientific Explanation
The disappearance and return of La Reina's mantas deserve a worthy hypothesis for an explanation. Dr. Lara and her colleagues have tagged one of the mantas and named it Fenix (Spanish for "phoenix"). There is a long history of tagging the region's mantas, although not specifically in La Reina. Working for Manta Mexico, Ahuja collected data on 52 individual animals from 1999 to 2002.
"It does not seem possible to have had 52 animals fished out," said Ahuja, who instead suggested a traumatic event like orcas hunting down the animals. Dr. Lara added that recent legislation (NORMA 029) has also increased the protection of mantas from fisherman.
Essentially, until more data is collected, the most likely theory is that the mantas' absence is part of a natural life cycle that these beautiful pelagic animals have yet to reveal. The scientists didn't want to speculate about the specific behavior that may have been behind the change. I guess we will just have to wait.

It is unlikely that the mantas were fished to the brink of extinction. A yet-to-be-determined natural life cycle is more likely

More data collection will aid in the understanding and protection of the manta rays
Sustainable Ecotourism—A Long-Term Perspective
To put things into perspective, in 2003 when the mantas disappeared, La Paz was only just getting wireless Internet; Finding Nemo was the top grossing movie; and smartphones weren't even a thing. So much has happened since then: Great Britain has had four prime ministers, the United States has gone through three presidents, and David Beckham has served up 19 different hair styles.
Social media was in its infancy back in 2003, but it has become a crucial tool for documenting the return of the mantas. The local scuba, freediving, tourism and research communities have rallied together on social media. We are seeing unparalleled collaborations between WWF Mexico, Pelagios Kakunjá, Manta Mexico, Pelagic Life, ECO, The Pacific Manta Group, Whale Shark Mexico, and many local scuba centers—along with the government. These collaborations are focused on research and best interaction practices.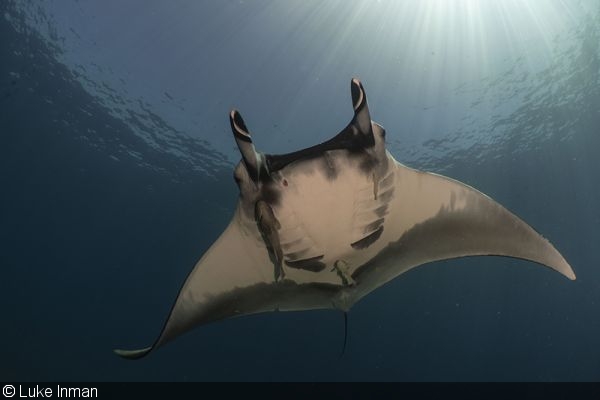 Cooperation between divers, scientists, and the government is paramount for the mantas' revival at La Reina

My dive center Cortez Expeditions took the lead and published the first local protocol for manta interaction. We practice a "no anchor policy" to avoid entanglement with the rays. We hope others will follow our lead. These ideas and protocols are in constant flux and can change based on the scientific findings and general everyday observations.
The long-term cooperation between research institutions and tourism entities can only lead to more understanding, awareness, and more-sustainable practices for manta interaction.

Some dive operators have established manta interaction rules to ensure sustainable encounters
Photographing the Mantas of La Paz, Baja
The return of the mantas also gives the opportunity for underwater photographers to get stunning shots without having to spend thousands of dollars to travel to Socorro on a liveaboard. Plus, in La Paz, you get playful sea lions thrown in for good measure.
La Reina is a small islet situated approximately two hours by boat from La Paz and the dive site bottoms out around 50 feet (18 meters). The mantas are invariably cruising between the outcrops of rock and reef. So far, 11 different manta individuals have been identified. Some have proved to be shy while others are super inquisitive. Fifteen years ago, the manta season could last from July through to mid-November. I can only hope this will continue to be the case.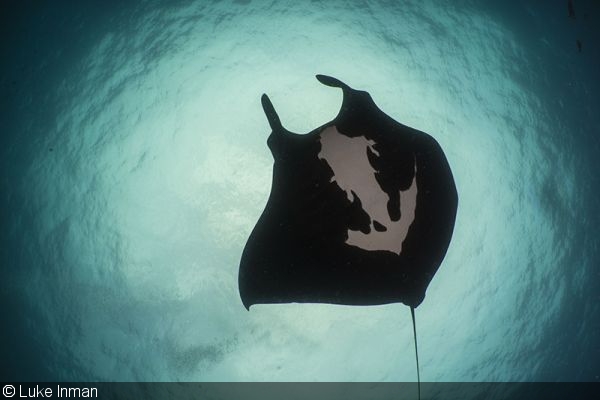 Photographing the mantas from below provides key details to help scientists identify individuals

I plan to update this article and publish more information concerning the mantas' return. Let's hope that the manta named "Fenix" is true to its mythical reputation. In Dante's Inferno, the phoenix lives for 500 years. "The phoenix dies, and then is born again, when it approaches its five-hundredth year."
I may not be around to update DPG readers in 500 years, but let's hope the mantas will still be cruising at La Reina.

Hopefully, La Reina's manta rays will be around for many more years to come

RELATED ARTICLES
Be the first to add a comment to this article.
Newsletter
Travel with us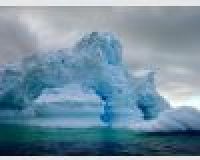 Antarctica
Plan Your Adventure >
Featured Photographer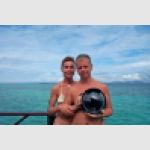 Andrea Ferrari
Expert Photographer
When they are not diving Andrea and Antonella Ferrari live in the countryside south of Milan, Italy, in a beautifully restored farm going back to the eighteenth century, with their beloved English Bull Terrier. After having...