Articles
The Art of Aluminum Underwater Photo Prints
In this latest article in The Guide, DPG Field Editor Joanna Lentini looks at what it takes to create metal prints of underwater images.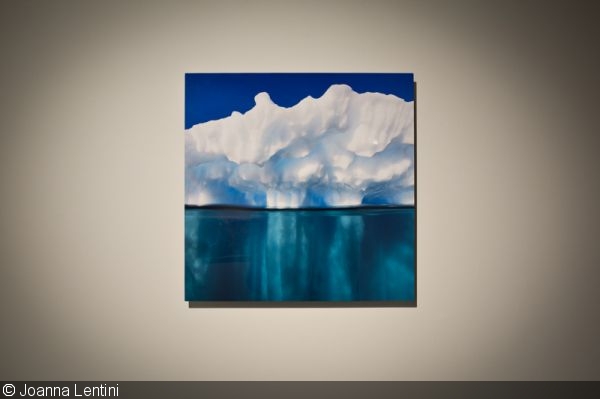 An over-under image by the author printed on aluminum by Shiny Prints

We often create underwater images with the intent of sharing these fleeting and often surreal moments with our terrestrial-bound friends and family. However, in the current digital age, the final step of actually creating physical images has been replaced by the click of the mouse or the tap of a touchscreen.
Still, there's immense satisfaction to be gained from viewing your underwater creations on something besides a computer monitor, tablet or smartphone. While there are many mediums on which to print, this article focuses on an increasingly popular and modern medium for printing images: aluminum.

A Brief History of Metal Printing
The art of printing on aluminum—technically "dye sublimation"—was invented by Roger Laudy in 2003 out of a lab in Lexington, North Carolina. Laudy is the founder and owner of Image Wizards, the first metal printing lab in the world. Over the years, Laudy and his team have fine-tuned the art of printing on metal, and today partner closely with the printer company Epson.
For a few reasons, metal prints have gained increasing popularity with underwater image-makers. The medium boldly showcases the often-saturated nature of the underwater environment. Vibrant reef scenes and blue water columns really tend to "pop." Additionally, aluminum prints are extremely durable, waterproof, and can even be hung outdoors—lasting upwards of 100 years. The prints arrive ready to hang and are super easy to clean.

Aluminum prints by Craig Dietrich sit on the heat press at Shiny Prints
Before You Shoot
Even before you begin shooting your print-worthy images, you'll need to confirm a few settings on your camera. First and foremost, if you're not already doing it, you'll want to shoot in RAW. This gives you the most control over processing your images. Even if you don't know how to process your images yet, you'll be happy you did so later.
Next, navigate to your camera's "color space" setting. You'll probably find that your camera is set to sRGB by default, but you'll want to choose AdobeRGB. sRGB is the standard for color space on everything from video games and smartphones to computer monitors. AdobeRGB, on the other hand, is purported to provide roughly 35% more color range when printing—the result should be better color consistency and more vibrant prints.
Just be sure to convert your images back to sRGB for sharing digitally, as AdobeRGB loses about 24% of its color space on monitors versus just 3% with sRGB. In case you were wondering, converting sRGB to AdobeRGB can't be done accurately, so shooting in sRGB and converting in post isn't an option.

At SubShots, images are first printed to transfer paper before being pressed to aluminum

Sean Cavillo of Subshots affixes the transfer paper to the aluminum sheet prior to placing it inside the heat press
The Print Process
It's one thing to read about how something works, but something entirely different to actually see it done. In order to provide a better understanding of the process, I stopped into a metal print lab in Norwalk, Connecticut for a quick demo. Sean Cavillo of SubShots was kind enough to let me document the entire process from start to finish.
While it is possible to print directly to metal, the process is painfully slow. Therefore, most labs first print an image to transfer paper with a dye sublimation printer. The image is then transferred to metal using a heat press set somewhere between 360–400ºF. While the average time inside the press is five minutes, Cavillo explained it really depends on the size of the image, as larger ones require more time.
The three labs I consulted for this article all seem to prefer the superior quality of ChromaLuxe, the leading manufacturer of aluminum photo panels. While most labs offer custom sizes and can create prints from 16" by 20" all the way up to 48" by 96", Shiny Prints out of Jupiter, Florida takes it a step further. Owned and operated by Will Heinitz since 2013, Shiny Prints uses a CNC machine to create any custom size or shape you desire.

The image transfers to aluminum inside the heat press

After letting the metal cool, the transfer paper is carefully removed
Proofing, Finishing and Framing
Pricing
The average price point for a 24" by 36" print is about USD230 before shipping, depending on which framing you choose. While this is a little bit more than the price per square foot for a fine art print, do keep in mind your metal print arrives ready to hang, whereas a fine art print needs to be sent to a framer.
Prior to creating the final print, most labs will send proofs to their clients to be sure everyone is on the same page. If it's your first time ordering, it makes sense to request proofs with all of the finishes and framing options. Unsure which finish to choose? From personal experience, a white gloss finish is probably a safe bet for your first metal print.
While print labs differ when it comes to the names for their particular finishes, two of the common bases are white aluminum and lightly brushed aluminum. Each base offers different levels of gloss or matte finish. It's worth noting that dye sublimation printers do not print the color white, so any part of your image that is white will be the actual metal itself.
More than likely, you'll want to hang your print, so it's necessary to have some sort of frame adhered to the back. The standard float frame is positioned in the middle part of the print and gives the appearance that the print is floating on the wall. Frame-to-edge framing is also available and simply means the frame sits flush with the edge of the print. This tends to come at a greater cost.
If you want to include your signature on the print, there are various options depending on the lab you go with. Some are able to etch your signature into the metal itself, while others simply add the signature file to the print. If you want to keep it simple, pick up a Sharpie or a liquid paint marker, and do it the old-fashioned way.

The final image is revealed at SubShots
Final Thoughts
Aluminum is just one of the many mediums to consider when printing your favorite underwater images. Prints are sleek, durable, and environmentally-friendly, and your image really pops. That said, not all images are ideal for printing on metal. It's hard to say which images work best for metal and which do not. Try to play around with different finishes and have proofs created prior to placing your order. At the end of the day, it really comes down to personal preference.

The vibrant colors underwater really make images pop on metal, as here at Shiny Prints
Be the first to add a comment to this article.
Newsletter
Travel with us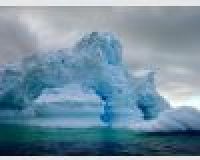 Antarctica
Plan Your Adventure >
Featured Photographer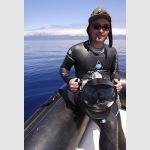 Jens Kuhfs
Expert Photographer
Born a Pisces, it should be no surprise that he has taken to the water. Jens Kuhfs has taken to the underwater. And he takes us with him when he captures his encounters in the blue depths of our planet with his camera, and...