Articles
Adapting to Change in Southern California: An Underwater Photographer's Perspective
Between 2013 and 2016, underwater photographer Allison Vitsky Sallmon compiled a portfolio of images depicting some of the extreme shifts in ocean temperature and marine life in Southern California

Rising water temperatures in Southern California, have increased the frequency—and boldness—of normally timid smooth hammerhead sharks

When I began asking local experts in 2013 about an unusual sea lion mortality crisis in Southern California, I had no way of knowing what was coming. As I blithely photographed a pen of skinny sea lion pups, two extreme, overlapping warm-water events—an ocean surface event that's been dubbed "The Blob," as well as a strong El Niño event—loomed ahead.
The years that followed delivered a series of unusual, often distressing sights. The first, however, was just plain awesome: a nine-foot smooth hammerhead shark. These animals are not uncommon in our area in the summer, but they're commonly standoffish, even near dive boats with a chum bucket in the water. But turning up the water temperature a few degrees brought a few extra smooth hammerhead sharks to the area—and the greatly increased chance of a player. The minute that shark slammed into my dome port, I snapped to attention and started watching for oddities. I didn't have to wait long.

"By-the-wind sailors," a jellyfish-like pelagic invertebrate, were one of the first oddities seen in Southern California, and in such numbers that on occasion, they blanketed entire sections of the beach
Shooting Change
Sometimes photographing unusual marine life simply meant having extra gear on hand. During a day of diving at a favorite macro site, for instance, I surfaced to discover a small raft of Velella velella—jellyfish-like creatures also known as "by-the-wind sailors"—near the boat. I swapped out my macro lens and flat port for a fisheye and mini-dome, and I spent my surface interval trying to capture their eerie beauty.
In other cases, it paid to monitor social media and local dive reports. After hearing an account of swarms of pelagic tuna crabs—a type of squat lobster more often found off the coast of Baja—in a local kelp forest, I booked the next charter boat to get there. This approach didn't always work, however—for instance, when I tried to follow up on GoPro-validated sightings of larger, more rapidly mobile marine life, including both manta rays and whale sharks. Yes, both offshore San Diego.
Looking beyond dive reports helped, as well. The day I saw a video of an exotic-looking jellyfish with accompanying pilot fish pulsing past a bridge in Mission Bay, I nearly lost my mind with excitement. For weeks, I searched diligently for them (both the creatures and reported sightings) and had almost given up when a fisherman friend texted me to say he'd seen some "really cool" jellyfish just off a nearby beach. I'm sure you can guess where I dived the following morning.

Swarms of pelagic tuna crabs, a species more common to Baja Mexico, swarm a disintegrating kelp bed

Tips for Photographing Change

Research: Read dive reports, watch social media, and peruse amateur photos and videos shared by local news stations. You never know when something fascinating will show up.
It may take a village: Share and discuss your interest and knowledge openly with other passionate local divers and shooters. If you share your discoveries and credit others for theirs, people are far more likely to return the favor.
Let go of "competition brain": Shoot to tell a story, the whole story, and understand that the images might never appeal to judging panels.
Ask for help from experts: This input may come from marine biologists, ocean/climate specialists, and others. They are a valuable resource and can help you understand the big picture.
Be prepared and be flexible: When feasible, have appropriate gear with you to shoot almost anything you might happen to see. And be willing to change your plans at the last minute.
Unusual marine life became extremely commonplace off the California coast in 2015, including this spotted jellyfish

Shooting unusual marine creatures took work, but they were the easier part of my quest. Higher water temperatures and El Niño weather patterns led to strong storms that kept divers out of the water for weeks at a time and mercilessly impacted many dive sites. Our iconic giant kelp forests, already weakened by too-warm water, urchin overgrowth, and the influx of an invasive alga called Sargassum horneri, were pounded. Perhaps because sargassum thrives at slightly warmer water temperatures than giant kelp, entire kelp beds were replaced by thick mats of this non-native species. Many once-incredible dives became sad shadows of their former selves.
When I saw a photo competition entry of a diver in a "kelp" forest in which the majority of the plant life shown was sargassum rather than giant kelp, I realized something even more upsetting: Novice or visiting divers might not even recognize the difference! I made it a point to shoot these changes as well, traveling to sites where the giant kelp was still relatively healthy as well as sites where it was decimated, hoping to illustrate the transformation. I'll be blunt: It was a depressing pursuit, and the worst moments were yet to come.

Many dive sites, once home to towering kelp forests…

… were taken over by thick growths of Sargassum horneri, an invasive algae

One September afternoon in 2015, as I explored my favorite local wreck dive, the HMCS Yukon in San Diego, I was shocked to discover that the masses of giant plumose anemones that had once covered portions of the wreck were now completely gone.
Perhaps the most upsetting experience took place a few months later when I visited my favorite sea lion rookery. In years past, I'd only have had to enter the water here to have 30 to 40 pups descending upon me; now, the site was almost completely bereft of sea lions, with not a single pup in sight. The pinniped crisis of 2013, so notable only years before, had been just the beginning of a massive, multi-year mortality event, thought to be due in part to shifting availability of sea lion food sources. I didn't take a single photo that day because I couldn't see through the blur of my tears.

Left–right: February 2014, September 2015, August 2017. Within a period of 18 months, the plumose metridium anemones that used to cover portions of the HMCS Yukon disappeared. As of today, they have not yet reappeared, though other colorful invertebrate growth is flourishing in their place

In late 2015, I was dismayed to discover the sea lion population at my favorite rookery had plummeted

The water temperatures in Southern California began normalizing in autumn 2016, and some dive sites have begun to recover. The locations and densities of local kelp forests have shifted a little, but there are several gloriously renewed beds filled with life. I recently spent a wonderful dive acting as a chew toy for more than 20 sea lion pups. And although the HMCS Yukon is still depleted of plumose anemones, other colorful invertebrates have taken their place. Shooting change is once again an exciting pursuit, and I pray that it remains that way for a long, long time.

A garibaldi at a once-densely forested site at Catalina Island, nested on bare rocks in the summer of 2015
RELATED ARTICLES
Be the first to add a comment to this article.
Newsletter
Travel with us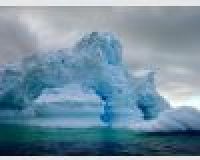 Antarctica
Plan Your Adventure >
Featured Photographer
Charles Hood
Expert Photographer
Born in 1960 Charles first started taking wildlife photographs at the age of 8. After winning the best junior award at his local school, with an image of a swan, he\'s never looked back. At the age of 16 he started taking...