Articles
Five Underwater Photographers to Keep an Eye on in 2013
By Matt Weiss, January 25, 2013 @ 01:48 PM (EST)
By Matt Weiss
Every year, a set of photographers seem to pick up their game, and make a real impression in underwater photography. Sometimes it's a crafty vet finding new ways to impress, but often it's fresh faces bringing something new and impressive to the table.
The five photographers we've selected to keep your eye on are only a small selection of those that will undoubtedly have amazing years, but are one's we fully expect to see in publications, competitions and that will continue to push the boundaries of the art of underwater photography in a new, special way. In no particular order
Tobias is one of the most promising young underwater photographers in the world right now. In 2012, the 32-year-old German joined the ranks of professional photographer. He was a regular contributor for Scuba Diving TTL, including authoring an article on shooting 360-degree underwater images that won the magazine best media integration at the Asian Publishing Awards.
He's a DPG monthly contest judge, won a dozen international competitions in the last 12 months, and was regularly published in magazines like Sport Diver and Unterwasser. Tobias' recent personal work, like his white background series, and assignment material, like an amazing series from Oman, has solidified Tobias as a young star in the industry-- and he's apparently taking his talents to some cold climates in 2013 that should produce some eye candy.
2. Keri Wilk
It may seem strange to put Keri Wilk on someone to keep an eye on -- if you aren't watching what Keri is doing at this point, than you probably don't have much interest in underwater photography. Few people have been more influential on popularizing specific techniques. The 28-year-old Canadian has been using his background in physics, and his role as owner at ReefNet, to expand his art. It seems that when he doesn't have a tool to help him manifest his photographic ideas, he simply creates it.
In 2009, he redefined and re-engerized super macro with the SubSee adapter. In 2010 he shook things up again by basically sweeping the Our World Underwater competition with images taken with a snoot, which started what we call in the office - "snoot frenzy." The last 2 yearshave kept Keri busy with assignments for Sport Diver and DPG, but when we caught up with him at DEMA, he said that the ReefNet labs might have something new in store for us shortly. Anyone else excited to see what we Keri's got cooking?
Allison Vitsky has been frequently published in dive magazines and shown up in the winners' circle in photo competitions the last few years, despite only starting to shoot underwater in 2006. In the last year and a half she's placed or gotten a honorable mention in the Windland Awards (Nature's Best Photography), NCUPS SEA, LAUPS International, and Southern California shootout, making her a mainstay on the competition circuit.
She's teamed up with her husband, professional underwater photography veteran Andy Sallmon (she credits a lot of her success to being able to watch Andy shoot when she was first getting started)to produce many articles for magazines including Alert Diver, and California Diver, and a piece for Outdoor Photographer due out in January. They are also regular contributors to DPG and SDTTL.
Perhaps the least well known on the list for our American readers, Bartosz has made a name for himself in the international competition circles. He won big in the 2011 and 2012 International Photography Awards, 2012 Our World Underwater Competition and the 2011 LAUPS competition.
If you haven't heard of him from these wins, you may soon be seeing his name and work more often, as he plans to focus more seriously on his underwater photography, and there are rumors of a book being published soon. Given his propensity to find amazing subjects in extreme subjects, consider us excited to see what Bartosz comes up with.
Few people have impressed the world with their underwater imagery as much as Daniel Botelho in the last year. His amazing big animal shots stunned not only dive media, but traditional mainstream media as well, with images being featured in The Guardian, The Examiner, the front page of Yahoo, and his Mola Mola image went viral. After an amazing series of images of great whites out of the cage (exclusive article here), we fully expect Daniel to build on his momentum and produce even more spectacular big animal imagery in 2013.
RELATED ARTICLES
Be the first to add a comment to this article.
Newsletter
Travel with us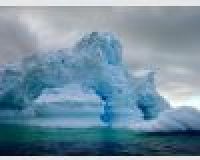 Antarctica
Plan Your Adventure >
Featured Photographer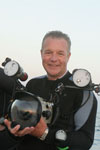 martin Edge
Expert Photographer
Mentor, coach, facilitator, educator. Whichever words are used to describe him, there is no doubt that Martin Edge is one of the most experienced and gifted instructor of underwater photography there is. His latest book...