News
World Oceans Day 2009
It was more than sixteen years ago, in Brazil, at the Earth Summit, that the Canadian government proposed there be an Ocean Day, just like there is an Earth Day. Last December, the United Nations declared June 8, today, to be just that – World Oceans Day. It has taken too long for the world to recognize that though the oceans may be mysterious, they are of vital importance to us.

In just the last few months, DivePhotoGuide's news and articles sections have been filled with important and often somber new studies or reports on the oceans' perilous state. While, a list of all the threats to our oceans would be far too long, here are a few issues that we at DPG feel are extremely important. If you want to learn more about what is happening to the oceans, reading up on these issues is a good place to start.

- Climate Change and Acidification

Climate change is causing the acidification of the world's oceans. If you are follower of DPG news, you know that this is a serious problem. Ocean acidification is the term used to describe the ongoing decrease in the oceans' pH level, due to uptake in carbon dioxide. Just last week, 70 of the world's leading academics came together and urged governments to take more account of the risks to the oceans as part of a new UN treaty for fighting global warming. Studies of how climate change is affecting our oceans have ranged from the mass death of coral reefs, to the change of species' composition. Acidification may be the single biggest threat to the ocean today.

- The Fishery Crisis
It is said that if our current fishing practices continue as they are now, there would be a global collapse of all of our fisheries. Fishery experts predict that this global collapse could happen as early as the middle of the century. Over 1 billion people depend on seafood as their primary source of protein and hundreds of millions depend on the fishery industry for the livelihood. What would happen if the fisheries did collapse? Well we may be less than 50 years from finding out. It's safe to say we are in the middle of a crisis.

- Where have all the sharks gone?
For a long time I have been concerned about the vast amount of stories focused on shark issues (just search for the word sharks on DPG and click on the news or article tab to see how many stories we alone have covered - almost 600!). What about all the other issues facing the oceans? Sea turtles are critically threatened. So are most marine mammals and countless sea birds and other big fish like tuna and marlin. In fact, 90% of the oceans' large fish are gone. So why should sharks get all the attention? Well - the answer is simple. Sharks have regulated the oceans for millions of years and now we are losing them. The shark fin trade is rampant. Shark fin soup has been a status symbol in Asian culture forever. However, now that more people can afford this dish, which actually has no nutritional value nor taste other than added flavoring, sharks are in dire trouble. Shark finning, coupled with the second biggest threat to sharks, by-catch, means that we are losing sharks for absurd reasons. Sharks are on the cusp of extinction because humans are killing them, yet harvesters have no use for 98% of the animal. If we can't rally against shark finning, what can we rally against?
This is not the first time I have called out these three issues as core concerns for the health of the oceans and I want to stress that they are not the only issues, and may not be the most important issues to everyone. However, they, like all of our oceans' problems are connected. The more one issue escalates, the worse the rest of the issues become. The oceans' ecosystems are in a fragile homeostasis that humans are recklessly destroying. Oceans make up 71% of our planet, and 80% of known life resides in them. Shockingly, they remain a mystery to almost everyone.

The heart of the problem

What is out of sight is out of mind. That's why we at DivePhotoGuide.com, as a media company servicing the underwater photography and videography communities, try and shed light (no pun intended) to these issues. Our contribution is not to explain what the problems are, but to show people what they are. In the grand scheme of things, we are a relatively small global community with a large task—to capture what we love about the ocean, be it either a specific moment or an entire scene on our films, chips and memory cards, and share it with the majority of human society who will never see it otherwise. So on World Ocean Day the best advice I can give to readers of DivePhotoGuide, is too keep shooting. As underwater photographers and videographers, we must try and keep the beauty and plight of the oceans in plain sight.
Despite today being recognized as World Ocean Day, as always, we at DPG, remind you to ask yourself everyday, what have I done for the oceans lately?

RELATED ARTICLES
LATEST EQUIPMENT
Be the first to add a comment to this article.
Newsletter
Travel with us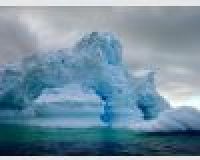 Antarctica
Plan Your Adventure >
Featured Photographer
Charles Hood
Expert Photographer
Born in 1960 Charles first started taking wildlife photographs at the age of 8. After winning the best junior award at his local school, with an image of a swan, he\'s never looked back. At the age of 16 he started taking...