News
World Oceans Day 2020 Photo Contest Judges Announced
By Ian Bongso-Seldrup, April 20, 2020 @ 06:00 AM (EST)

On behalf of the World Oceans Day Photo Contest partners, the United Nations Office of Legal Affairs, Division for Ocean Affairs and the Law of the Sea has announced the contest judges for 2020: Adriana Basques, Adam Hanlon, Jill Heinerth, Darren Jew, Jane Morgan, Amos Nachoum, Miriam Stein Battles, David Salvatori, and John Thet. The World Oceans Day theme category "Innovation for a Sustainable Ocean" will be judged by Jim Standing. The curator of the photo contest is underwater photographer Ellen Cuylaerts. Read more about them below.
The winning images will be recognized at the United Nations, during the event marking World Oceans Day, on June 8th, 2020. Read more about the competition and the contest rules here.

---

WORLD OCEANS DAY 2020 PHOTO COMPETITION GUEST JUDGE FOR "INNOVATION FOR A SUSTAINABLE OCEAN" THEME CATEGORY

Jim Standing
Jim Standing is the co-founder of Fourth Element, and along with Paul Strike, has spent the past 20 years building a company and brand dedicated to improving divers' thermal protection and apparel.
In recent years, the company has undergone a shift to develop products with a greater focus on sustainability and environmental responsibility, beginning with the OceanPositive swimwear line, progressing to wetsuits made from plant-based materials.
The company actively supports conservation projects around the world, dedicated to sustainability and the preservation of the environment.

---

WORLD OCEANS DAY 2020 PHOTO COMPETITION JUDGES

Adriana Basques
Adriana Basques is a former IBM executive turned professional underwater photographer whose creative and award-winning imagery is devoted to bringing awareness and encouraging environmental conservation. Born in Brazil, Adriana was hooked on scuba diving during her first experience back in 1996 in the Caribbean. She finally combined her love for the underwater world with photography in 2008, when she purchased her first DSLR camera.
In 2010, she took a sabbatical from IBM and moved to California, focusing her interest on photography and diving. Three years later, the corporate life had lost its appeal, and she began to focus full time on nature and wildlife photography.
Adriana's work has been featured in the Smithsonian Natural History Museum, National Geographic magazine, CNN, The Wall Street Journal, and numerous other magazines, calendars and books. Adriana also leads exclusive trips to remote and exotic locations around the world.

Adam Hanlon
Adam Hanlon is the owner of the underwater imaging community website Wetpixel and has been diving and taking pictures underwater for over 30 years.
Fascinated and completely captivated by the marine environment, he actively seeks to use his imagery both to show the beauty and fascination of the world's oceans, and to highlight the challenges they face.

Jill Heinerth
Jill Heinerth is an underwater explorer, writer, photographer, speaker, and filmmaker. Jill was a lead technical diver on the ground-breaking Wakulla2 project, where she piloted the first 3D underwater cave mapping device—technology bound for space. A pioneer of technical rebreather diving, she led a team into underwater caves beneath the massive B-15 iceberg in Antarctica. From desert oases of the Sahara to the cold waters of Baffin Bay, Jill Heinerth becomes the hands and eyes for climatologists, archaeologists, and engineers.
Jill serves as the first Explorer-in-Residence of the Royal Canadian Geographical Society and is a presenter on radio and TV broadcasts worldwide. Her book, Into the Planet, has been lauded by The Wall Street Journal, O, The Oprah Magazine and the New York Times. Jill is a Fellow of the International Scuba Diving Hall of Fame, Underwater Academy of Arts and Sciences, Women Divers Hall of Fame, and the Explorers Club, which recently named her as the recipient of the William Beebe Award for ocean exploration.

Darren Jew
After photography studies at the Queensland College of Art and work in darkrooms and commercial studios, Darren Jew spent eight years as photographer for the Queensland Parks and Wildlife Service, where his photographic skill found harmony with his profound love of nature. The last two decades have seen Darren pursue his passion for capturing and sharing the natural world, producing sought-after nature, travel and scientific images both above and below the water; selling fine art prints; undertaking magazine commissions; and leading photo tours to the world's great wildlife, landscape and marine destinations.
Darren is the author of three books: Australia: Reef, Rainforest, Red Heart; Far and Wild: South; and most recently, Underwater Australia. His images regularly appear in magazines and books, he exhibits around Australia, and his work is used by conservation organizations worldwide. Darren's unique vision has earned him the accolade of AIPP Australian Professional Nature Photographer of the Year six times between 2007 and 2018.

Jane Morgan
Jane Morgan has a BA (Hons) Marine & Natural History Photography degree from Falmouth University, where she now works as Dive Safety Officer. Although Jane took up diving in 1991, she didn't pick up a camera until 2001 after a period of working in marine conservation and wondering what to do underwater after the surveys stopped.
She won her first first major portfolio award at the British Society of Underwater Photographers in 2002. In 2005, Jane joined Dive magazine as Online Editor and organizer of the British Underwater Image Festival. She has contributed to many publications around the world including being part of the Underwater Photography Masterclass in Ocean Geographic and a regular contributor to Scuba.

Amos Nachoum
Amos Nachoum is a master of photographing big animals worldwide. Since 1980, he has explored every significant body of water from the North Pole to Antarctica. Amos's photographic vision is to raise awareness of ocean giants in their habitats. His photographs strive to dispel the myth of "dangerous" wildlife and show harmonious interactions between man and animal. Amos also leads wildlife photography expeditions with his company, www.BigAnimals.com.
Amos's photos and essays have appeared in numerous publications including National Geographic, Time, Life, New York Times, and Explorers Journal. Among many other awards, he is a two-time winner in the animal behavior category of the BBC Wildlife Photographer of the Year Award. Last year saw the premiere of the movie about his life and diving with polar bears, Picture of His Life.

Miriam Stein Battles
With a background in environmental and marine conservation policy, Miriam Stein Battles specializes as a conservation photo editor. She has worked on magazines, books and websites for nonprofits such as National Geographic Society, Conservation International, The Nature Conservancy, and Ocean Geographic Society.
Miriam was an initial photo researcher on the Smithsonian Sant Ocean Hall, and she photo-edited the companion book, Smithsonian Ocean. She has also worked on numerous marine-themed titles for National Geographic Children's Books. Having also been the photo editor of National Geographic Explorer magazine, Miriam has a keen eye for the specific parameters required for photography to be used in conservation and education endeavors.
Miriam is a founding affiliate to the International League of Conservation Photographers and a board advisor to Sea Save Foundation. She has been adopting whales since she was eight years old and became PADI certified at the age of 15.

David Salvatori
David Salvatori began shooting underwater in 2008. His main current interest is around nature photography and conservation issues, to which he devotes his travels around the world. As an amateur underwater photographer, David spends all of his free time planning and realizing photographic expeditions to raise awareness about some of the most endangered species on the planet. He also enjoys writing articles about his trips and collaborates with various prestigious international underwater magazines.
Over the past 12 years, David has received a number of awards in some of the most important international underwater photography and nature photography competitions. In 2015, he published his first photographic book, Reflections from the Past, documenting his personal journey around Italy's Tirino Valley and the fascinating submerged ruins of Capo D'Acqua Lake.

John Thet
John Thet, the current President of the Media Publishers Association of Singapore, is the founder of Underwater360, the Historical Diving Society Asia, and Asian Geographic Society. He has been involved in the publishing industry since 1993.
John is the Publisher and Editorial Director of Asian Geographic Magazines. The company took over magazines Scuba Diver Australia (later renamed Scuba Diver Australasia) and Asian Diver in 2001 and 2007, respectively. In 2009, he took over as the official organizer of the Asia Dive Expo (ADEX), Asia's largest and longest-running dive show. Under his leadership, the company has won close to 70 international awards in both the publishing and creative arenas.
Underwater360—the group that brings together Scuba Diver, Asian Diver and ADEX—is a key player in the dive media and events industry, with more than one million readers and followers worldwide. ADEX has also expanded outside Singapore to Beijing, Shanghai, and Mumbai. John is actively involved in the editorial and art direction of the magazines, books, and events.
---

WORLD OCEANS DAY 2019 PHOTO COMPETITION CURATOR

Ellen Cuylaerts
Ellen Cuylaerts received her master's degree in modern history and education, but worked in IT until she decided to homeschool her two gifted teenagers, relocating from Belgium to the Cayman Islands in 2009 and taking up scuba diving two years later. She became a Master Scuba Diver and soon began photographing the wonders of the underwater world.
Ellen aims to shoot images that draw the viewer in so an emotional bond is established between marine life and people who might not have a link with the underwater world. By creating an image that captures how she feels rather than what she sees, she hopes to get people involved in protecting our blue planet. Ellen has received many awards for her images, which has helped her to have a louder voice in marine conservation and also to mentor more people to use their images to contribute to education, conservation and awareness. Her work has been shown at exhibitions in Paris, St. Petersburg, Valencia, Marseille and New York.
In June 2017, Ellen addressed heads of state on World Oceans Day at the General Assembly of the United Nations, highlighting the role of photographers and filmmakers in the protection of the oceans. As a Fellow International of the Explorers Club, she became a member of the Flag & Honors Committee, hence having a front seat at future explorations. She was inducted into the Women Divers Hall of Fame in March 2019.
RELATED ARTICLES
LATEST EQUIPMENT
Be the first to add a comment to this article.
Newsletter
Travel with us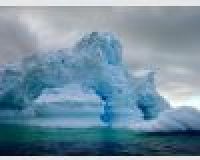 Antarctica
Plan Your Adventure >
Featured Photographer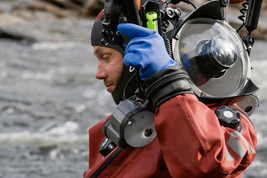 Magnus Lundgren
Expert Photographer
ABOUT MAGNUS Instagram - magnuslundgrenphotography "It is all about positive change for me, as an image may lure a person's mind and move the heart. I always use my own passion for nature to inject fuel into my...