News
Underwater Photo and Video Holiday Gift Guide 2022
By DPG Editorial Staff, November 25, 2022 @ 08:00 AM (EST)

Yes, Turkey Day has passed, people—it's officially holiday season! And that can only mean one thing: Yup, today is Black Friday and it's time to be reckless with your spare cash! But fret not about what you should purchase—we are here to help: Our epic Underwater Photo and Video Holiday Gift Guide is back!
As usual, we have prepared a feast of the hottest new products released over the last quarter, and added a generous serving of our favorite gear and gadgets of the moment. It's time to get in the festive spirit and spoil yourself!
| | | |
| --- | --- | --- |
| CONTENTS | | When purchasing underwater photography equipment like the products mentioned in this article, please support DPG by supporting our retail partner—Backscatter. |
1. Interchangeable-Lens Cameras

Nikon Z9
After two major firmware updates, the Z9 is a fully-formed flagship with a spec sheet matched by few other full-frame mirrorless cameras on the market. Endowing the Z9 with a stacked CMOS sensor and doing away with the mechanical shutter entirely, Nikon has created a camera that is a worthy successor to the much-loved D850. Shoot 20 RAW frames per second continuously (with a buffer of more than 1,000 frames), record 8K/60p and 4K/120p in 12-bit N-RAW (from the full width of the sensor), and flash sync at up to 1/8000s with high-speed sync (HSS) enabled. Breathtaking. $5,500 | www.nikonusa.com | www.backscatter.com
Who Should Buy It?
The fact that it's been so hard to actually buy a Z9 should tell you how big an impression this camera has made. (It's available now, though.) Pro shooters are getting a hybrid camera that does it all—better than almost everything else. All that tech does come at a price, however, so be sure you really need it.

Housing Options

Seacam: Devoid of a mechnical shutter, the Z9 should last you for many years, so you'll need a housing that will go the distance, no matter how extreme your dive adventures. Seacam's is just such a housing, crafted from saltwater-proof light metal alloy that's twice hardened and anodized. Configurable with S6 or N5 bulkheads for reliable electrical strobe triggering, the housing can also have an Atomos Ninja V/V+ connected via HDMI—courtesy of Seacam's dedicated monitor housing, of course. $6,400 | www.seacam.com | www.backscatter.com
Nauticam: Another dependable home for the Z9, Nauticam's aluminum housing offers a variety of essential controls within easy reach of its integrated handles, including levers for the Fn1/Fn2 customizable buttons and the AF-Mode button, and double thumb levers for PLAYBACK/DISP and AF-ON/REC. As you'd expect, the NA-Z9 housing is optimized for use with Nauticam's high-quality water-contact optics like the WACP-1/2 and CMC-1/2. You can hook up your external monitor/recorder via the M24 bulkhead, and there are M16 and M14 bulkheads for strobes, vacuum systems, and more. $7,223 | www.nauticam.com | www.backscatter.com
Leica SL2 and SL2-S
If you think Leica only makes fabulously expensive rangefinder cameras wholly unsuited to underwater photography, think again. The German company's photocentric SL2 and videocentric SL2-S (which is externally virtually identical) will do battle with the best full-frame autofocus cameras out there. The 47MP SL2 can shoot 10fps with the mechnical shutter and DCI/UHD 4K/60p video using the full sensor width, while the 24MP SL2-S can capture oversampled 4K/30p 10-bit 4:2:2 video with no recording limits. Both models feature a 5.76M-dot OLED viewfinder, dual UHS-II SD card slots, and weather sealing. $5,195 (SL2-S) | www.leicacamerausa.com | $6,995 (SL2) | www.leicacamerausa.com
Who Should Buy It?
If you're in the market to drop $5–6K on a camera, it might as well be an indestructible metal beast engineered by the Germans. You can also be sure that the lenses paired with the SL2 or SL2-S will be of the very highest optical quality money can buy. Plus, taking a Leica underwater is just ubercool.

Housing Options

Seacam: Your options are a little more limited when it comes to Leica housings—but when one of those options is a Seacam, it hardly matters. Like all housings by the Austrian company, the SL2/SL2-S housing is constructed from twice-hardened and anodized light metal alloy with Seacam's signature silver finish. Electrical strobe triggering is via S6 or N5 sockets, and you have the option of adding a vacuum system or an HDMI bulkhead for a monitor/recorder, as well as various high-quality Seacam viewfinders. $4,450 | www.seacam.com | www.backscatter.com
Subal: Another high-end option in machined aluminum is Subal's housing for the Leica SL2. Depth-rated to 80 meters (260 feet) as standard with an optional upgrade to 120 meters (nearly 400 feet), this housing comes with all the usual Subal trimmings: key controls arranged around built-in handles, strobe connection via optical ports and 5-pin electrical bulkhead, compatibility with a range of viewfinders, and Subal's vacuum system as standard. $5,000 | www.subal.com | www.backscatter.com
Canon EOS R7
Almost four years after announcing their first full-frame mirrorless cameras, Canon finally unveiled the company's first two mirrorless cameras with APS-C sensors—the EOS R7 and the EOS R10. At the higher end, the 32.5MP R7 offers image stabilization of up to seven stops, twin UHS-II SD card slots, and the higher-capacity battery found in the R5 and R6. Combined with Canon's DIGIC X processor—the same one in the top-end 1D X Mark III and R3—the R7 boasts similar subject tracking capabilities, impressive 15fps continuous shooting with full AF (mechanical shutter), and oversampled 4K/30p using the full sensor area. You can also bump that up to 4K/60p using the full width of the sensor but with sub-sampling instead. $1,500 | www.canon.com | www.backscatter.com
Who Should Buy It?
With an APS-C sensor that's suspiciously similar to the 32.5MP affair in the EOS 90D, the R7 seems, superficially, like a mirrorless version of that much-loved enthusiast DSLR. But the R7 is a considerably more impressive performer, likely due to its fast image processor. It costs a few hundered dollars more than the 90D, but it's still much less expensive than the equivalent in full frame.

Housing Options

Nauticam: Until everyone else catches up, your only real housing option for the R7 is a Nauticam—which is no bad thing as long as you have the cash to spend. You do get what you pay for, and the NA-R7 offers all the good stuff we've come to expect from the Hong Kong company: every control positioned with ergonomic precision, compatibility with Nauticam's premium wet lenses, and built-in fiber-optic bulkheads with the option of a manual or TTL trigger. The housing can accommodate both RF lenses and EF lenses via an adapter. $3,377 | www.nauticam.com | www.backscatter.com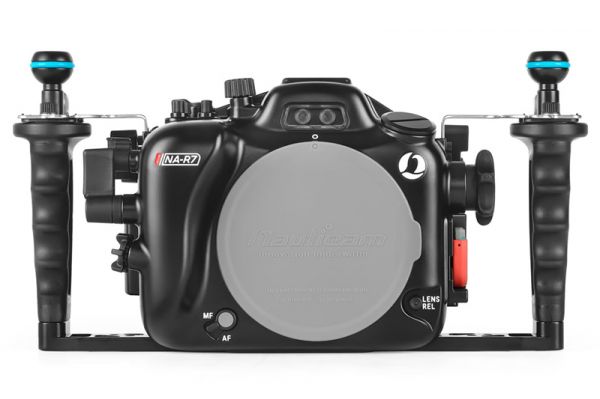 Canon EOS R10
While the R7 and R10 can both be considered entry-level interchangeable-lens mirrorless cameras, the sub-$1,000 R10 is the true successor to Canon's much-loved series of cheap-and-capable "Rebel" DSLRs. The main compromises over its big brother, the R7, are sensor resolution (24MP vs 32.5MP) and the lack of image stabilization. However, with the powerful DIGIC X image processor on-board, the R10 can still shoot continuously at up to 15fps with its mechanical shutter as well as capture oversampled 4K/30p video with no crop. $980 | www.canon.com | www.backscatter.com
Who Should Buy It?
With the R10, Canon is finally giving its competition—such as the Sony a6400 and the Nikon Z50—a serious run for their money. This is a "proper" entry-level mirrorless camera that allows you to shoot fast action and produce high-quality video of wide-angle scenes.

Housing Options

Ikelite: The U.S. company was first out of the gate with their housing for the R10, boasting all the typical features found on 200DLM housings—Dry Lock Micro port system, ABS-PC body and transparent back, and laser engraved labels—but in an especially compact form factor. The housing ships with an Ikelite ICS-5 bulkhead supporting manual operation with strobes from various brands, and you can also add a TTL converter for automatic strobe exposure with a compatible Ikelite DS strobe—or two. $1,050 | www.ikelite.com | www.backscatter.com
OM System OM-1
At first glance, it may look a bit like the Olympus OM-D E-M1 Mark III, but the first camera by OM Digital Solutions—the company that took over the Olympus imaging division—offers rather better specs than its forebear. Packing a 20.4MP stacked CMOS sensor, the OM-1 can shoot up to 10fps with its mechanical shutter (plus an impressive 50fps with AF/AE using the electronic shutter), as well as both 4K/60p and 1080/240p video with no crop. And who doesn't want a 5.76M-dot OLED EVF with a 120fps refresh rate and two UHS-II SD card slots thrown in? $2,200 | www.getolympus.com | www.backscatter.com
Who Should Buy It?
We now know that the OM-1 is the last OM System camera to have "Olympus" on the front, but no, that's not the only reason to have one. The OM-1 is very much the flagship Micro Four Thirds camera Olympus should have made, and as such, it's a formidable rival to the Panasonic GH6 and cropped-sensor cameras generally.

Housing Options

Ikelite: Much as it did with its E-M1 Mark III housing, Ikelite has created a competitively priced solution for taking the OM-1 underwater. Built around the same Dry Lock Micro (DLM) port system, the housing can be easily equipped for automatic flash exposure with the addition of the same DL3 DS Link TTL Converter, which gives you convenient switching between TTL and manual modes on the fly. $950 | www.ikelite.com | www.backscatter.com
AOI: Depth-rated to 150 feet, this polycarbonate housing features two fiber-optic ports plus a built-in LED flash trigger that works in manual mode as well as Olympus RC mode for TTL automatic flash exposure. You also get peace of mind in the shape of integrated vacuum and moisture detection circuitry. The housing is compatible with AOI's straight and 90-degree LCD magnifiers, giving you a big, bright view of your frame. $1,000 | www.aoi-uw.com | www.backscatter.com
Panasonic Lumix GH6
The GH5 developed a justified reputation as an excellent tool for creating high-quality videos, becoming the camera of choice for enthusiast and even professional underwater filmmakers. So to say the GH6 was "long-awaited" (five years, to be exact) is a major understatement. As it turns out, the new flagship Micro Four Thirds camera hasn't disappointed, with a high-resolution 25.2MP sensor and the new Venus image processor upping the ante in the video department, including the ability to record 5.7K/60p 10-bit 4:2:0, 4K/120p 10-bit 4:2:0 and 4K/60p 10-bit 4:2:2. The added V-Log profile, according to Panasonic, provides up to 13+ stops of dynamic range in post-production. $2,200 | www.panasonic.com | www.backscatter.com
Who Should Buy It?
DPG recently put the GH6 through its paces, with reviewer Matt Sullivan revealing a camera "capable of internally recording fanastic video with beautiful detail and accurate colors." As such, the GH6 is definitely worth the upgrade for GH5 filmmakers or indeed anyone serious about video. We found the GH6 to be a capable stills camera, too, but only at low ISOs, and photographers might want to look elsewhere.

Housing Options

Ikelite: The U.S. company is known for its high-quality strobes and TTL system by which all others are compared. However, Ikelite has also been increasingly mindful of the needs of the "hybrid" user: You can now custom-order various housings, this one included, with a large-bore M24 port, allowing you to use chunky HDMI 2.0 cables to attach an external monitor/recorder like the Atomos Ninja V/V+. Needless to say, though, if you do want automatic strobe exposure, there's a TTL converter for that. $1,695 | www.ikelite.com | www.backscatter.com
Nauticam: We used Nauticam's aluminum housing to test Panasonic's new flagship MFT camera and weren't surprised to find the NA-GH6 living up to the Hong Kong company's high standards. The housing ships with an HDMI 2.0-ready M24 bulkhead for hooking up an external monitor/recorder, built-in handles, optical strobe connections, and the company's vacuum check and leak detection system. $4,503 | www.nauticam.com | www.backscatter.com
2. Fixed-Lens Cameras

GoPro HERO11 Black
In its recently released 11th incarnation, everyone's favorite action camera once again leads the way with a string of surprising internal upgrades. (Fortunately, apart from the new number on the side, there are no external changes to mess with your housing or accessories.) The headline feature is a new 27MP sensor (up from 23MP) that is capable of capturing 5.3K/60p 10-bit video—a significant step up from the 8-bit color of earlier models. $400 | www.gopro.com | www.backscatter.com
Who Should Buy It?
The GoPro used to be a cool gadget for capturing family fun in and around the water. But more than ever, this is a serious tool capable of capturing high-quality footage for professional-level projects. There's also a huge ecosystem of accessories that allows you to create the GoPro rig of your dreams.

Housing Options

GoPro: We have no idea why GoPro stopped calling it a "Super Suit"—that was genius!—but their "Protective Housing and Waterproof Case" is all you really need to dive with your HERO11 (or HERO9 or HERO10, for that matter) and start channeling your inner Cousteau. Most importantly, if you want to make your colors pop, film teeny-tiny critters, or capture expansive reef scenes, you'll need this little housing so you can add filters and wet lenses. $50 | www.gopro.com | www.backscatter.com
Isotta: Sure, you could be like everyone else and shove your HERO11 into GoPro's housing, but where's the fun in that? The Italians are betting on your desire to be different and move up to some serious aluminum and no-nonsense bright red paint! As well as being depth-rated to an impressive 650 feet, Isotta's housing features the company's nifty one-handed open/close and a removable hood offering a clear view of the rear LCD even in bright conditions. And don't worry, you can still use your favorite Backscatter FLIP filter system, because the port is exactly the same size and shape as the GoPro one. $540 | www.isotecnic.it | www.backscatter.com
SeaLife SportDiver for Smartphones
Known for bringing high-quality underwater photography and video to the masses with their Micro cameras, SeaLife went one better with the launch of their SportDiver housing: Now, anyone with a smartphone—i.e., everyone!—can now start capturing their dive adventures. This lightweight polycarbonate housing talks to your phone via Bluetooth Low Energy, allowing you to easily operate SeaLife's accompanying app (iPhone or Android) using the four buttons on the rear along with the big red shutter button. The housing is sold on its own and also as a bundle with tray, grip and Sea Dragon 2500 photo/video light. $350 (SportDiver only) | $750 (SportDiver Pro 2500 Set) | www.sealife-cameras.com

Olympus Tough TG-6
We can't remember the last time anyone released a fixed-lens camera worth talking about. But maybe that's because Olympus already makes the ultimate compact—the TG-6! Yes, it doesn't look like much and it "only" has a 12-megapixel sensor, but the TG-6 is a mighty little camera that makes for an incredibly capable tool for underwater photographers. Most impressively, with its unique Microscope Mode, it can capture mind-blowing super-macro images of the ocean's tiniest critters that would be very tricky with other camera systems. $500 | www.getolympus.com | www.backscatter.com
Who Should Buy It?
If you're just starting your underwater photography journey—and you'd rather not put your precious smartphone in a housing—the Olympus TG series is a no-brainer. Opt for the TG-6 over its predecessor, as you can access Microscope Mode in Aperture Priority and Program Auto, making it possible to choose small apertures for improved depth of field and lovely dark backgrounds. Want to shoot the big stuff? No worries. Just slap on a high-quality attachment like the Backscatter M52 120° wide-angle wet lens.

Housing Options

Olympus: The fact that the TG series is so great for underwater photography doesn't seem to be a happy accident: Olympus clearly understood the camera's potential from the beginning, which is why they've been making their own underwater housings all along. Depth-rated to 150 feet, the polycarbonate housing for the TG-6 features fiber-optic ports for connecting strobes, and boasts a 52mm threaded mount for wet lenses and filters. $300 | www.getolympus.com | www.backscatter.com
Ikelite: If the TG-6 with its Microscope Mode isn't radical enough for you, how about this? Olympus makes something called the FCON-T02, a fisheye converter that attaches to your TG-6! Not only that, using the camera's zoom control, you can go from frame-filling fisheye images to really "out there" circular fisheye photos! The best part? Ikelite makes a housing with optical grade acrylic dome specially designed for this camera and lens combo. The setup allows you to shoot not just fisheye, but also close-focus macro and even split shots—on the same dive! $550 | www.ikelite.com | www.backscatter.com
3. Lighting

Backscatter Mini Flash 2 and Optical Snoot
If you're a macro shooter, you don't need a large, powerful strobe: What you want is a compact strobe specially designed for shooting macro. Backscatter's Mini Flash (MF-2) builds on the runaway popularity of the MF-1 with impressive new features: a modeling light with twice the power (1,000 lumens), automatic TTL exposure for Olympus cameras, high-speed sync (HSS) for even darker backgrounds, and the ability to use a second strobe to trigger the MF-2 remotely—and even adjust its power—for creative off-camera shots. In addition, the MF-2 uses a bigger battery that actually increases runtime and number of flashes. To top it all off, there's no change in price! $500 (MF-2 and OS-1 combo) | www.backscatter.com | $400 (MF-2) | www.backscatter.com | $150 (OS-1) | www.backscatter.com

Ikelite DS230 with Modeling Light
Not long ago, Ikelite unveiled not one but four new strobe models: refreshed versions of the classic DS51 and DS160 (DS51 II and DS160 II) and two novel "hybrid" strobes armed with 2,500-lumen video lights (DS162 and DS230). More recently, they introduced a new "standard" version of the DS230—saving you $200—with a 205-lumen modeling light (as found on the DS51 II and DS160 II) rather than the integrated video light. This powerful strobe boasts a guide number of 32, 10-stop control of strobe output, and a 110-degree strobe beam angle with included diffuser. Needless to say, if you want automatic strobe exposure, all you need to do is add the appropriate TTL converter to your setup. $1,295 (DS230) | www.ikelite.com | www.backscatter.com
SeaLife Sea Dragon 5000+
The latest addition to SeaLife's Sea Dragon range of photo/video lights is a powerful 5,000-lumen affair packing a COB LED array that delivers a color rendering index (CRI) of 90—meaning that the light quality is very similar to sunlight. But the Sea Dragon 5000+ has a couple of other tricks up its sleeves. Engage SeaLife Color Boost and the color temperature drops from 5000K to 3700K, giving your footage some extra warmth. Another cool feature is the "over-drive" mode, which increases brightness to 6,000 lumens for two minutes before automatically returning to normal full power of 5,000 lumens. $600 | www.sealife-cameras.com
SeaLife Sea Dragon Fluoro-Dual Beam
Fluorescence photography isn't new and this isn't a new light, but there are still far too many of us that haven't tried capturing the fascinating Technicolor lightshow that results when certain critters are irradiated by blue light. The Sea Dragon Fluoro-Dual Beam is just the light you'll need to excite organisms to fluoresce in different colors. It ships with two barrier filters—which remove the blue light and leave behind the light emitted by the fluorescing subject—one for your mask and one for your camera. In no time, you'll be seeing the reef in a whole new light! $600 | www.sealife-cameras.com

Keldan Video 8XR
Everyone knows that Swiss company Keldan makes the planet's most awesomely bright video lights—this new 20,000-lumen beast being a case in point. But this is one of a handful of models with an additional superpower: The "R" in the name means it can be controlled remotely—not a simple thing to achieve when you're underwater. To make the magic happen, just add Keldan's RC1 remote and you'll be able to control an unlimited number of lights simultaneously via two independent brightness channels. $2,428 | www.keldanlights.com | www.backscatter.com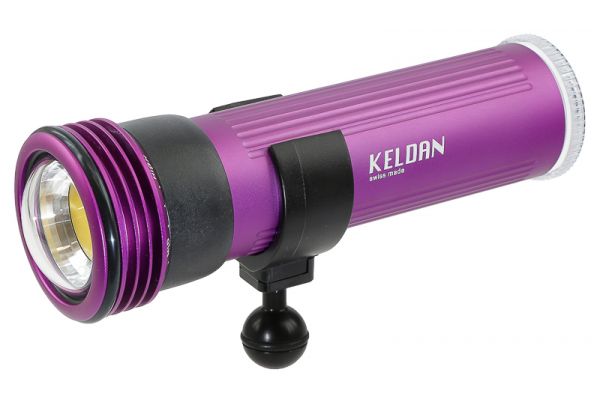 4. Accessories

Backscatter FLIP10+ for GoPro
Every diver worth his (or her) salt knows that everything turns a soupy blue-green as you go down, and savvy GoPro filmmakers know how to restore those precious reds, oranges and yellows for clips with eye-popping color: Backscatter's FLIP filter system. The latest iteration is called FLIP10+, but fear not: It will work with any GoPro, from HERO5 to HERO11. You can get a kit with one or two filters, or go pro—geddit?—with the Pro Package, which includes another vital accessory: the +15 Macromate Mini close-up lens. $200 (Pro Package) | www.backscatter.com | $100 (Two Filter Kit) | www.backscatter.com | $60 (One Filter Kit) | www.backscatter.com

Inon UCL-G165 SD and UFL-G140 SD for GoPro
The GoPro is great, but like any fixed-lens camera, you'll need some wet lenses if you want to shoot anything underwater. Enter the UCL-G165 SD wide close-up lens and the UFL-G140 SD semi-fisheye conversion lens, specially designed for GoPros. With the latter, you'll have a glorious 140° field of view. With the former, you get an angle of view of around 110°, but you can get up to two inches from your subject. To make it all work, you'll also need Inon's SD Front Mask, which sports a bayonet-type mount that makes switching between lenses simplicity itself. $70 (SD Front Mask) | www.inon.jp | www.backscatter.com | $220 (UCL-G165 SD) | www.inon.jp | www.backscatter.com | $380 (UFL-G140 SD) | www.inon.jp | www.backscatter.com
AOI UCL-90PRO and UCL-09PRO Close-up Lenses
Wet lenses don't only belong on GoPros. With their standard 67mm threads, AOI's new super-macro lenses—the UCL-90PRO and the UCL-09PRO—can be mounted to pretty much any housing, providing +18.5 diopters and +12.5 diopters of magnification, respectively. The lenses are depth-rated to 200 feet and feature hard-anodized aluminum alloy barrels and anti-reflective coatings on all lens element surfaces. The tiniest of the tiny are fair game now! $600 (UCL-90PRO) | www.aoi-uw.com | www.backscatter.com | $420 (UCL-09PRO) | www.aoi-uw.com | www.backscatter.com
Nauticam Compact Wide Angle Conversion Port (WACP-C)
A few years ago, Nauticam's WACP-1 offered a novel way to capture wide-angle scenes without the edge softness associated with standard dome ports. The catch? It put a $5K dent in your wallet. The new WACP-C aims to offer almost the same insane optical performance at a much more affordable price—and less imposing size and weight (hence the "C" for compact). Like its hefty sibling, the WACP-C is a "dry" optic designed for use with a full-frame lens of 28mm (equivalent) focal length, and it offers the same angle of view up to 130°, full zoom-through capability, and minimum focus from the front element. $3,283 | www.nauticam.com | www.backscatter.com
TRT-Electronics TURTLE 2 SMART
One of many headline features of the new Backscatter Mini Flash 2 (MF-2) is high-speed sync, the ability of the strobe to handle shutter speeds well beyond the camera's maximum flash sync speed. Super-fast shutter speeds allow you to use more open apertures—for creative bokeh effects—while maintaining dark backgrounds. All you need is a flash trigger like the new TURTLE 2 SMART, which comes in two flavors: the i-TURTLE 2 SMART for Nikon systems and the s-TURTLE 2 SMART for Sony systems. Both work in HSS mode with the MF-2—as well as another HSS-capable strobe, the Retra Pro X. $325 (i-TURTLE 2 SMART for Nikon) | www.trt-electronics.com | www.backscatter.com | $325 (s-TURTLE 2 SMART for Sony) | www.trt-electronics.com | www.backscatter.com
Backscatter Remote Lighting Muck Stick
With the first version of its Mini Flash compact strobe, Backscatter aimed to make snooting easy and fun by sliding on their matching Optical Snoot (OS-1). With the Mini Flash 2, the company aims to bring "easy and fun" to the world of off-camera lighting—you can use an on-camera MF-2 to trigger an off-camera MF-2 and even adjust its power remotely. But all this high-tech business wouldn't be possible without something rather more low-tech: Backscatter's Remote Lighting Muck Stick. Just plant the pointy end in the sand and attach your MF-2 to the integrated 1-inch ball mount, and away you go! $50 | www.backscatter.com
---

When purchasing underwater photography equipment like the products mentioned in this article, please support DPG by supporting our retail partner—Backscatter.com.
RELATED ARTICLES
LATEST EQUIPMENT
Be the first to add a comment to this article.
Newsletter
Travel with us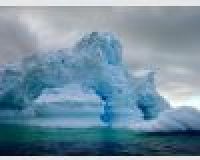 Antarctica
Plan Your Adventure >
Featured Photographer
Chuck Davis
Expert Photographer
For over thirty years, Chuck Davis has worked professionally as a specialist in underwater photography in worldwide locations, including the Alaskan Arctic, Greenland and Antarctica. His motion picture credits include work on...