News
Underwater Photo and Video Holiday Gift Guide 2020
By DPG Editorial Staff, November 27, 2020 @ 10:00 AM (EST)

Yes, it's that time of year again, folks! Time to splurge a little. Time to buy that special something for that special someone in your life (or yourself!). Yes, it's time to curl up with DPG's epic 2020 Underwater Holiday Gift Guide and find out about all the hottest (and coolest) gear out there.
Whether you have your beady eye on a shiny new housing or just want to find a handy little gadget for your dive buddy, we've got a bumper crop of fabulous recommendations for you. Happy browsing!
| | | |
| --- | --- | --- |
| CONTENTS | | When purchasing underwater photography equipment like the products mentioned in this article, please support DPG by supporting our retail partner—Backscatter. |
1. Full-Frame Cameras

Sony Alpha a7S Mark III
The Alpha 7 series is the standard by which every other full-frame mirrorless camera has been measured, with steady improvements to each new generation of cameras. We're up to the third iteration of the all-rounder model (a7 III), the fourth incarnation of the high-resolution model (a7R IV), and now finally, after a five-year wait, we have the a7S III, the videocentric powerhouse that shoots 4K/120p 10-bit 4:2:2 internally and outputs 4K/60p 16-bit RAW video over HDMI. $3,500 | www.sony.com | www.backscatter.com
Who Should Buy It?
It doesn't need to be said that the 12-megapixel still images from the a7S III aren't likely to excite photographers; this is a camera for making movies. At the same time, there's no 8K on offer here, but the "cool" 4K output from the a7S III is going to be of the very highest quality.

Housing Options

Nauticam: If you're sold on the a7S III's ability to output 16-bit RAW to an external recorder, the NA-A7SIII will cater to your needs: The housing features the required large-bore bulkhead that supports HDMI 2.0, and of course, Nauticam also produces an underwater housing especially for the Atomos Ninja V. Bonus: You'll be ready to snap on the company's awesome Wide Angle Conversion Port (WACP) or Super Macro Converter (SMC). $3,190 | www.nauticam.com | www.backscatter.com
Ikelite: If you want to start shooting video more affordably, and you're happy with the a7S III's high-quality 10-bit 4:2:2 internal recording (which most of us will be), consider Ikelite's robust ABS-PC housing. And while they may not have a high pixel count, the a7S III's uncompressed RAW images have huge post-processing latitude, so don't rule out taking pictures, making use of Ikelite's rock-solid electrical TTL flash triggering (with compatible DS-series strobes). $1,695 | www.ikelite.com | www.backscatter.com

Canon EOS R5
While others focus on 4K, Canon has upped the ante with its latest video-focused full-frame mirrorless camera, which is capable of capturing 8K/30p video internally at 4:2:2 10-bit quality—without cropping. It's no slouch in the 4K department either, with 4K/120p 4:2:2 10-bit recording on offer for super-smooth cinematic playback at quarter speed. You can also shoot 45-megapixel images at 12fps with continuous autofocus (via Canon's second-generation Dual Pixel CMOS AF system), and enjoy image stabilization with shake reduction of up to eight stops when using some RF lenses. $3,900 | www.canon.com | www.backscatter.com
Who Should Buy It?
The R5's video will no doubt look breathtaking on your 8-foot 8K TV, but for most of us, 4K will do just fine, thank you very much. Having said that, with 8K footage, you'll have the ability to crop extravagantly, giving you more options in post-production. There is also that small matter of the R5's well-documented heat buildup, which severely curtails record time. For underwater cinematographers, however, that's very unlikely to be a concern, since you're only capturing mere seconds of footage at a time.

Housing Options

Ikelite: With the R5, all the magic happens internally, so there's no pressing need to record video to an external recorder (which is limited to 4K/60p anyway), but if you like using a nice, big external monitor, Ikelite's housing has an M16 port for an HDMI bulkhead. Install the company's dedicated TTL converter to enjoy automatic exposure using compatible strobes from Ikelite's DS series. $1,695 | www.ikelite.com | www.backscatter.com
Aquatica: The Canadian company has told us the MSRP (US$3,200) of its housing for the Canon EOS R5, but it hasn't been officially unveiled, so we can't be absolutely certain what you get for your money. Still, if Aquatica's other offerings are anything to go by, you can be pretty sure you'll get top-quality aluminum construction, important controls nicely arranged around the integrated handles, and full RF/EF lens support. Oh, and one more thing: Aquatica's global sale gives you 15% off until the end of 2020! $2,720 | www.aquatica.ca | www.backscatter.com

Nikon D780
If you like to frame your subject using good ol' light bounced off a mirror, then you're in an increasingly small minority… but Nikon, for one, hasn't forgotten you: Their most recent addition to their DSLR lineup (from the beginning of the year) is a doozy. A major update to the company's wildly popular D750, the midrange full-frame D780 boasts a 24.5MP BSI-CMOS sensor with on-chip phase detection autofocus (giving accurate AF in live view mode), burst shooting of up to 7fps (12fps with the electronic shutter), and both 4K/30p and 1080/120p video capture with no crop. Yup, it's a Z6 with an optical viewfinder—kinda sorta. $2,300 | www.nikonusa.com | www.backscatter.com
Who Should Buy It?
The D780 can take 2,260 shots with one battery—take that, 310-shots-per-charge Z6! Okay, so that's not the only reason to get a D780… DSLRs are just, well, cooler. Only kidding! Look, your bazillion F-mount lenses will just slide straight on there. Seriously, do you really need a reason to own one of The Last Nikon DSLRs?

Housing Options

Isotta: Your beautiful new DSLR deserves an equally pretty housing! Look at this shiny red thing! Anodized aluminum shell, camera controls crouched around integrated adjustable handles, double O-ring seals on all buttons, built-in moisture alarm, included TTL converter—what's not to love? Plus, you can trigger your strobes via fiber-optic or electrical connections. $2,820 | www.isotecnic.it | www.backscatter.com
Ikelite: If you want a housing that's more lightweight and creates less drag underwater, opt for Ikelite's ABS-PC blend housing with its transparent back. Large, curved control levers for shutter and AF-ON allow you to shoot with back-button autofocus if desired, and each lever can be extended for ideal positioning when using the right-hand handle. Trigger strobes in manual mode out of the box or add Ikelite's dedicated converter for TTL exposure with one or two DS strobes. $1,695 | www.ikelite.com | www.backscatter.com

2. Cropped-Sensor Cameras

Nikon Z50
A little over a year since entering the mirrorless full-frame market, Nikon put an APS-C sized sensor behind its new Z-mount and produced another first: the Z50. Given that it has much in common with the popular D500, there's a lot to love about the company's first cropped-sensor mirrorless camera: the 21MP BSI CMOS sensor, the ability to shoot 11fps bursts with continuous AF, and the 4K/30p and 1080/120p video capture sans crop (versus the D500's heavily cropped 4K). The only major thing missing compared to the full-frame Z6/Z7 is in-body image stabilization—no deal-breaker for underwater shooters. $860 | www.nikonusa.com
Who Should Buy It?
There's one big thing every Nikon (or Canon) cropped-sensor underwater shooter loves about their camera: the awesome images it takes with the Tokina 10–17mm fisheye zoom! Users of the D500 may find the Z50's autofocus a little underwhelming, but the good-quality crop-free video makes the Z50 a solid all-rounder.

Housing Options

Nauticam: The NA-Z50 makes it easy to use both native Z-mount lenses directly and your trusty F-mount lenses with Nikon's FTZ Adapter. For the latter, just add Nauticam's N100 to N120 Port Adapter along with the corresponding N120 port recommendations. Fiber-optic bulkheads give you TTL strobe triggering out of the box using the Z50's pop-up flash, but there's also the option of installing a TTL converter via the hot-shoe for faster recycle times and reduced battery strain. $2,670 | www.nauticam.com | www.backscatter.com
Ikelite: Ikelite's Dry Lock port system allows the use of both Z-mount lenses and F-mount lenses via Nikon's FTZ adapter. The housing provides the ability to trigger strobes fiber-optically by making use of the Z50's pop-up flash, but if you want, you can add Ikelite's dedicated TTL converter for automatic exposure when used with a compatible Ikelite DS-series strobe (or two). There's also an M16 port for adding an HDMI bulkhead so you can hook up an external monitor/recorder. $1,695 | www.ikelite.com | www.backscatter.com

Sony a6600
The a6000 series is to cropped sensors what the Alpha 7 series is to full frame. That is to say, Sony makes pretty awesome mirrorless cameras with APS-C sensors. The cream of the crop is the a6600, which takes everything that made the a6500 such a great flagship camera and makes it just a little better. Notably, the a6600 has a chunkier grip that houses a much higher-capacity battery (the same one that you'll find in the latest Alpha 7 cameras) for an impressive 800 shots per charge, more than double that of its predecessor. The a6600 also borrows the updated AF system from the a6400, which is among the best on any mirrorless camera. $1,300 | www.sony.com | www.backscatter.com
Who Should Buy It?
If you use any of the a6000 series cameras for underwater photography (and/or video), your next camera should probably be from the Alpha 7 series. The a6600 is an upgrade for deep-pocketed compact shooters, but if you want to save a few dollars ($400 to be precise), just snap up the equally capable a6400.

Housing Options

Nauticam: Currently the only available underwater housing for the a6600, Nauticam's NA-A6600 is machined from a solid block of aluminum and features integrated handles with the all-important shutter release and AE-L/AF-L lever perfectly placed alongside the right grip. To make use of the fiber-optic bulkheads, you'll need to purchase Nauticam's dedicated LED flash trigger, since the a6600 has no pop-up flash unlike its predecessor. The housing is compatible with the company's WWL-1, CMC-1, and CMC-2 wet optics. $2,070 | www.nauticam.com | www.backscatter.com

Fujifilm X-T4
Fujifilm's flagship X-T series offerings are about as traditional as modern mirrorless cameras can get, with their unusally generous number of manual dials, and that has made them very well suited to the serious underwater photographer shooting in manual mode. Boasting a 26.1MP APS-C sized sensor and in-body image stabilization, the X-T4 is also perfect for the hybrid shooter, with its 15fps burst shooting (mechanical shutter) and its 4K/60p and 1080/240p video capabilities. $1,700 | www.fujifilm-x.com
Who Should Buy It?
Fujifilm may be the oddball choice, but the X-T4 competes with the very best in its class on both photography and videography fronts. You can also expect premium optical quality from many of the X-mount lenses in Fujifilm's growing range.

Housing Options

Subal: For some serious Austrian engineering, Subal has you covered with their housing hewn from a solid block of aluminum, which is then hard-coated and powder-coated. The housing is depth-rated to 80 meters (260 feet), but an upgraded version is also available that will allow you to dive to 120 meters (almost 400 feet). €3,950 | www.subal.com

Ikelite: The US company's first Fujifilm housing was for the X-T3, and the successor housing has the same full complement of features, including ABS-PC blend body, Dry Lock (DL) port system, and large (and optionally extendable) control levers for the shutter release and AF-L button. You can get straight to work shooting your strobes in manual mode, or if you want automatic TTL exposure with Ikelite's DS-series strobes, just add the DL4 DS Link TTL Converter. $1,695 | www.ikelite.com | www.backscatter.com
3. Compact Cameras

SeaLife SportDiver for iPhone
Well, you don't get much more compact than the camera that's in your pocket! Now SeaLife, the company that created the Micro 3.0 and DC2000 waterproof cameras, has made it a breeze to take your iPhone diving with you—whether you have the latest iPhone 12, 12 mini, 12 Pro or 12 Pro Max, or a model as far back as the iPhone 7/7 Plus. The new SportDiver housing communicates wirelessly with your phone via Bluetooth Low Energy and works in concert with SeaLife's free SportDiver camera app. The polycarbonate housing can be purchased on its own or in a bundle with tray, grip and Sea Dragon 2500 photo/video light. $300 (SportDiver only) | $650 (SportDiver Pro 2500 Set) | www.sealife-cameras.com
GoPro HERO9 Black
The planet's favorite action cam just keeps on getting better and better, but with the latest iteration, GoPro has taken a giant leap: The new HERO9 Black can now capture 5K/30p footage for the first time, shoots higher-resolution 20MP images, and boasts a larger rear touchscreen and a new front-facing display so you can frame yourself easily. The best part? Even though it's a bit bigger and bit heavier than before, it's still compatible with the latest version of Backscatter's FLIP color correction system (see Accessories below). $350 | www.gopro.com | www.backscatter.com
Who Should Buy It?
Everyone should own a GoPro! It's a great little beginner's video camera as much as it is a brilliant B-roll camera for more-advanced videographers with fancier primary cameras.

Housing Options

GoPro: The HERO9 Black only just came out, so for the time being, you're limited to GoPro's own housing until other options come along from the likes of Isotta (aluminum!) and Hugyfot (massive built-in monitor!). Most importantly, Backscatter's FLIP filter system designed for the HERO8 works on the HERO9, so you can get right down to business capturing footage with perfect color. $50 | www.gopro.com | www.backscatter.com
Canon PowerShot G7 X Mark III
Built around a 20MP 1-inch sensor and a 24–100mm (equiv.) f/1.8–f/2.8 zoom lens, the G7 X series has proven to have a winning formula. The third-generation model boasts a new stacked CMOS sensor, RAW burst shooting up to 8fps with continuous AF, plus uncropped 4K/30p and 1080/120p video capture. Most importantly, that excellent lens pairs very nicely with a wide variety of macro and wide-angle wet attachments. $650 | www.canon.com | www.backscatter.com
Who Should Buy It?
The G7 X Mark III is the ideal tool for the beginner: You can get satisfying results straight away by employing the automatic modes, but the camera will also grow with you, offering lots of manual control and more-advanced features to get your creative juices flowing.

Housing Options

Fantasea: This affordable polycarbonate housing is available in two versions: The "advanced" model comes with the integrated Fantasea Hybrid Vacuum Safety System, while the less-expensive "basic" model features an M16 port that's ready for you to install this pre-dive vacuum check and moisture detector system yourself. $500 (with vacuum system) | www.canondive.com | www.backscatter.com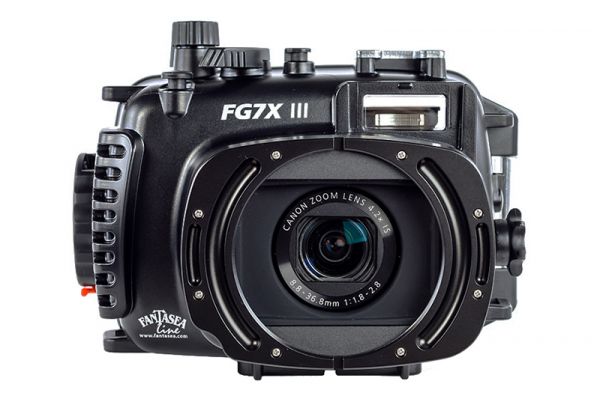 Isotta: If you like your housings made of metal, Isotta's Italian-engineered aluminum offering is the way to go. Finished in the company's eye-catching signature red paint, the housing features single-handed open/close, double O-rings on buttons and dials, and a leak detector built in. $950 | www.isotecnic.it | www.backscatter.com
Olympus Tough TG-6
The TG-6's spec sheet may seem a bit underwhelming: The sensor is a modest 12-megapixel affair, the lens is a 25–100mm (equiv.) f/2 that doesn't seem very remarkable, and it shoots 4K video like just about every other camera on the planet. But what sets this little camera apart is its amazing Microscope Mode, which allows you to capture eye-popping super-macro images of the ocean's tiniest critters. With the TG-6, you can now access Microscope Mode in Aperture Priority and Program Auto, which allows you to choose small apertures for better depth of field and nice dark backgrounds. $350 | www.getolympus.com | www.backscatter.com
Who Should Buy It?
The TG-6's insane Microscope Mode allows you to get ridiculously close, making it possible to capture mind-blowing perspectives of the incredibly tiny. But if you want to go big, you can: Just pop on a suitable wide-angle wet lens (see Accessories) and you'll be snapping sharks, wrecks and reef scenes to your heart's content.

Housing Options

Kraken Sports: This anodized aluminum housing has one of the coolest features we've ever seen on any housing—period. Just drop in the TG-6, slam the door shut, and press a button: The housing will automatically pull its own vacuum, indicating with a green light when its sealed and ready to dive! Awesome. Why don't more housings do this? $745 | www.krakensports.ca | www.backscatter.com
Ikelite: The TG-6 is a unique little camera, and Olympus makes a unique little attachment for it, the FCON-T02, which provides a circular fisheye perspective when the camera lens is set to 24mm, and diagonal fisheye capabilities when the lens is zoomed. Ikelite's housing with optical grade acrylic dome is designed specifically for this combo, allowing you to shoot everything from fisheye to macro on the same dive—plus over-unders as well! $550 | www.ikelite.com
4. Lighting

Backscatter Macro Wide 4300
With their Mini Flash and Optical Snoot, Backscatter created a compact strobe designed to allow photographers to shoot the small stuff in creative new ways while also being capable of capturing bigger subjects. Backscatter's latest product aims to be similarly innovative, but for the filmmaker: a video light that features a powerful 4,300-lumen 85° wide beam for lighting wide-angle scenes as well as a 1,400-lumen spot beam specially designed for macro subjects. The Macro Wide 4300 works with Backscatter's Optical Snoot as well as the company's new Color Filter System. $400 (light only) | www.backscatter.com | $500 (light and Optical Snoot) | www.backscatter.com | $600 (light, Optical Snoot, and Color Filter System) | www.backscatter.com
Backscatter Mini Flash
If you're mainly shooting the small stuff, you don't need a strobe that is ultra powerful or offers huge coverage. That's where you need Backscatter's Mini Flash (MF-1), a compact strobe that's specially designed for shooting macro. For added control over the beam's size and shape, attach the matching Optical Snoot (OS-1), position the modeling light exactly the way you want it, and pull the trigger! Check out our review for a detailed look at what you can do with this novel strobe. $400 (MF-1 and OS-1 combo) | www.backscatter.com | $350 (MF-1) | www.backscatter.com | $150 (OS-1) | www.backscatter.com
Sea&Sea YS-D3 Lightning
The successor to the hugely popular YS-D2, the YS-D3 Lightning offers a guide number of 33 and boasts a 110° beam angle, which can be increased up to 150° with the optional dome diffuser. The strobe features a newly developed aspherical troidal lens covering the flash tubes that is designed to provide even light dispersion without hotspots. Other improvements include faster recycle times as well as a target light with a four-fold increase in brightness. $850 | www.seaandsea.jp | www.backscatter.com
Retra Flash Prime and Flash PRO
Boasting a stylish aluminum enclosure, the Retra Flash features a circular tube for a smooth, even coverage with a beam angle of 130° and a color temperature of 4900°K. Two models are available, differing mainly in terms of power: the 100Ws Flash Prime and the 150Ws Flash PRO. The strobe features an isolated battery compartment with a double O-ring seal design and requires four AA batteries. Adding the Supercharger halves the recycle time and doubles the number of flashes per charge. In our recent review, we said: "The Retra Flash PRO is perfect for traveling underwater photographers, providing more power than has ever been available before from a strobe of this size and cost." $990 (Prime) | www.retra-uwt.com | www.backscatter.com | $1,100 (PRO) | www.retra-uwt.com | www.backscatter.com
5. Accessories

Backscatter FLIP8/9
Getting beautiful underwater footage is all about getting great color, and Backscatter's FLIP filter system is the best way to capture accurate colors with your GoPro. Compatible with HERO5 through HERO9 in GoPro's protective housing, FLIP8/9 is available in different configurations, according to your needs. Kits are available with one or two filters included, and the Pro Package includes a couple of filters plus the company's +15 Macromate Mini close-up lens (another essential GoPro accessory). $160 (Pro Package) | www.backscatter.com | $80 (Two Filter Kit) | www.backscatter.com | $40 (One Filter Kit) | www.backscatter.com
Backscatter M52 Wide Angle Lenses for Olympus TG Series
The TG-6 can shoot crazy macro, but if you want to capture big animals or reefscapes, you'll need a suitable wet attachment. Backscatter offers two possibilities: The M52 Wide Angle Air Lens restores the camera's topside field of view underwater to a more usable 81° (from around 60°), while the higher-end M52 Wide Angle Lens gives you a full 120° angle of view. These lenses will mount directly to any TG-5/TG-6 housing with a 52mm thread. $400 (Wide Angle Lens) | www.backscatter.com | $160 (Wide Angle Air Lens) | www.backscatter.com
| | |
| --- | --- |
| | |
| M52 Wide Angle Lens | M52 Wide Angle Air Lens |
Fantasea-AOI UWL-09F Wide-Angle and UCL-06LF Macro Wet Lenses
Fantasea and AOI team up to produce various quality wet attachments, and two excellent examples are the UWL-09F wide-angle lens and the UCL-06LF +12 diopter macro lens. The lens barrels are hard-anodized aluminum with a black hard coating, while glass elements have anti-reflective multilayer coatings. The threaded mounts are the standard 67mm, so you can attach them to almost any compact, mirrorless or DSLR housing. $700 (UWL-09F) | www.fantasea.com | $220 (UCL-06LF) | www.fantasea.com
| | |
| --- | --- |
| | |
| UWL-09F | UCL-06LF |
Ikelite DL Compact 8-Inch Dome Port
Providing similar image quality to Ikelite's standard 8-inch dome port, this low volume dome has a reduced size that's great for travel and for techniques such as close focus wide angle. Featuring an optical grade acrylic dome and acetyl body, the port can be attached directly to Ikelite's 200DL and 50DL housings featuring the Dry Lock (DL) port system, and can also be combined with DL extensions. $350 | www.ikelite.com | www.backscatter.com

SeaLife Sea Dragon Mini 900 and Mini 1300
Looking for the perfect gift for your dive buddy? Then delve into SeaLife's expansive catalogue of LED lights. Two inexpensive options for dive lights are the Sea Dragon Mini 900, which has a 900-lumen spot beam with a beam angle of 10.5° underwater, and the Sea Dragon Mini 1300S, with its 1,300-lumen output and beam angle of 6° underwater. These anodized aluminum lights are depth-rated to 330 feet and can be operated with one hand via a single button. $100 (Mini 900) | $120 (Mini 1300S) | www.sealife-cameras.com
| | |
| --- | --- |
| | |
| Sea Dragon Mini 900 | Sea Dragon Mini 1300S |
---

When purchasing underwater photography equipment like the products mentioned in this article, please support DPG by supporting our retail partner—Backscatter.com.
RELATED ARTICLES
LATEST EQUIPMENT
Be the first to add a comment to this article.
Newsletter
Travel with us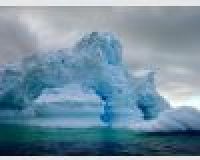 Antarctica
Plan Your Adventure >
Featured Photographer
Karin Brussaard
Expert Photographer
Karin was born in The Netherlands in 1972. Her brother persuaded her to join him on a divecourse in 1997. Like she once said "I'll never go diving" she also said...