News
Underwater Photo/Video Buyer's Guide – Summer 2022
By DPG Editorial Staff, July 2, 2022 @ 10:00 AM (EST)

The sky is on fire, topside is crawling with COVID, and Putin knows the exact coordinates of your house! That's right, summer is here, folks, and what better time to splurge recklessly on underwater photo and video gear, suit up, and disappear into the blue abyss? Enter the summer edition of our Underwater Photo/Video Buyer's Guide!
Yes, it's true that you now have at your permanent disposal DPG's awesome Underwater Photo/Video Equipment Guide—for a comprehensive roundup of the best gear for underwater shooters—but we're still bringing you these handy quarterly summaries of the latest and greatest imaging equipment to hit the market. It's gonna be a long, hot summer, and there's lots of diving to be had—you need to refresh your rig!

| | | |
| --- | --- | --- |
| CONTENTS | | When purchasing underwater photography equipment like the products mentioned in this article, please support DPG by supporting our retail partner—Backscatter. |
1. Interchangeable-Lens Cameras

OM System OM-1
With more than a nod to its forebear, the Olympus OM-D E-M1 Mark III, the first camera by OM Digital Solutions (the company that took over Olympus), still says "Olympus" on the front. But this is a somewhat better spec'd camera than the E-M1 III: With its 20.4MP stacked CMOS sensor, the OM-1 can shoot up to 10fps with its mechanical shutter and an impressive 50fps with AF/AE, as well as both 4K/60p and 1080/240p video with no crop. Other niceties include a high-res 5.76M-dot OLED EVF with a 120fps refresh rate, and two UHS-II SD card slots. $2,200 | www.getolympus.com | www.backscatter.com
Who Should Buy It?
Micro Four Thirds is not dead, and neither is Olympus—it just goes by a different name—and the OM-1 is, on paper, a worthy rival to the Panasonic GH6. If you consider yourself a "hybrid" shooter, this should be high on your short list.

Housing Options

Ikelite: With its E-M1 Mark III housing, Ikelite created a competitively priced solution for taking that camera underwater, and the U.S. company has done the same trick (at the same price) with its OM-1 housing. It's built around the same Dry Lock Micro (DLM) port system and can be easily equipped for automatic flash exposure with the addition of the same DL3 DS Link TTL Converter for on-the-fly switching between TTL and manual modes. $950 | www.ikelite.com | www.backscatter.com
Nauticam: Hewn from aluminum and featuring built-in handles, the NA-OM1 is every inch the high-end housing we've come to expect from Nauticam. Controls are exactly where they need to be, there are integrated fiber-optic bulkheads for strobe triggering (manual or TTL options), and an HDMI port allows you to hook up an Atomos Shinobi for external monitoring or an Atomos Ninja V for 4K/60p 4:2:2 10-bit external recording. $2,786 | www.nauticam.com | www.backscatter.com

Olympus OM-D E-M1 Mark III
Despite the arrival of the OM-1, the former flagship Olympus E-M1 Mark III remains an excellent camera, whether you're a photographer or videographer—or a little of both. The 20.4MP Live MOS sensor isn't stacked like the OM-1's, but there's still in-body image stabilization on offer (up to 7 stops) and the ability to shoot continuously (with autofocus) at a very respectable 18fps with the electronic shutter. 4K video capture tops out at 30p, but 1080/60p recording means you can produce smooth slow-motion clips in Full HD. $1,600 | www.getolympus.com | www.backscatter.com
Who Should Buy It?
If you can't stretch to the OM-1 (or similarly priced Panasonic GH6), you'll save $600 by going for the Olympus E-M1 III. Many photographers will find the "real" Olympus' capabilities more than sufficient, but if you're a video shooter enamored by the prospect of slow-mo 4K, you'll have to spring for the extra cash and get the OM-1.

Housing Options

AOI: This polycarbonate housing features a new integrated optical trigger that allows you to make full use of the camera's Super FP high-speed sync mode—useful when capturing fast action or when using wide apertures. AOI's Vacuum Analyser & Wet Detection System comes as standard, giving users audio and visual alarms should the housing seal become compromised. Handily, with some minor modifications, this housing can also accommodate the Mark II. $1,000 | www.aoi-uw.com | www.backscatter.com
Isotta: If anodized aluminum doused in metallic red paint is your preferred housing material, Isotta has you covered with their Italian-made (yet affordable) housing for the E-M1 Mark III. You get the usual Isotta trimmings: integrated handles, dual O-ring seals on all moveable parts, the company's signature single-handed open/close, and a built-in moisture sensor (just add a vacuum system via one of the M16 ports). The housing ships with twin optical bulkheads, but you can also order it with S6 or N5 electrical bulkheads. $1,890 | www.isotecnic.it | www.backscatter.com

Panasonic Lumix GH6
The GH5 has been the workhorse camera for many prosumer underwater videographers, but after five years, the arrival of the GH6 was—to put it mildly—long overdue. Fortunately, Panasonic's new flagship MFT camera doesn't disappoint and holds its own against stiff competition from the OM System OM-1. Built around a new Venus image processor and a new 25.2MP sensor, the GH6 can do exciting video things its predecessor cannot: 5.7K/60p 10-bit 4:2:0, 4K/120p 10-bit 4:2:0 and 4K/60p 10-bit 4:2:2. Serious videographers will also appreciate the added V-Log profile, which provides up to 13+ stops of dynamic range in post-production. $2,200 | www.panasonic.com | www.backscatter.com
Who Should Buy It?
While the GH6's "hybrid" credentials are justified, the camera remains a tool aimed at videographers, and it's not only a worthy upgrade for GH5 users, but also very much a viable option for anyone who sees themselves as an underwater filmmaker. Still photographers should consider other options with larger sensors for the resolution, low light, and dynamic range benefits.

Housing Options

Ikelite: With its high-quality strobes and industry-leading TTL system, Ikelite has traditionally targeted photographers. But the U.S. company is changing with the times and moving in the video direction by offering the ability to custom-order various housings—including this one—with an M24 port. This large-bore bulkhead allows users to attach an external monitor/recorder like the Atomos Ninja V/V+ via chunky HDMI 2.0 cables. Of course, photographers can still automate strobe exposure by adding Ikelite's optional TTL converter. $1,695 | www.ikelite.com | www.backscatter.com
Nauticam: The Hong Kong company is known for its solid support of cinema and videocentric cameras as well as housings for video monitors and monitor/recorders. Their latest housings also typically come with an HDMI 2.0-friendly M24 bulkhead as-standard, and that's the case with the NA-GH6. Your money also gets you rugged aluminum construction, controls ergonomically arranged around built-in handles, and the company's vacuum check and leak detection system. $4,503 | www.nauticam.com | www.backscatter.com

Sony a7 IV
The fourth iteration of Sony's "basic" full-framer is anything but. At its heart is a new 33MP BSI-CMOS sensor and the Japanese company's latest Bionz XR processing engine, a combination that offers burst shooting up to 10fps, 4K/30p 10-bit 4:2:2 video from the full width of the sensor, and 1080/120p capture with no crop. Other very-nice-to-haves include subject tracking in video mode, a higher-resolution 3.69M-dot viewfinder, and the improved menu system from the a7S III. $2,500 | www.sony.com | www.backscatter.com
Who Should Buy It?
For users of cropped-sensor cameras—particularly Sony's a6000 series—who want to transition to full frame, the "entry-level" Alpha 7 series camera was always a no-brainer, but that's especially true now with this upgraded model. Whether you love shooting stills or video, or a bit of both, the Mark IV does everything extremely well.

Housing Options

Ikelite: Superficially, the a7 series cameras are hard to tell apart, but the a7 IV is indeed sufficiently different from its siblings to require a dedicated housing. Ikelite's offering shares all its main features with the U.S. company's other housings in the series. You get manual electrical triggering of strobes out of the box, and TTL exposure with Ikelite DS-series strobes after adding the optional DL2 DS Link TTL converter. Custom-order the housing with a M24 bulkhead and you can connect an external monitor/recorder via HDMI 2.0. $1,795 | www.ikelite.com | www.backscatter.com

Nauticam: Built around the N100 port system like Nauticam's other a7-series housings, the NA-A7IV features the Hong Kong company's well-known ergonomic control layout, dual fiber-optic ports (just add the Mini Flash Trigger), and a built-in vacuum check and leak detection system. The included M24 bulkhead allows you to connect an Atomos Ninja V or V+ monitor/recorder. $4,127 | www.nauticam.com | www.backscatter.com
2. Video Cameras

Canon EOS R5 C
Breaking new ground when it was released in 2020, Canon's EOS R5 became the first full-frame camera capable of recording 8K RAW internally and the first mirrorless camera to shoot 4K/120p. But it turned out that there was a caveat: The heat generated severely curtailed recording time. Enter Canon's first full-frame, 8K Cinema EOS-style camera—the EOS R5 C. While similar from the front, round the back is a chunky fan, which makes all the difference, allowing unlimited recording time in all modes up to 8K/60p, with no crop. $4,500 | www.canon.com | www.backscatter.com
Who Should Buy It?
That the R5 C doesn't technically belong to the Cinema EOS line (and therefore isn't quite the same professional product as the cameras in that line) isn't going to matter to anyone who wants an extremely impressive filmmaking tool at what is, comparatively, an extremely modest price. Plus, if you want an 8K/60p-capable camera with an RF mount, this is one very affordable option.

Housing Options

Nauticam: When it comes to video camera housings, Nauticam is a specialist, so it's no surprise that the Hong Kong company's offering is the only option in the case of the R5 C. Fortunately, that's not a bad thing: Nauticam brings a wealth of experience to its design, combining the best features of its housings for both EOS and Cinema EOS cameras. Most importantly, there's space for a USB-C power bank, making it possible to record that precious 8K/60p in Canon Cinema RAW Light. $7,129 | www.nauticam.com | www.backscatter.com

Blackmagic Pocket Cinema Camera 4K/6K
Blackmagic are in the professional broadcast camera business, but they're also enjoying considerable success with their prosumer-targeted Pocket Cinema Camera, otherwise known as the BMPCC. The basic model in the lineup is the 4K-capable BMPCC 4K, which features a 4/3 sensor and a Micro Four Thirds lens mount. The other two models—the BMPCC 6K (just superceded by the BMPCC 6K G2) and the (recently released) BMPCC 6K Pro—feature 6K Super 35 sensors and the Canon EF mount. All promise the "Hollywood Look" with rich, accurate colors and wide dynamic range via the Blackmagic RAW codec. $1,295 (BMPCC 4K) | www.blackmagic.com | www.backscatter.com | $1,995 (BMPCC 6K) | www.backscatter.com
Who Should Buy It?
Filmmakers on a budget should definitely consider the eminently affordable BMPCCs. You'll get a polished product with pro video tools not offered on typical "hybrid" cameras as well as an industry-standard RAW format that offers plenty of options in post-production. Keep in mind that the original BMPCC 6K is now no longer a current model and the new BMPCC 6K G2 has a different form factor (like the "Pro" model), so it won't be compatible with housings for the first-generation model.

Housing Options

Seacam: Despite the cameras' different lens mounts and sensor sizes, Seacam's housing is compatible with both the BMPCC 4K and (first-generation) BMPCC 6K. Providing access to all important camera controls, the housing can accommodate a battery pack as well as an external SSD to extend recording times. An HDMI 2.0 bulkhead allows the connection of an external recorder such as the Atomos Ninja V. $5,100 | www.seacam.com | www.backscatter.com
Nauticam: Designed exclusively for the (first-generation) BMPCC 6K, Nauticam's housing is built around its N120 EF-mount port system, but you can choose either N120 Cinema System gears or N120 DSLR gears. If it's the former, you get to use the dedicated cinema-style zoom and focus knobs on the housing. Nauticam's engineers have also thought about storage and power: There's space for a Samsung SSD as well as a special holder for extra batteries that can keep the camera juiced for up to two-and-a-half hours. $6,191 | www.nauticam.com | www.backscatter.com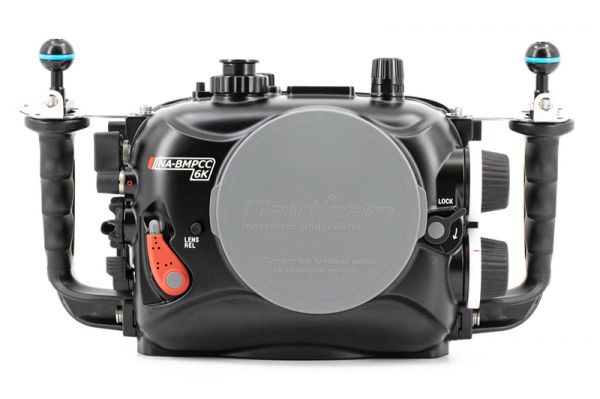 Z CAM E2-S6, E2-F6 and E2-F8
Another player in the professional cinema camera business, Chinese company Z CAM produces a box-shaped modular body with a Canon EF mount (E2) in a variety of configurations: the E2-S6 has a Super 35 sensor and records 6K/60p and 4K/100p, the E2-F6 features a full-frame sensor and captures 6K/60p and 4K/120p, and the flagship E2-F8 also sports a full-frame sensor but boasts 8K/30p recording capabilities. They can all record 12-bit ProRes RAW and 12-bit ZRAW (Z CAM's proprietary RAW codec) to CFast 2.0 cards. $2,500 (E2-S6) | www.z-cam.com | $3,500 (E2-F6) | www.z-cam.com | $6,000 (E2-F8) | www.z-cam.com
Who Should Buy It?
Z CAM's offerings are strictly for serious cinematographers, and they compete with similar products from the likes of RED and Blackmagic. Keep in mind that the Z CAM is built around the good ol' EF mount, unlike competing cameras like the RED Komodo 6K, which features Canon's new RF mount.

Housing Options

Gates: If you know about Z CAM, you'll also know that Gates are top dogs when it comes to pro underwater video housings. Their Z3—which accommodates the E2-S6, E2-F6 or E2-F8—is typical of the high-quality housings they build. The housing features a special module that interfaces with the camera to provide sophisticated management of camera functions via conveniently positioned housing controls. This version comes with an integrated Atomos Shinobi monitor, but the housing can also be configured with the Small HD503 or Atomos Ninja V. $8,125 | www.gateshousings.com | www.backscatter.com
Nauticam: Supporting the E2-S6, E2-F6, and E2-F8, as well as the E2-M4 (a version with a Micro Four Thirds mount that shoots up to 4K/160p), Nauticam's compact housing uses its N120 Cinema port system and works with the company's line of premium optics, such as the WACP-1/-2 and SMC-1/-2. The housing can accommodate a Samsung SSD drive for recording. Hooking up the necessary monitor is child's play—Nauticam produce housings for appropriate monitors by SmallHD and Atomos. $6,398 | www.nauticam.com | www.backscatter.com
GoPro HERO10 Black
While the HERO10 is all but identical to the HERO9 externally, the latest GoPro got some major internal upgrades in the shape of a new processor and a new 23.6MP sensor. This has allowed the HERO10 to double the top frame rates of its predecessor: You can now record 5.3K/60p and 4K/120p for silky-smooth slo-mo playback. It's also possible to pull much larger stills from your footage: 19.6MP stills from 5.3K video vs 12MP from 4K on the HERO9. HyperSmooth is now at version 4.0, meaning wobbly footage is a thiing of the past. $400 | www.gopro.com | www.backscatter.com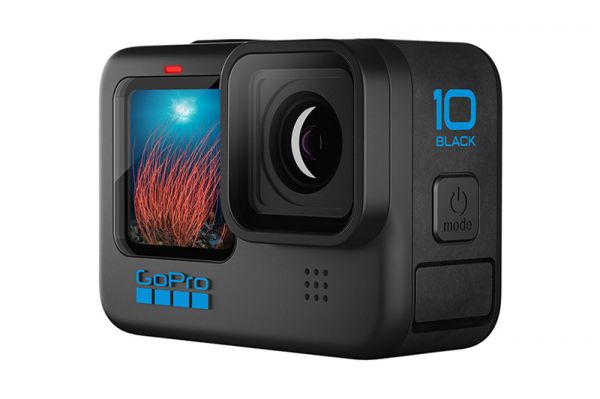 Who Should Buy It?
With GoPro's own (perfectly good) $50 underwater housing, you can have a GoPro filming your underwater exploits for next-to-nothing—so why not have a GoPro? That said, the HERO10 is far and away the best spec'd model to date, so it's worth getting this latest model.

Housing Options

Isotta: If GoPro's plastic "waterproof case" makes you feel uneasy, let Isotta calm your nerves with their built-like-a-tank aluminum offering. As with Isotta's still camera housings, you get the signature red paint, one-handed open/close, and quality O-ring seals. And the best part? The flat port is exactly the same as that on GoPro's HERO9/HERO10 housing, so you can use all-important accessories like Backscatter's FLIP filter system. $473 | www.isotecnic.it | www.backscatter.com
Hugyfot: Without doubt, GoPros rock. But are they perfect? Of course not. There's that absurdly small screen for one thing. Then there's that ridiculously short battery life. If these drive you crazy, you need the Mack Daddy of GoPro housings: the Hugyfot Vision Xs. We're talking machined aluminum, integrated handles with ball mounts, built-in 5-inch monitor, a couple of lithium-ion battery packs (one each for the monitor and camera), and a vacuum leak detection system. Caveat: While it does have a built-in red flip filter, it doesn't work with Backscatter's FLIP system. €1,500 | www.hugyfot.com
3. Lighting

SeaLife Sea Dragon 3000SF Pro Dual Beam
If continuous light is what you crave, chances are SeaLife has you covered with its wide selection of Sea Dragon video lights and dive torches. The latest addition to the catalog is the 3000SF Pro Dual Beam, which offers a 3,000-lumen flood beam (with a 90° beam angle underwater) and a 1,500-lumen spot beam (with an 11° beam angle underwater)—very handy for creative snoot-type lighting effects. SeaLife also throws in a couple of 180-lumen LEDs to provide red light for your camera's autofocus while not spooking skittish fish. $550 (including tray and grip) | www.sealife-cameras.com

Keldan Video 8XR
By Keldan standards, the new 20,000-lumen Video 8XR only provides "moderate" brightness, but it's among the Swiss company's most sophisticated video lights: The "R" in the name makes it one of a few models that can be remotely controlled—no small feat underwater. Just add Keldan's RC1 remote and you'll be able to control an unlimited number of lights simultaneously via two independent brightness channels. The Video 8XR offers a beam angle of 110° in water and runs at full power for up to 35 minutes on a full charge. $2,428 | www.keldanlights.com | www.backscatter.com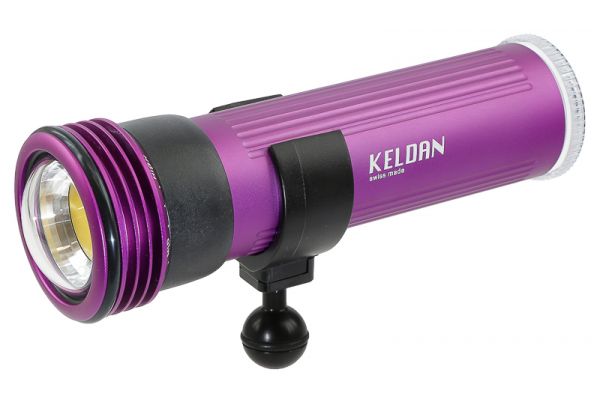 Ikelite DS230 with Modeling Light
Ikelite recently announced not one but four new strobe models: refreshed versions of the company's classic DS51 and DS160 (DS51 II and DS160 II) and two exciting "hybrid" strobes armed with 2,500-lumen video lights (DS162 and DS230). The latest addition is a new "standard" version of the DS230 (for $200 less) with a 205-lumen modeling light (as found on the DS51 II and DS160 II) instead of the integrated video light. The strobe boasts a guide number of 32, 10-stop control of strobe output, and a 110-degree strobe beam angle with included diffuser. Of course, automatic strobe exposure is available by adding the appropriate TTL converter. $1,295 (DS230) | www.ikelite.com | www.backscatter.com
Backscatter Mini Flash and Optical Snoot
Big, chunky strobes are all very well if you're planning on setting the reef alight. But if macro is your preference, you'll want a nice, compact strobe that's specifically designed for shooting the small stuff: the Backscatter Mini Flash (MF-1). Better stiill, get full control over the beam's size and shape by attaching the matching Optical Snoot (OS-1), positioning the modeling light just so, and blazing away! In a word, awesomeness. $500 (MF-1 and OS-1 combo) | www.backscatter.com | $400 (MF-1) | www.backscatter.com | $150 (OS-1) | www.backscatter.com
---

When purchasing underwater photography equipment like the products mentioned in this article, please support DPG by supporting our retail partner—Backscatter.com.
RELATED ARTICLES
LATEST EQUIPMENT
Be the first to add a comment to this article.
Newsletter
Travel with us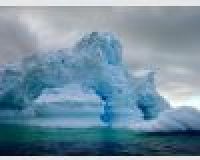 Antarctica
Plan Your Adventure >
Featured Photographer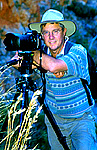 Gary Bell
Expert Photographer
Gary Bell is a professional nature and wildlife photographer specializing in marine related images, his work has appeared in numerous book publications and major journals around the world. Gary\'s photographic journey...