News
Underwater Photo/Video Buyer's Guide – Summer 2021
By DPG Editorial Staff, June 28, 2021 @ 06:00 AM (EST)

Summer is here, friends! (Apologies, once again, to those of you shivering in the Southern Hemisphere). We've been out of the water way too long. We need to dust off our cameras and start shooting again. So what better time to give your rig a little overhaul with some shiny new stuff from the epic summer edition of our Underwater Photo/Video Buyer's Guide?
As usual, we've rounded up all the tasty equipment that's landed over the last few months and added a light sprinkling of our favorite products of the moment. Fancy ditching that ageing DLSR and getting a new mirrorless camera? Sorted! Need a fresh pair of lights to illuminate your life? Check! How about just a new toy to get the creative juices flowing? Sure! Read on and let's start making images, folks!
| | | |
| --- | --- | --- |
| CONTENTS | | When purchasing underwater photography equipment like the products mentioned in this article, please support DPG by supporting our retail partner—Backscatter. |
1. Interchangeable-Lens Cameras

Nikon Z7 II
When we went to Mexico to test Nikon's first full-frame mirrorless camera, the Z7, in 2019, we discovered a capable camera that came close to living up to its "mirrorless D850" spec sheet. The performance-boosting Expeed 6 processors in the Z7 II take that promise a step further, with 10fps continuous shooting and a threefold increase in buffer capacity, improved low-light autofocus performance, and the ability to capture 4K/60p video (albeit in cropped DX format). A $200 upgrade allows you to output Blackmagic RAW as well as ProRes RAW to the Atomos Ninja V external recorder. $3,000 | www.nikonusa.com | www.backscatter.com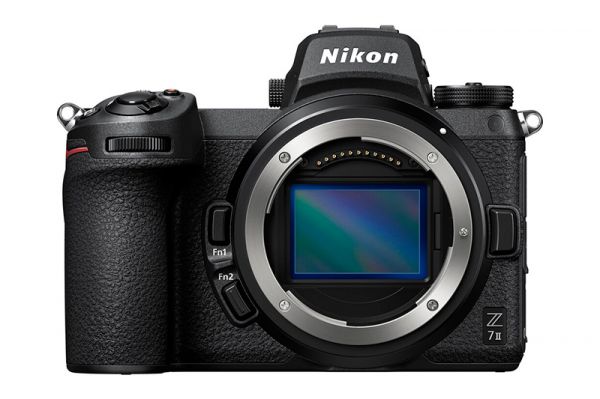 Who Should Buy It?
With its 45.7-megapixel sensor and 10fps burst shooting, the Z7 II makes an awesome tool for still photographers. And while the video specs are decent, the Z6 II—boasting full-pixel readout of its 24.5MP sensor and advanced video features—is a better choice for serious filmmakers. You could always get both, of course, since each would fit any housing you buy…

Housing Options

Sea&Sea: The MDX-Z7II has much in common with its predecessor housing for the first-generation Z7 and Z6. Made from aluminum and featuring integrated aluminum handles, the housing can accommodate Z-mount lenses as well as F-mount lenses via Nikon's FTZ mount adapter, and there's even a window for viewing the Z7's top LCD panel. Manual strobe triggering is possible out of the box, and you can optionally install a converter that allows you to trigger Sea&Sea strobes in both TTL and manual modes. $TBA | www.seaandsea.jp | www.backscatter.com
Isotta: If you like your aluminum painted fiery red, this made-in-Italy housing for the Z7 II (and Z6 II) is a great option. You get Isotta's signature one-handed opening-closing knob, dual O-ring seals on all buttons, and an integrated moisture alarm thrown in for good measure. The housing comes with two fiber-optic ports, but you have the option of adding bulkheads for strobe connection via electrical sync cords. Three M16 ports allow accessories such as a vacuum valve and external monitor to be installed. $2,690 | www.isotecnic.it | www.backscatter.com

Canon EOS R5
As you probably know by now, the headline feature of the R5 is its ability to capture 8K/30p video. But it's worth being specific: That's 8K RAW video at 10-bit 4:2:2 quality, something that the only other 8K-capable full-frame camera, the Sony Alpha 1, can't match (it shoots in 10-bit 4:2:0). Impressively, the R5 can also shoot 4K/60p and 4K/120p at 10-bit 4:2:2 using the full sensor width (compared to the Alpha 1's slight crop at the highest frame rate). Throw in eight-stop image stabilization and you've got a filmmaking tool in a class of its own. Oh, and don't forget the 45MP images at up to 12fps with continuous autofocus. Wow! $3,900 | www.canon.com | www.backscatter.com
Who Should Buy It?
In a word, anyone who's really serious about making movies, and not just 8K videos that nobody has the TV for: The 60p and 120p frame rates open up very exciting slow-motion possibilities for 4K filmmakers that other cameras in this class don't offer.

Housing Options

Ikelite: Featuring an ABS-PC body and transparent back, large control levers for the shutter release and AF-L button, and TTL exposure using one or two compatible Ikelite DS-series strobes (via the optional DL5 DS Link TTL Converter), Ikelite's housing is a great setup for taking advantage of the R5's high-res sensor and high-speed burst shooting. But it's equally well suited to shooting video, with an M16 port for an optional HDMI bulkhead for hooking up an external monitor. $1,695 | www.ikelite.com | www.backscatter.com
Aquatica: The Canadian company has been light on detail regarding their forthcoming AR5 housing, but as per Aquatica's similar offerings, there are various features you can expect: anodized aluminum construction with integrated grips, ergonomically laid-out controls for the camera's most important functions, compatibility with Aquatica DSLR sized bayonet mount ports, and the Surveyor vacuum system installed as standard. Dual Nikonos connectors enable attachment of optional external strobes via sync cords. $3,200 | www.aquatica.ca | www.backscatter.com

Sony Alpha 1
Almost a year after Canon announced the development of its 8K-capable R5, Sony unveiled its own full-frame camera with the ability to capture 8K/30p and 4K/60p at 10-bit quality—using the full sensor width. Like the R5, the Alpha 1 can also record 4K/120p (though there's a 1.1x crop) for smooth cinematic slow motion, which really takes underwater footage to the next level. At 50MP, the Alpha 1 has a few more megapixels than the R5, while matching the Canon's 20fps burst shooting with the electronic shutter. You can even increase that to 30fps if you shoot with lossy compressed RAW as opposed to lossless compressed/uncompressed RAW. $6,500 | www.sony.com | www.backscatter.com
Who Should Buy It?
The Alpha 1 offers Sony shooters next-level video features, not to mention being no slouch in the photo department, but it comes at a premium. If 8K doesn't do it for you, you can save a ton of money and go for one of Sony's excellent a7-series cameras.

Housing Options

Ikelite: Perhaps unsurprisingly, the Sony Alpha 1 has an almost identical control layout to its videocentric sibling, the a7S III, and Ikelite's housing can accommodate either camera. Users can take full advantage of the camera's impressive continuous shooting speeds, with out-of-the-box manual triggering of strobes by Ikelite, Sea&Sea, Inon, and Retra, as well as optional TTL exposure with Ikelite DS-series strobes. There's also an M16 port for attaching accessories such as an external monitor. $1,795 | www.ikelite.com | www.backscatter.com
Nauticam: Built around the N100 port system, like Nauticam's other Alpha-series housings, the NA-A1 offers all the features the company is known for: aluminum build with integrated handles, highly ergonomic controls, and a built-in vacuum check and leak detection system. There's also a large-bore M24 bulkhead, which supports HDMI 2.0 and allows you to hook up an Atomos Ninja V external monitor/recorder—which, of course, Nauticam also has a housing for. $3,534 | www.nauticam.com | www.backscatter.com

Nikon Z50
Just over a year since Nikon unveiled its first full-frame mirrorless cameras (the Z6 and Z7), the Japanese company obliged cropped sensor fans with their first Z-mount camera equipped with a DX-format sensor, and perhaps with a nod to the D500, they called it the Z50. The camera has a fair bit in common with the hugely popular DSLR, including a similar 21-megapixel CMOS sensor and a similar 11fps burst shooting performance. In the video department, however, it's a lot more impressive than the D500: 4K/30p is recorded using the full sensor width (compared to the DSLR's 1.5x crop) and you can also shoot 1080/120p for creamy slo-mo. $860 | www.nikonusa.com | www.backscatter.com
Who Should Buy It?
At less than half the price of a Z6 II, the Z50 is a lot of camera for (relatively) little money and makes an excellent introduction to the Z-mount. Keep in mind, though, that there are very few Z-mount DX lenses on the market, so if you want to avoid F-mount lenses and an adapter, you'll be investing some serious money on Z-mount full-frame lenses.

Housing Options

Ikelite: For many underwater shooters, another reason to love the Z50 is its built-in pop-up flash, which allows housing makers like Ikelite to offer the ability to trigger strobes fiber-optically (in manual mode) using two ports on the top of the housing. If you'd prefer Ikelite's class-leading automatic strobe exposure (via electrical triggering), you just need to add the DL1 DS Link TTL Converter, and one or two Ikelite DS-series strobes. That setup will also save your Z50's battery, since the TTL converter is powered by the strobe. $1,695 | www.ikelite.com | www.backscatter.com
Nauticam: If you've got (a lot) more money to spend, Nauticam's aluminum housing, complete with integrated handles, will comfortably cater to your needs. You get the company's usual attention to ergonomic detail (even a multi-direction pad that mimics that found on the camera), both out-of-the-box optical TTL strobe triggering and the option of a TTL converter operating off the hotshoe, and of course seamless pairing with Nauticam's water contact optics (WWL-1, WWL-C, CMC-1 and CMC-2). $2,672 | www.nauticam.com | www.backscatter.com

Fujifilm X-T4
You know that company that made all the classic 35mm film? No, not Kodak. The other one: Yes, Fujifilm! Well, guess what? They don't really do that anymore; they make digital cameras! And, well, if the Big Three (Canon, Nikon, Sony) make you yawn, you'll want to check out Fujifilm's flagship cropped-sensor X-T series. The cream of the current crop is the X-T4, an appropriately retro-styled camera that's positively overflowing with lovely dials—perfect for the manual-mode-obsessed underwater shooter. As well as an excellent 26.1MP sensor, you get in-body image stabilization, 15fps burst shooting (mechanical shutter), and 4K/60p and 1080/240p video capture. $1,700 | www.fujifilm-x.com
Who Should Buy It?
The X-T4 more than holds its own against the competition in terms of the quality of both its stills and video. Fujifilm also makes some optically impressive glass and offers a huge selection of lenses to choose from. And here's the clincher: You get to play around with those good ol' 35mm film colors via Fujifilm's awesome simulations—in camera or in post.

Housing Options

Ikelite: Recognizing the rise of the X-T series, Ikelite took the decision to support the X-T3 with its first Fujifilm housing. This successor housing for the new model offers the same benefits at Ikelite's typically competitive price: ABS-PC blend body and transparent back, Dry Lock (DL) port system, and large control levers for the shutter release and AF-L button. You can get shooting with flash in manual mode straight away, or opt to add the DL4 DS Link TTL Converter for automatic TTL exposure with the company's DS-series strobes. $1,695 | www.ikelite.com | www.backscatter.com
Nauticam: With its X-T3 housing, Nauticam offered the ability to add an optional USB power pack under the camera. But the X-T4 came with a welcome upgrade: a new higher-capacity battery that did away with the need for additional power and made Nauticam's NA-XT4 housing substantially smaller than its predecessor. If you want to record (and view) the top-quality 4K/60p 10-bit 4:2:2 output from the X-T4, Nauticam also has you covered with the housing's M24 bulkhead, which facilitates connection to the Atomos Ninja V external monitor/recorder via HDMI2.0. $3,103 | www.nauticam.com | www.backscatter.com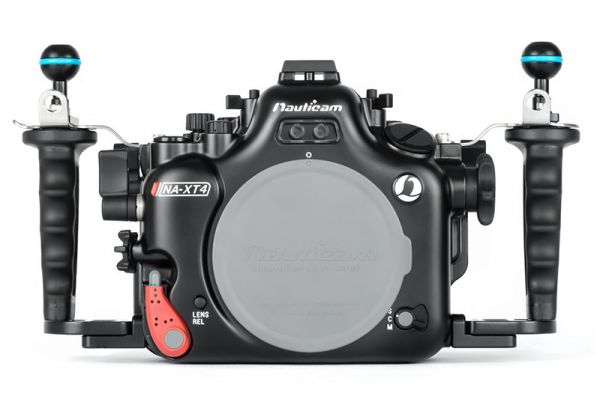 Canon EOS C70
If you're serious about making underwater films but love the form factor and (relative) affordability of mirrorless cameras, you'll want to check out Canon's EOS C70, which sports an RF lens mount and looks more like an R5 than the company's chunky cinema cameras. The C70 boasts the same Super 35 Dual Gain Output (DGO) CMOS sensor found in the C300 Mark III, claims a dynamic range in excess of 16 stops, and captures 4K DCI/UHD 4:2:2 10-bit video at up to 120fps. As you might expect, there are a ton of pro video features on board as well. $5,500 | www.canon.com
Who Should Buy It?
Anyone who considers the Canon EOS C70 will be making direct comparisons with—you guessed it—the Canon EOS R5. With the former, you're getting a full-on professional cinema camera with all the dedicated video tools that come with it. With the latter, you're getting 8K RAW video and high-speed, high-resolution image capture capabilities. We'll leave the decision up to you.

Housing Options

Nauticam: Like Nauticam's housing for the Canon EOS C500 II and C300 III, the NA-C70 is a pro housing for a pro piece of kit. In keeping with the company's philosophy of putting essential controls at your fingertips, a special control board places a variety of important buttons on the back panel of the housing. You also get large knobs for both focus and zoom. The housing works with WACP-1/2 and SMC-1/2—Nauticam's high-end water contact optics—and features a large-bore port for attaching an external monitor via HDMI 2.0 or HDMI 1.4, with the option of a wired feed to the surface. $5,861 | www.nauticam.com | www.backscatter.com
2. Compact Cameras

SeaLife SportDiver for iPhone
Well, we can argue over whether your smartphone should be in the "Compact Cameras" category, but either way, SeaLife's SportDiver housing is surely the easiest way to start capturing your experiences underwater. Compatible with the latest iPhone 12, 12 mini, 12 Pro or 12 Pro Max (or a model as far back as the iPhone 7/7 Plus), the polycarbonate housing communicates wirelessly with your phone via Bluetooth Low Energy and works in concert with SeaLife's (free) SportDiver camera app. You can buy the SportDiver on its own or (as pictured) in a bundle with Flex-Connect tray and grip, and Sea Dragon 2500 photo/video light. Alternatively, you could build the ultimate underwater smartphone rig with a combination of SeaLife's Flex-Connect components and lights. $300 (SportDiver only) | $650 (SportDiver Pro 2500 Set) | www.sealife-cameras.com

Olympus Tough TG-6
Question: How many megapixels do you need for a magazine cover? Answer: About nine—really! So, yeah, don't let the 12-megapixel sensor in the TG-6 put you off. And don't worry about that 25–100mm (equiv.) f/2 lens either: It's rather good and if you need wider, you can always grab a nice wet lens. Instead, get excited about what this tiny marvel can do—which other cameras can't. We're talking, of course, about the awesome Microscope Mode, which makes it possible to capture mind-blowing super-macro images of the planet's smallest critters. It's also well worth getting the TG-6 over its predecessor: The latest model allows you to access Microscope Mode in Aperture Priority and Program Auto, so you can dial in small apertures for improved depth of field and lovely dark backgrounds. $350 | www.getolympus.com | www.backscatter.com
Who Should Buy It?
In short, anyone who wants to get high-quality results without denting their baggage allowance or their pocketbook. And while you can go tiny out of the box with Microscope Mode, if you'd prefer to shoot big animals, wrecks or reef scenes, you'll just need to add a wet lens like Backscatter's M52 Underwater Wide-Angle Wet Lens.

Housing Options

Backscatter Video Light & Snoot Package: Traveling with dive and imaging gear is no fun at the best of times (and let's face it, these aren't), and if you want to minimize your rig's baggage footprint, a system built around the Olympus TG-6 is the way to go. Backscatter has you covered with a range of awesome packages that incorporate their compact Mini Flash 1 strobe, MW-4300 photo/video light, and matching Optical Snoot OS-1. The package here includes the camera, Olympus housing, two video lights, snoot, flex arms and tray—all neatly wrapped up in a compact carry-on. (There's also a very similar package that swaps the video lights for strobes.) $2,000 | www.backscatter.com
Ikelite Olympus Tough TG-6 Deluxe Kit: If you want to get started in underwater photography, Ikelite has an excellent value-for-money bundle built around the TG-6 and the company's underwater housing. Lighting is provided by an Ikelite DS51 hooked up to the housing via Ikelite's RC1 TTL Receiver, which is specially calibrated to convert the flash from the camera into an electronic signal for the strobe. The kit includes tray, handle, arm and fiber-optic cable. (If you really want to go to town, there's also a bigger kit that includes dual handles, two strobes, dome port and Olympus fisheye lens.) $1,659 | www.ikelite.com | www.backscatter.com
Sony RX100 VII
Forgive us if you've seen a camera from the RX100 series in this guide a few times before: When it comes to "premium" compacts (and why shouldn't it?), Sony's venerable line of cameras with built-in lenses is hard to beat for underwater imaging. The latest iteration, the RX100VII, features Sony's latest-gen BIONZ X image processor, a new 1-inch-type 20MP stacked-CMOS sensor, an overhauled autofocus system (hello, Alpha 9 real-time tracking), 20fps burst shooting with continuous AF/AE, and 4K/30p and 1080/120p video. $1,300 | www.sony.com | www.backscatter.com
Who Should Buy It?
If money is no object, the Mark VII will get you Sony's top tech. But there's an argument for saving some cash and snapping up the Mark V instead: That still-current model features the more-underwater-friendly 24–70mm f/1.8–2.8 lens as opposed to the 24–200mm f/2.8–4.5 on the Mark VI and VII.

Housing Options

Ikelite: The U.S. company has housings for the Mark I and II, for the Mark III–V, and for the Mark VI and VII, and they all share the same robust ABS-PC build, transparent back, oversized shutter lever, and ports for triggering strobes fiber-optically. Ikelite also has a six-inch dome port that allows you to shoot wide, macro and over-unders all on the same dive. $495 | www.ikelite.com | www.backscatter.com
Fantasea: This black polycarbonate housing boasts a double O-ring main seal, built-in moisture detector, and dual fiber-optic connectivity. The housing comes with a flat port featuring a 67mm thread, which allows you to shoot a variety of compositions on a single dive by using macro and wide-angle wet lenses, especially the extensive range produced by Fantasea and Fantasea-AOI. $360 | www.fantasea.com | www.backscatter.com
4. Lighting

Inon Z-330 and D-200 Type 2
Back in 2017, Inon finally retired their stalwart strobe much loved by underwater photographers, the Z-240, and replaced it with the Z-330, which upped the power output, improved the control knobs, increased the beam angle to 110° underwater, and souped-up the focus light. A year later, the D-2000 midrange strobe passed the torch to the D-200, which had a similar design to the Z-330 but offered a guide number of 20 (hence the name). Now Inon has introduced tweaked versions of each strobe featuring a new "fly-eye" inner surface on the dome lens that is designed to produce exceptionally even light distribution—without reducing power or beam angle. The best part? No change in price. $650 (Z-330 Type 2) | www.inon.jp | www.backscatter.com | $500 (D-200 Type 2) | www.backscatter.com
AOI Q1 Ultra Compact
AOI are mostly known for producing wet lenses, and the occasional housing, so it took everyone by surprise when they joined the select club of underwater strobe makers with their Q1 flash. The "Ultra Compact" strobe is a no-frills affair with just one knob and a couple of buttons, and offers manual control of flash power only (which is, of course, what many underwater shooters want) and a beam angle of 85°. The Q1 also boasts a built-in 700-lumen continuous light with three power settings—and a very modest price tag. $300 | www.aoi-uw.com | www.backscatter.com

Sea&Sea YS-D3 Lightning
The YS-D2 was one of the most popular underwater strobes around, so when Sea&Sea finally discontinued it and revealed the YS-D3 Lightning, there was plenty to live up to. The new flagship strobe has a newly developed aspherical troidal lens (designed to provide even light dispersion without hotspots), a slightly increased guide number (up from 32 to 33), improved recycle times, and a new target light with a four-fold increase in brightness. In our review, Mike Bartick, concluded: "I found myself excited to dive with these strobes and felt that they could take whatever I demanded of them." $850 | www.seaandsea.jp | www.backscatter.com

Backscatter Macro Wide 4300
Backscatter shook up the strobe market when they introduced their Mini Flash and Optical Snoot, an ultra-compact strobe and snoot combo that allowed photographers to shoot the small stuff in creative new ways. (Our reviewer loved it.) The company aimed to perform a similar trick for filmmakers by creating a video light that is compatible with the same snoot. The Macro Wide 4300 packs a powerful 4,300-lumen 85° wide beam and a 1,400-lumen spot beam, allowing you to take on a wide range of subjects of (almost) any size. Want to get really creative? It's also compatible with the company's very cool Color Filter System. $500 (light only) | www.backscatter.com | $600 (light and Optical Snoot) | www.backscatter.com | $700 (light, Optical Snoot, and Color Filter System) | www.backscatter.com
4. Accessories

Saga 4" (100mm) Dome for Ikelite DL Housings
If you have an Ikelite DL (Dry Lock) housing and need a compact dome, Saga has you covered with their new glass four-inch (100mm) dome port. Designed for use with fisheye lenses—especially the popular Tokina 10–17mm, Canon 8–15mm and Nikon 8–15mm—the dome features an internal anti-reflective coating as well as an external silicon oxide coating to optimize light transmission. Both the body of the port and the removable sunshade are made from anodized aluminum. €695 | www.sagadive.com

AOI UWL-03 Wide-Angle Lens for Action Cameras
Aimed at "surfers, snorkelers, freedivers, and even mermaids," AOI's latest wet lens is designed to allow users of action cameras and smartphones to get up to four times closer to the subject. Correcting for the distortion caused by a flat port, the UWL-03 also allows the macro and ultra wide-angle capabilities of smartphones to be usable underwater. The lens attaches to compatible housings using a locking bayonet-type mount. $200 | www.aoi-uw.com | www.backscatter.com
Underwater Technics TTL Converter for Canon EOS R5
Canon EOS R5 users with Nauticam housings can now enjoy TTL automatic flash exposure with the new Underwater Technics TTL Converter, which features both optical and electronic strobe triggering. The device fully supports Canon's menu for external flash control and HSS (High Shutter Speed sync) up to 1/8000s (with Retra strobes). The device, which runs on a small battery, is user-installable. $450 | www.uwtechnics.com | www.backscatter.com

---

When purchasing underwater photography equipment like the products mentioned in this article, please support DPG by supporting our retail partner—Backscatter.com.
RELATED ARTICLES
LATEST EQUIPMENT
Be the first to add a comment to this article.
Newsletter
Travel with us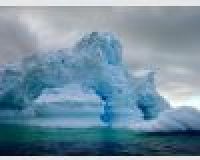 Antarctica
Plan Your Adventure >
Featured Photographer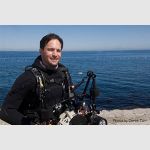 Matthew Meier
Expert Photographer
Matthew Meier is a freelance photographer living in San Diego, CA. He has been diving since the mid 90\'s and shooting professionally since completing his coursework towards a Masters degree in Photography at the Brooks...