News
Underwater Photo/Video Buyer's Guide – Summer 2020
By DPG Editorial Staff, June 23, 2020 @ 06:00 AM (EST)

Summer has officially begun (with apologies to those of you in the wintry southern hemisphere), and while this promises to be unlike any summer any of us has ever experienced, we're still hoping that we can get in the water sooner rather than later—and start shooting again. Until that happens, how about giving your rig a bit of a refresh with some new gear from our Underwater Photo/Video Buyer's Guide?
Once again, we've provided a roundup of the new imaging products that have been arriving on shelves as well as some of the hottest equipment of the moment—so you don't have to! Whether you're starting from scratch, upgrading, or just want a new creative toy to play with, we've got loads of great gear and gadget recommendations for you!
| | | |
| --- | --- | --- |
| CONTENTS | | When purchasing underwater photography equipment like the products mentioned in this article, please support DPG by supporting our retail partner—Backscatter. |
1. Full-Frame Cameras

Canon EOS-1D X Mark III
In the final battle of the DSLRs against the armies of the mirrorless, it's the flagship pro sports cameras like the 1D X Mark III that are leading the charge. Canon's top-of-the-range full-framer is a formidable opponent, boasting a new 191-point AF system with a DIGIC 8 processor dedicated to autofocus and metering, continuous RAW+JPEG shooting up to 16fps (20fps in live view) for more than 1,000 shots, and 4K/60p uncropped video with 10-bit 4:2:2 color. This is every inch the professional tool for a very specific kind of job. $6,500 | www.canon.com | www.backscatter.com
Who Should Buy It?
If you're wondering whether you "need" a 1D X Mark III, this is almost certainly not the camera for you. With its modest 20 megapixels, it's also not the camera for producing poster-sized prints. In short, unless you're at the very top of your game chasing the fastest subjects in the toughest conditions—Amos Nachoum, basically!—then there might be better options out there.

Housing Options

Nauticam: A class-leading camera requires an equally high-end housing, and Nauticam rise to the challenge admirably with their new housing for the 1D X Mark III. As well as being graced with the expected phenomenal ergonomics, Nauticam's housing is also well-endowed in the video department, with a large-bore M28 bulkhead for hooking up monitors/recorders via HDMI 2.0. $5,635 | www.nauticam.com | www.backscatter.com
Sony a7R Mark IV
The top player in the full-frame mirrorless game, Sony has been steadily improving the specs of its Alpha 7 range, which includes the all-rounder a7, the video-centric a7S, and the high-resolution a7R—now in its fourth incarnation. The Mark IV offers some eye-watering numbers: 61 megapixels, 5-axis image stabilization, 10fps burst shooting with continuous AF, and 4K/30p video at 100Mbps. No wonder this impressive camera has garnered so many accolades. $3,500 | www.sony.com | www.backscatter.com
Who Should Buy It?
Whether you really need the a7R Mark IV's class-leading resolution—and gigantic files—is debatable, but there's no doubt that this remains the full-frame mirrorless by which all others are judged. If it's a choice between this and a high-end DSLR, the latter might still have the edge when it comes to autofocus, but the gap is closing…

Housing Options

Aquatica: With its "aerospace grade" anodized aluminum and powder coated paint, Aquatica's a7rIV housing is designed for punishment in the toughest conditions. The company's Surveyor vacuum system comes installed as standard, and strobe triggering is via dual Nikonos or optical bulkheads, or a single Ikelite electrical connector. $2,360 | www.aquatica.ca | www.backscatter.com
Ikelite: This "200DL" series housing features the American company's signature ABS-PC blend body and transparent back, Dry Lock (DL) port system, large soft-touch knob for zooming, curved levers for shutter and autofocus, and hard-anodized aluminum buttons. To enjoy Ikelite's industry-leading TTL, you'll have to add the optional DL2 DS Link TTL converter. $1,695 | www.ikelite.com | www.backscatter.com

2. Cropped-Sensor Cameras

Fujifilm X-T4
Fujifilm's flagship X-T series cameras have already developed an enthusiastic following among land-based shooters, and with good reason: From image quality to autofocus accuracy to video performance, these cameras are up there with the best of them. The fourth iteration boasts a 26.1-megapixel APS-C sized sensor, burst shooting of 15fps with the mechanical shutter, and 4K/60p video and 1080/240p for slo-mo playback. There's also in-body image stabilization for smoothing out those wobbles in your footage. $1,700 | www.fujifilm-x.com
Who Should Buy It?
With its copious dials and buttons for direct manual control, the X-T4 is very well suited to underwater photography, while the growing range of X-mount lenses includes many with top-notch optical quality. It's also no slouch in the video department. In short, if you want something a bit different, this is a no-brainer.

Housing Options

Ikelite: Ikelite began supporting Fujifilm with the X-T3, and the eminently affordable housings are a great match for what is a competitively priced camera. You get all the features found on Ikelite's housings for DLSR and mirrorless cameras from other brands: ABS-PC body and transparent back, Dry Lock (DL) port system, and control levers for the shutter release and AF-L button. With the optional DL4 DS Link TTL Converter

, you can add

TTL exposure using one or two Ikelite DS-series strobes

.

$1,695 | www.ikelite.com | www.backscatter.com

Olympus OM-D E-M1 III
Unlike its rivals, Olympus has opted not to hop on the full-frame bandwagon, instead choosing to refine its competent line of Micro Four Thirds cameras. At the top (not including the pro-oriented E-M1X) is the E-M1 III, offering the same 20.4-megapixel sensor and 18fps shooting speeds (with AF and AE) as its predecessors, but improving its class-leading 5-axis image stabilization. DCI 4K/24p video is also on offer, as is 120fps high-speed recording in Full HD for slow motion playback. $1,600 | www.getolympus.com | www.backscatter.com
Who Should Buy It?
Micro Four Thirds is a smart upgrade for compact users accustomed to travel-friendly camera systems, and Olympus and Panasonic offer some great glass to pair with the E-M1 III. If you're more of a video shooter than a photographer, you might want to consider Panasonic's MFT offerings, which offer slightly better movie performance and more-advanced video tools.

Housing Options

Nauticam: If you want your E-M1 III cloaked in metal and with every essential control at your fingertips, Nauticam's housing is an excellent option. Integrated fiber-optic bulkheads give you the option of manual flash triggering via the optional Mini Flash Trigger, or TTL flash triggering by using the Olympus FL-LM3 flash, which Nauticam has somehow made space for. Be warned: You may be tempted to add the company's awesome—and awesomely expensive—Wet Wide Lens (WWL-1) to complete your setup! $2,015 | www.nauticam.com | www.backscatter.com

Ikelite: This E-M1 III housing is a great choice if you want to start taking perfectly exposed images: All you need is the DL3 DS Link TTL Converter, a compatible DS-series strobe (or two) and an electrical sync cord, and you're good to go. The housing also offers manual strobe triggering via fiber-optic ports on the top of the housing. $950 | www.ikelite.com | www.backscatter.com

Sony α6400
If you have a hard time telling apart the models in Sony's α6000 line, that's not just because they're all physically almost identical; they're also all built around the same 24.2MP sensor, BIONZ X image processor and 425-point hybrid autofocus system, offering 11fps continuous shooting with AE/AF and no-crop 4K/30p and 1080/120p recording at 100Mbps. Our choice is the α6400, which is midway between the entry-level α6100 and flagship α6600, and as such features a magnesium alloy body and Log profiles for movie recording lacking on the former, but dispenses with the not-quite-so-necessary image stabilization on the latter. $900 | www.sony.com | www.backscatter.com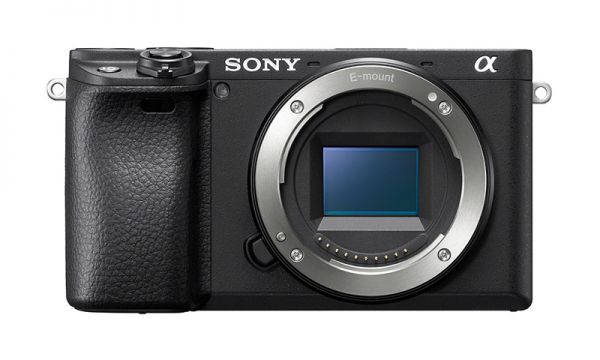 Who Should Buy It?
When you're weighing up the α6400 against the α6600, keep in mind that you're not just getting that lovely image stabilization: It may not be as glitzy a headline, but the $1,400 flagship also boasts a bigger and more-juicy battery with double the capacity—meaning 720 versus 360 shots per charge.

Housing Options

Fantasea: For an affordable polycarbonate housing solution that doesn't compromise on reliability or features, check out Fantasea's FA6400, which offers dual fiber-optic ports for triggering strobes and comes as standard with the company's integrated vacuum check and leak detector, the Hybrid Vacuum Safety System. $675 (housing only) | www.sonydive.com | www.backscatter.com | $900 (bundled with lens port and zoom gear) | www.backscatter.com

Nauticam: The NA-A6400 is the way to go if a metal housing is what you crave, and this being a Nauticam, you'll also get to enjoy the company's obsessive attention to ergonomic detail—as well as some rather handy integrated grips. Nauticam has even gone to the trouble of tackling the α6400's empty-too-soon battery: There's space for an optional 2500mAh battery pack, plugged into the camera's USB socket. $1,730 | www.nauticam.com | www.backscatter.com
3. Compact Cameras

SeaLife Micro 3.0 Sets
Introduced back in 2015, SeaLife's Micro 2.0 was in need of an upgrade, and the company delivered with the recently released third edition of their hugely popular ready-to-dive underwater camera. The Micro 3.0 improves on its predecessor in all the key areas: 4K/30p and 1080/120p video capture using the full sensor width, 10fps burst shooting (twice as fast as previously), and much improved shutter lag (0.1s vs 0.5s). The new model is available on its own or bundled with a Sea Dragon 3000F photo-video LED light (Micro 3.0 Pro 3000F Set) or two Sea Dragon 2500F lights (Micro 3.0 Pro Duo 5000 Set)—with tray and grip (or grips) included. $600 (Micro 3.0 only) | $1,000 (Micro 3.0 Pro 3000F Set) | $1,300 (Micro 3.0 Pro Duo 5000 Set) | www.sealife-cameras.com

Canon PowerShot G7 X Mark III
Beginner underwater shooters have embraced Canon's G7 X series for years, and it's not hard to see why: While the electronics have been gradually refined, the excellent 24–100mm (equiv.) f/1.8–f/2.8 lens has remained the same, pairing beautifully with any number of good wet attachments. With the Mark III, you get a new stacked CMOS sensor, RAW burst shooting up to 8fps with continuous AF, and 4K/30p video with no crop and 1080/120p capture for cinematic slow-mo playback. $700 | www.canon.com | www.backscatter.com
Who Should Buy It?
If you're just starting out in underwater photography, it makes sense to get a camera that will grow with you: The G7 X Mark III's automatic modes should give you great results immediately, but there's plenty of manual control and advanced features to experiment with as your creativity and confidence expand.

Housing Options

Isotta: Beautifully crafted and splashed with eye-catching red paint, Isotta's aluminium offering is the Ferrari of G7 X housings—with a high-end price tag to match. As well as that exquisite Italian engineering, you get the company's single-handed open/close mechanism, double O-rings on buttons and dials, and a built-in leak detector. $950 | www.isotecnic.it | www.backscatter.com
Fantasea: This rugged polycarbonate housing is an affordable way to get shooting underwater with Canon's capable compact. It's available in two flavors: The "advanced" version comes with the integrated Fantasea Hybrid Vacuum Safety System, while the less-expensive "basic" version features an M16 port that's ready for you to install this pre-dive vacuum check and moisture detector system yourself—or some other accessory. $500 | www.canondive.com | www.backscatter.com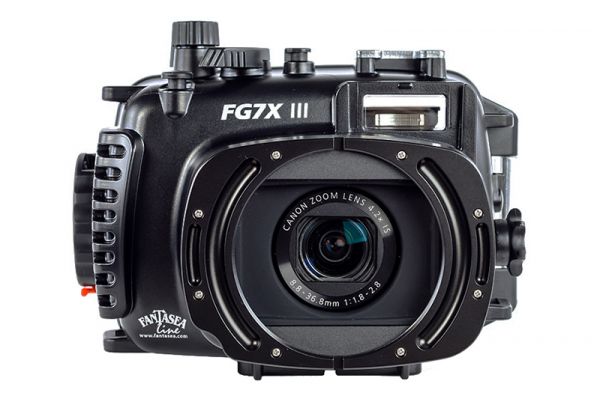 Olympus Tough TG-6
A spec-by-spec comparison between the TG-6 and its predecessor, the TG-5, won't get you very excited. You'll see the same 12MP sensor, same 25–100mm (equiv.) f/2 lens, same 20fps continuous shooting, and same 4K video capture—the only noticeable difference is the upgraded LCD (from 460k to 1024k dots). So, what's the big deal with the latest model in Olympus' immensely popular TG series? It's small but it's hugely significant for the underwater shooter: You can now access the awesome Microscope Mode in Aperture Priority and Program Auto, finally allowing you to select small apertures for better depth of field and darker backgrounds. $350 | www.getolympus.com | www.backscatter.com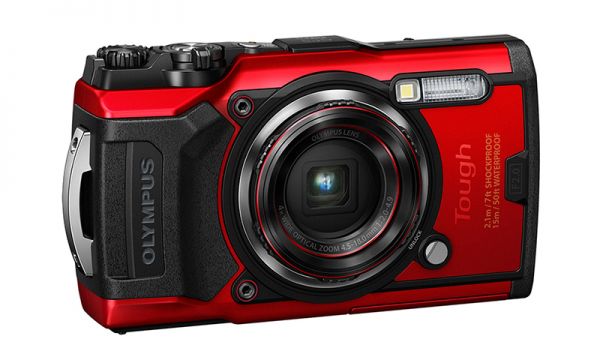 Who Should Buy It?
Photographers who love shooting the small stuff—and the really tiny stuff—will love the TG-6 and its crazy Microscope Mode. But this diminutive camera can also become a lean, mean wide-angle machine with the addition of a suitable wide-angle wet lens—see Accessories below.

Housing Options

Olympus: On top of everything else, the TG-6 can dive to 50 feet out of the box, but you'll need a housing if you want to trigger strobes—or go deeper than that. Olympus' "underwater case," the PT-059, is a perfectly viable inexpensive option, with its robust build, straightforward controls, and threaded port for attaching wet lenses. $300 | www.getolympus.com | www.backscatter.com
Ikelite: As well as producing an excellent housing for the TG-6, Ikelite has made it incredibly easy to start taking amazing images by creating a kit that bundles everything you need. The notable addition is the Olympus FCON-T02 fisheye lens behind Ikelite's specially designed dome, which allows full zoom through: at one end, full 180º fisheye; and at the other, 30mm equivalent macro close-up. The package includes tray, handles, dual strobes, and strobe arms. $2,900 | www.ikelite.com
4. Lighting

Sea&Sea YS-D3 Lightning
The successor to the popular YS-D2 features a newly developed aspherical troidal lens covering the flash tubes that is designed to provide even light dispersion without hotspots. Boasting a guide number of 33, the YS-D3 Lightning offers a beam angle of 110° as standard, but this can be increased up to 150° with the optional dome diffuser. Other improvements include a target light with a four-fold increase in brightness, and improved recycle times. $850 | www.seaandsea.jp | www.backscatter.com

Backscatter Mini Flash and Optical Snoot
If you've ever tried to photograph macro subjects using your standard big, bulky strobes, you probably wished you had something much more compact and maneuverable. Well, daydream no longer! Backscatter's ultra-compact Mini Flash (MF-1) is specially designed for shooting the small stuff. Get even more creative results by attaching the matching Optical Snoot (OS-1), then position the modeling light exactly the way you want it, and fire away! The best part? These little strobes are still powerful enough to tackle many close-focus wide-angle and traditional wide-angle scenarios. $500 (MF-1 and OS-1 combo) | www.backscatter.com | $400 (MF-1) | www.backscatter.com | $150 (OS-1) | www.backscatter.com
Retra Flash Prime and Flash PRO
Housed in a sleek aluminum enclosure, the Retra Flash features a circular tube for a smooth, even coverage with a beam angle of 130° and a color temperature of 4900°K. There are two models, which have similar features but differ in terms of power: the Retra Flash Prime outputs 100Ws, while the Retra Flash PRO puts out 150Ws. The strobe runs from four AA batteries and the battery compartment has a double O-ring seal design. By adding the just-released Supercharger, you can halve the recycle time and double the number of flashes per charge. $950 (Prime) | www.retra-uwt.com | www.backscatter.com | $1050 (PRO) | www.retra-uwt.com | www.backscatter.com
SeaLife Sea Dragon 5000F Auto and 2000F
SeaLife's easy-to-use cameras like the new Micro 3.0 are all about making both underwater photography and video simple and fun, and that philosophy extends to their lighting solutions: Whether you're capturing stills or footage, "always-on" LED lights means you can see exactly what you're going to get. Among the company's extensive range of Sea Dragon continuous lights are the top-tier 5000F Auto and the midrange 2000F, offering 5,000 and 2,000 lumens, respectively. Pair either with SeaLife's own cameras, your GoPro, compact, mirrorless, or even a DSLR system. $800 (5000F) | $300 (2000F) | www.sealife-cameras.com
| | |
| --- | --- |
| | |
| Sea Dragon 5000F Auto | Sea Dragon 2000F |
5. Accessories

Backscatter FLIP8
An essential addition to any GoPro system, Backscatter's FLIP system has been giving users of the ubiquitous action cam awesome underwater color for years. The latest iteration—not even officially announced yet—is FLIP8. Compatible with HERO5 through HERO8 in Super Suit or Protector Housing, FLIP8 is available in various different configurations, depending on your needs. Kits are available with one or two filters included, and the Pro Package includes a couple of filters plus the company's +15 Macromate Mini close-up lens—another essential GoPro accessory. $199 (Pro Package) | www.backscatter.com | $99 (Two Filter Kit) | www.backscatter.com | $59 (One Filter Kit) | www.backscatter.com
Backscatter M52 Wide Angle Lenses for Olympus TG Series
Just because it's small doesn't mean the TG-6 can only take on the small stuff! Like any other compact camera, shooting wide means finding a suitable wet attachment. Backscatter offers two options that do the job: The M52 Wide Angle Air Lens restores the camera's topside field of view underwater to a much more usable 81° (from around 60°), while the higher-end M52 Wide Angle Lens gives you a full 120° angle of view. With their 52mm threads, these lenses will mount directly to almost any TG-5/TG-6 housing. Then, all you have to do is find some big sharks, huge wrecks, or expansive reef scenes! $449 (Wide Angle Lens) | www.backscatter.com | $179 (Wide Angle Air Lens) | www.backscatter.com
| | |
| --- | --- |
| | |
| M52 Wide Angle Lens | M52 Wide Angle Air Lens |
Inon UWL-95 C24 Wide Conversion Lens with Dome
The newly released UWL-95 C24 is, as the name suggests, designed for use with any camera with a zoom lens that is 24mm at the wide end, and Inon has two popular camera systems in mind in particular: Sony's RX100 series and Olympus' TG series. On its own, the wide-angle wet lens will give you a maximum angle of view of 95° underwater, and if you augment it with Inon's Dome Lens Unit III, this can be increased up to an impressive 141°. The dome is available in either acrylic (IIIA) or glass (IIIG). www.inon.jp | $435 (M67 Type 1) | www.backscatter.com | $435 (M67 Type 2) | www.backscatter.com | $420 (M52) | www.backscatter.com | $140 (Acrylic Dome) | www.backscatter.com | $265 (Glass Dome) | www.backscatter.com
Aquatica 5HD Monitor
Known for crafting beautiful underwater housings, Aquatica has a new gig as of late: making awesome monitors for underwater videographers. The first in a planned series is the 5HD Monitor, which packs a bright 5.7" IPS LED backlit display boasting Full HD (1920x1080px) resolution, 460 cd/m² brightness, and a 1400:1 contrast ratio. There are also on-board focus peaking and false colour functions to assist in focusing and exposure. The monitor is compatible with any housing offering an HDMI bulkhead with M16 thread, but let's face it: Wouldn't you want to put this on your shiny new Aquatica housing? $1,436 | www.aquatica.ca (PDF) | www.backscatter.com

Ikelite Steady Tray for Paralenz Kit with Handles
"What's a Paralenz, then?" Thanks for asking! It's just the coolest cigar-shaped camera you'll ever own! This thing will capture 8MP stills as well as both 4K/30p and 1080/100p video—and automatically correct color by detecting your diving depth using a built-in pressure sensor! Now, all you need is a handy rig to attach it to so you can get some smooth and steady footage. Enter Ikelite's new Steady Tray Kit with Handles, complete with tray, pistol grip, and quick-release grips—with mounting points for lighting accessories. $55 (Steady Tray) | www.ikelite.com | www.backscatter.com | $150 (Steady Tray Kit with Handles) | www.ikelite.com | www.backscatter.com
---

When purchasing underwater photography equipment like the products mentioned in this article, please support DPG by supporting our retail partner—Backscatter.com.
RELATED ARTICLES
LATEST EQUIPMENT
Be the first to add a comment to this article.
Newsletter
Travel with us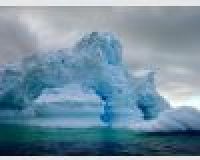 Antarctica
Plan Your Adventure >
Featured Photographer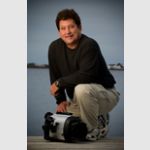 Donald Tipton
Expert Photographer
DONALD TIPTON began his professional photographic career in 1982 and has worked in commercial and advertising photography ever since. His underwater work is a celebration of color, texture, and form that few people will ever...