News
Underwater Photo/Video Buyer's Guide – Spring 2023
By DPG Editorial Staff, March 31, 2023 @ 06:00 AM (EST)

The chicks and bunnies are bouncing in the fields, the weather is showing some signs of improvement (sort of), and your wintry feelings of lethargy and malaise are gradually beginning to wear off. That's right, folks, spring has officially sprung—in the Northern Hemisphere anyway. And that can only mean one thing: It's time to welcome another edition of our Underwater Photo/Video Buyer's Guide!
Of course, we know you know that you can dip into DPG's comprehensive Underwater Photo/Video Equipment Guide anytime you like, but we're still keen to bring you these essential quarterly summaries of the latest and greatest imaging equipment to hit the market. Friends, the season of growth and renewal is finally upon us—it's time you grew and renewed your underwater imaging gear!

| | | |
| --- | --- | --- |
| CONTENTS | | When purchasing underwater photography equipment like the products mentioned in this article, please support DPG by supporting our retail partner—Backscatter. |
1. Interchangeable-Lens Cameras

Sony a7R Mark V
While rivals are still working on their "mark IIIs," Sony is staying ahead of the game with the fifth iteration of the popular high-resolution model in the Alpha 7 range. The a7R V sticks with the same 61MP sensor found in the Mark IV, and instead turns its attention to autofocus, with a new "deep learning" AI focusing system powered by the new Bionz XR processor. Other niceties include improved in-body image stabilization, the impressive 9.44 M-dot EVF found in the Alpha 1, and new 8K/24p and 4K/60p video recording. $3,900 | www.sony.com | www.backscatter.com
Who Should Buy It?
That images from the a7R V measure 9,504 by 6,336 pixels is an impressive thing, but the fact that you can shoot them at 10fps for well over 500 uncompressed RAW files is downright extraordinary. If megapixels matter to you, the a7R V leaves mainstream rivals Nikon and Canon—with their puny sensors topping out at 45MP—in the dust.

Housing Options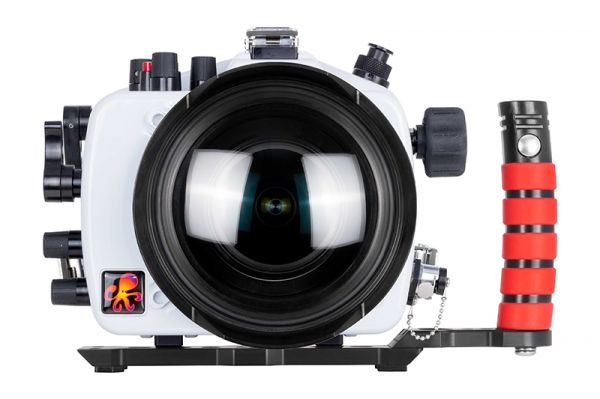 Canon EOS R6 Mark II
With its 45MP sensor and 8K video, the R5 stole the limelight when it was unveiled in mid-2020, overshadowing its lower-resolution sibling, the R6, released alongside it. But as it turned out, it was the R6 that was first to get an upgrade worthy of a "Mark II" sticker. Nearly every area of the original camera has been improved, from the resolution bump to 24.2 megapixels (while maintaining the 12fps burst speed of the Mark I) to the 4K/60p 10-bit 4:2:2 oversampled video capture with no crop (as opposed to the slight crop of the Mark I). It even borrows the AI-powered autofocus system from the high-end R3. $2,500 | www.canon.com | www.backscatter.com
Who Should Buy It?
The R6 Mark II is a strong contender for ultimate enthusiast-level full-frame mirrorless camera. For a reasonably affordable price, you get a camera that can do almost everything very well, with very little to complain about. If there's one caveat, it's the sensor resolution, but poster-sized prints aside, there should be enough megapixels for most.

Housing Options

Canon EOS R7
Just when you were thinking that Canon had given up on APS-C sized sensors completely, the Japanese company finally—in mid-2022—unveiled its first two mirrorless cameras with cropped sensors: the EOS R7 and the EOS R10. At the higher end, the R7 boasts a 32.5MP sensor, image stabilization of up to seven stops, twin UHS-II SD card slots, and the higher-capacity battery found in the R5 and R6/R6 II. With the DIGIC X processor from the pro-level R3 on-board, the R7 offers impressive subject tracking capabilities, speedy 15fps continuous shooting with full AF, and oversampled 4K/30p using the full sensor width. $1,500 | www.canon.com | www.backscatter.com
Who Should Buy It?
A cool $1,000 separates the full-frame R6 Mark II and the cropped-sensor R7, and APS-C shooters can argue that they get more camera for less—most importantly, more megapixels and higher burst shooting speeds. You also get to enjoy some classic glass—the Tokina 10–17mm fisheye lens—to its fullest.

Housing Options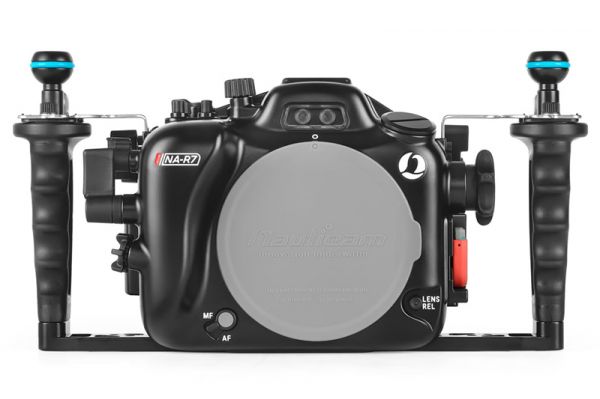 Nikon Z6 II
When Nikon entered the full-frame mirrorless market in mid-2018, it did so with two cameras, the 46MP photo-centric Z7 and the 25MP video-centric Z6. Five years (and a pandemic) later, its successors—the Z7 II and Z6II—are still competitive, with underwater housings from several companies only beginning to ship over the last year. While the Z7 II and its higher pixel count have received most of the attention, the Z6 II is arguably a better all-around camera. Dual Expeed 6 processors result in a higher buffer capacity, faster burst shooting (now 14fps), and improved AF performance in low light. $2,000 | www.nikonusa.com | www.backscatter.com
Who Should Buy It?
Until we see the Mark IIIs, the Z6 II and Z7 II remain Nikon's full-frame offerings for enthusiast shooters. Photographers who shoot the occasional HD or UHD video won't be disappointed, but underwater videographers will be frustrated by the lack of uncropped 4K at higher frame rates—the Z6 II shoots 4K/60p but from an APS-C crop.

Housing Options


2. Fixed-Lens Cameras

Canon EOS R50 with RF-S 18–45mm
The recently released EOS R50 has the distinction of being Canon's most-affordable RF-mount camera. Equipped with an APS-C CMOS sensor, the entry-level mirrorless shoots 24.2MP images and captures 4K/30p 10-bit video with no crop. Interestingly, the R50 does not have a fully mechanical shutter—only the second curtain is mechanical. In this semi-mechanical mode, the camera is capable of shooting 12fps bursts, which rises to 15fps with full electronic shutter. Available body only or as a kit bundled with the RF-S 18–45mm zoom lens… Wait a critter-pickin' minute! What's the Canon EOS R50 doing in the fixed-lens camera section?! Relax, read on and we'll explain… $800 (Canon EOS R50 with RF-S 18–45mm) | www.canon.com
SeaLife SportDiver for Smartphones
Remember the last time someone launched a new compact camera? Neither can we. It seems camera manufacturers are resigned to the fact that compacts will never compete with the cameras in our smartphones. (Ed: That's why we had to call this section "Fixed-Lens Cameras.") But therein lies an opportunity, and no wonder SeaLife's SportDiver smartphone housing is flying off the shelves. Using Bluetooth Low Energy to communicate wirelessly with your Apple/Android phone, the polycarbonate housing gives you a nice, big shutter release as well as the ability to easily and reliably navigate the accompanying app's functions using the four buttons on the rear. Opt for housing only or go for the bundle with tray, grip and Sea Dragon 2500 photo/video light. $350 (SportDiver only) | $750 (SportDiver Pro 2500 Set) | www.sealife-cameras.com
Olympus Tough TG-6
Put the TG-6 and its predecessor, the TG-5, side by side and you might have a hard time spotting the difference between the specs. Aside from the upgraded LCD (from 460k to 1024k dots), you'll see the same 12MP sensor, 25–100mm (equiv.) f/2 lens, 20fps continuous shooting, 4K video capture, and awesome Microscope Mode, allowing you to take eye-popping images of the tiniest critters. But there's one software upgrade that has huge significance for underwater shooters: With the TG-6, you can access Microscope Mode in Aperture Priority and Program Auto, allowing you to select small apertures for better depth of field and darker backgrounds. $500 | www.omsystem.com | www.backscatter.com
Who Should Buy It?
The TG-6 may be getting on a bit, but it's still one of the kings of compact. While Microscope Mode allows you to shoot the insanely small stuff out of the box, if you want to go big, all you have to do is attach a suitable wide-angle wet lens and you'll be capturing wrecks, sharks, and reef scenes in no time.

Housing Options

GoPro HERO11 Black
Just when you thought your favorite action camera couldn't get any better, GoPro dropped its 11th interation boasting a bunch of tasty enhancements. Not only did the sensor get a resolution bump (from 23MP to 27MP), but you can now also capture up to 5.3K/60p video in 10-bit color, a very welcome upgrade from the 8 bits of earlier models. Other notables include HyperSmooth 5.0, a new version of GoPro's image stabilization software, and HyperView, a new 16:9 super-wide view. Oh, and the company's Enduro battery is now bundled as standard. $450 | www.gopro.com | www.backscatter.com
Who Should Buy It?
You can have a HERO11 in a waterproof case for a mere 500 bucks, so why shouldn't you have a GoPro? Plus, with its newfound ability to capture 10-bit video, this diminutive action cam is actually a pretty serious filmmaking tool. Create your ultimate GoPro rig by adding some wet lenses and Backscatter's FLIP filter system (see Accessories).

Housing Options

3. Lighting

Backscatter Mini Flash 2
The Mini Flash 1—a strobe specially designed for lighting the small stuff—was a game changer for macro shooters. But the Backscatter boffins didn't just lie back on their cozy laurels and process MF-1 orders. OK, maybe they did do that for a while… but then, they came up with the Mini Flash 2! Impressively, the MF-2 improved on the original in almost every respect: a modeling light with twice the power (1,000 lumens), high-speed sync (HSS) for even darker backgrounds, automatic TTL exposure for Olympus cameras, and the ability to use a second strobe to trigger the MF-2 remotely for creative off-camera shots. One thing hasn't changed though: Like the MF-1, the MF-2 can be paired with Backscatter's Optical Snoot (OS-1) for precise control over the strobe's light beam. $400 (MF-2) | www.backscatter.com | $500 (MF-2 and OS-1 combo) | www.backscatter.com
Ikelite DS230 with Modeling Light
At the end of 2021, Ikelite updated its entire strobe range with refreshed versions of the company's classic DS51 and DS160 (DS51 II and DS160 II) and two innovative "hybrid" strobes armed with 2,500-lumen video lights (DS162 and DS230). The most recent addition is a "standard" version of the DS230 without the integrated video light, but instead with a 205-lumen modeling light (as found on the DS51 II and DS160 II). Boasting a guide number of 32, the strobe offers 10-stop control of output and a 110-degree beam angle with the included diffuser. Hooked up to your Ikelite housing, the DS230—or better still, a pair—works in manual mode out of the box, and if you want automatic flash exposure, you just need to add the appropriate TTL converter for your camera. $1,295 (DS230) | www.ikelite.com | www.backscatter.com
SeaLife Sea Dragon 5000+
In addition to producing the only fully sealed underwater camera on the market—the Micro 3.0—SeaLife offers a wide variety of photo/video lights of different outputs. Its range-topping light is a powerful 5,000-lumen affair packing a COB LED array that delivers a color rendering index (CRI) of 90—meaning that the light quality is very similar to sunlight. But there are a couple of other features that allow the Sea Dragon 5000+ to stand out from the crowd. Need some extra warmth in your footage? Engage SeaLife Color Boost and the color temperature drops from 5000K to 3700K. Need a little extra power for a big subject? Switch to "over-drive" mode for a 20% increase in brightness to 6,000 lumens for two minutes before automatically returning to normal full power. $600 | www.sealife-cameras.com
Keldan Video 8XR
If you're a professional underwater filmmaker in the market for video lights, you already know the magenta-colored guns you're after. But Keldan doesn't just make awesomely bright LED lights with powers measured in tens of thousands of lumens; the Swiss company has also innovated a wireless remote control unit that uses ultrasonic technology (RC1) to allow cinematographers to control an unlimited number of lights simultaneously via two independent brightness channels. The RC1 currently works with three models: the Video 24XR, Video 18XR and Video 8XR. The 20,000-lumen Video 8XR—the "baby" in the family—offers a beam angle of 110° in water and runs at full power for up to 35 minutes on a full charge. $2,428 | www.keldanlights.com | www.backscatter.com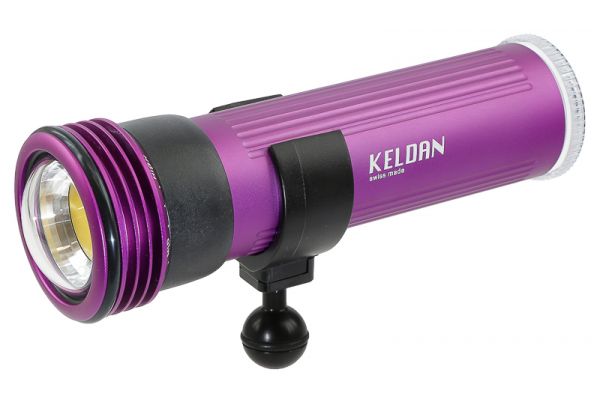 4. Accessories

Nauticam Extended Macro Wide Lens (EMWL)
Aside from their much-respected housings, Nauticam has a reputation for producing innovative wet lenses. The pinnacle of these "water contact optics"—as the company likes to call them—is also the newest addition: the Extended Macro Wide Lens, or EMWL for short, which is designed to be used with common macro lenses. This elaborate modular system consists of three individual pieces—the Focusing Unit (various types for different camera brands), the Relay Module and the Objective Lens (60°, 100°, 130°, 160°)—which combine together to form a probe-like attachment that can be placed in unusually tight spaces. The result is perhaps best described as extreme close-focus wide angle—a never-before-seen perspective that allows you, for example, to fill the frame with a tiny nudibranch while fitting a diver in the background. EWML images have already started picking up awards in underwater photography competitions… $1,406 (Focusing Unit) | www.nauticam.com | www.backscatter.com | $1,625 (Relay Lens) | www.backscatter.com | $1,538 (60° Objective Lens) | www.backscatter.com | $1,406 (100° Objective Lens) | www.backscatter.com | $1,669 (130° Objective Lens) | www.backscatter.com | $2,812 (160° Objective Lens) | www.backscatter.com


Seacam Achromat 4.0 Supermacro Lens and Flip System
Not a company known for doing things by halves, Seacam has recently added a second supermacro wet lens to its high-end catalog, and this time there's some serious magnification on offer: As the name suggests, the Achromat 4.0 will magnify your macro subject an impressive four times—double the magnification of the company's original Achromat 2.0. Both lenses can be paired with Seacam's new flip system, which mounts on their MIP 60 or MIP 80 microports. The Single Flip Adapter Base is designed for one lens, and if you add the Dual Flip Adapter Extension, it will accommodate two. $1,185 (Achromat 4.0) | www.seacam.com | www.backscatter.com | $430 (Single Flip Adapter Base) | www.backscatter.com | $225 (Dual Flip Adapter Extension) | www.backscatter.com

Inon UWL-95S Wide Conversion Lens
Japanese company Inon knows a thing or two about making high-quality wet lenses, and its UWL-95S XD-mount wide conversion lens is a classic. But the proprietary bayonet mount isn't for everyone, and Inon has recently introduced threaded mount versions of the lens—with 52mm or 67mm threads. Designed for cameras with built-in lenses that are 24mm (equivalent) at their widest, such as the Olympus TG-6 or Sony RX100 V, the UWL-95S offers a maximum angle of view underwater of 95° (hence the name), but this can be optionally increased to 141° by adding Inon's Dome Lens Unit III. $435 (UWL-95S M52) | www.inon.jp | www.backscatter.com | $435 (UWL-95S M67) | www.inon.jp | www.backscatter.com | $140 (Acrylic Dome Lens Unit III) | www.inon.jp | www.backscatter.com | $265 (Glass Dome Lens Unit III) | www.inon.jp | www.backscatter.com
Backscatter FLIP10+ for GoPro
As every diver knows, things rapidly turn to blue-green mush as you descend, and if you have a GoPro in your hands (and no lights), mushy blue-green footage is what you can look forward to viewing when you get back to the surface. That is, unless you've been wise enough to mount Backscatter's FLIP filter system to restore those precious missing reds, oranges and yellows. While the latest version goes as FLIP10+, you don't have to worry about compatibility: It will work with any GoPro, from HERO5 to HERO11. Opt for a kit with one or two filters, or go the whole hog and get the Pro Package, which bundles another essential accessory: Backscatter's +15 Macromate Mini close-up lens. $200 (Pro Package) | www.backscatter.com | $100 (Two Filter Kit) | www.backscatter.com | $60 (One Filter Kit) | www.backscatter.com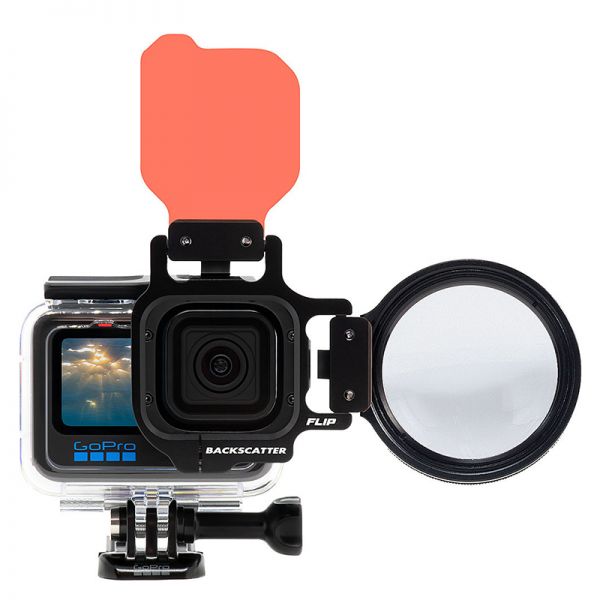 ---

When purchasing underwater photography equipment like the products mentioned in this article, please support DPG by supporting our retail partner—Backscatter.com.
RELATED ARTICLES
LATEST EQUIPMENT
Be the first to add a comment to this article.
Newsletter
Travel with us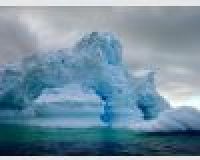 Antarctica
Plan Your Adventure >
Featured Photographer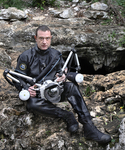 Anatoly Beloshchin
Expert Photographer
Trimix Instructor trainer IANTD Full cave diver IANTD, NACD Side mount NSS Vice President *International Wing Chun Organization*