News
Underwater Photo/Video Buyer's Guide – Spring 2021
By DPG Editorial Staff, March 28, 2021 @ 09:00 AM (EST)

The COVID-19 pandemic has kept too many of us from enjoying what we love doing, but we're starting to see the light at the end of the tunnel as spring arrives in the Northern Hemisphere. So, there's surely no better way to start preparing to get back in the water than by investing in some lovely new imaging gear! That's right, readers, it's time for another epic edition of DPG's Underwater Photo/Video Buyer's Guide!
Once again, we round up all the coolest gear that's arrived over the last few months and blend it with our favorite hot products of the moment. Whether you fancy upgrading to a nice mirrorless system, adding some lights to your existing rig, or just feel like playing with an inspiring new toy, we've got some awesome equipment to recommend. Begone bugs! Hello, shiny imaging things!
| | | |
| --- | --- | --- |
| CONTENTS | | When purchasing underwater photography equipment like the products mentioned in this article, please support DPG by supporting our retail partner—Backscatter. |
1. Interchangeable-Lens Cameras

Canon EOS R5
With its ability to shoot uncropped 8K/30p and 4K/120p video at 4:2:2 10-bit quality, the R5 remains the full-frame camera of the moment—particularly for underwater use, given that any concerns about overheating won't apply to underwater videographers (who shoot comparatively short clips). Filmmakers can also look forward to wobble-free footage due to the camera's impressive image stabilization, promising shake reduction of up to eight stops. The R5 is a perfectly decent tool for shooting the odd still as well, with 45-megapixel images captured at up to 12fps with continuous autofocus. $3,900 | www.canon.com | www.backscatter.com
Who Should Buy It?
The R5's impressive numbers are currently matched by only one other—the Sony Alpha 1—but that brand-new camera is still waiting for the flood of housings that will undoubtedly accommodate it. (It's also worth keeping in mind that the Sony shoots at a slightly lower quality and with a slight crop.) Thus, the R5 will likely be the king of video (in consumer camera terms, at least) for a while longer. Now all you need to do is invest in that tasty 8K TV…

Housing Options

Sea&Sea: The Japanese company let the cat out of the bag with their R5 announcement back in December, but we're still waiting for their housing to actually ship—and for some pricing information. But for Sea&Sea fans willing to wait, this MDX-series housing isn't likely to disappoint. The machined aluminum housing features a 24mm HDMI 2.0 bulkhead for connecting an external monitor/recorder, a built-in leak sensor, and a bulkhead that accepts a vacuum sensor such as the Vivid Leak Sentinel V4. Now back to the price guessing game… $NA | www.seaandsea.jp | www.backscatter.com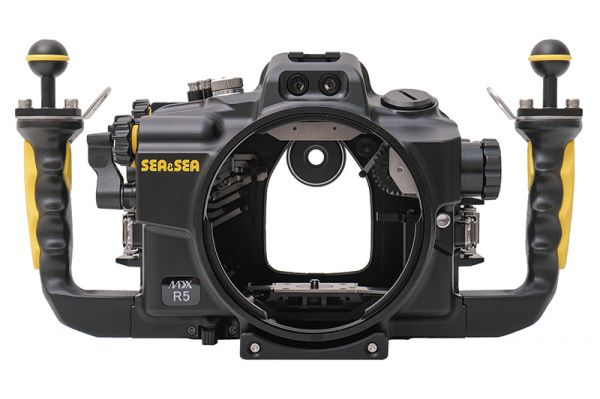 Nauticam: The NA-R5 housing offers everything you'd expect from a Nauticam: ergonomic control placement around integrated handles, multi-direction pad mirroring that found on the camera, and a port system supporting both RF-mount lenses and EF-mount lenses via Canon's adapters. You can make use of the twin fiber-optic bulkheads by adding a TTL trigger or manual trigger. You can also add an Atomos Ninja V in Nauticam's monitor housing, but keep in mind recording maxes out at 4K/60p 4:2:2 10-bit. $3,965 | www.nauticam.com | www.backscatter.com

Sony Alpha a7S Mark III
With the Alpha 7 series, Sony established the principle of designing different variations of essentially the same camera for different purposes. Five years after its predecessor, the videocentric (a7S) model finally caught up with the all-rounder (a7) model and the high-resolution (a7R) model, and Sony didn't stray from their winning formula, producing a lean, mean 4K machine that captures video internally at up to 120fps and in 10-bit 4:2:2 quality—sans crop. It also became the first Alpha-series camera that could output 4K/60p 16-bit RAW over HDMI. $3,500 | www.sony.com | www.backscatter.com
Who Should Buy It?
Filmmakers who view 8K video as a little unwieldy and impractical should have this 4K monster at the very top of their short lists. It's packed with tools serious videographers need, and the overhauled menu system makes getting the most out of it a much simpler proposition.

Housing Options

Isotta: Housing your new 4K powerhouse in Isotta's signature red anodized aluminum won't just get you noticed; you'll also benefit from a host of handy features at a not-too-obscene price: integrated adjustable handles, single-handed open/close, built-in moisture detector, and most importantly, a large-bore port for the hefty HDMI 2.0 cable you'll need to pipe that 4K/60p ProRes RAW output to an external recorder like the Atomos Ninja V. $2,690 | www.isotecnic.it | www.backscatter.com
Nauticam: As usual, Nauticam's offering is all about giving the user the best possible shooting experience through ergonomic placement of every important control, including a multidirectional pad (mirroring that found on the camera), and dual right thumb lever for AF-On and RECORD. Crucially, like all the company's video-focused housings, the NA-A7SIII also offers an M24 bulkhead supporting HDMI 2.0 connection to an external recorder. Oh, and if you really want to take pictures, strobes can be triggered via fiber-optic cables or electrical sync cords. $3,189 | www.nauticam.com | www.backscatter.com

Nikon Z5
If Nikon's first forays into full-frame mirrorless—the Z6 and Z7—were a little beyond your budget, the much more competitively priced Z5 could well be the entry-level full-frame model in your future. For considerably fewer dollars, you get a sensor with a very similar resolution to the Z6, as well as the same 5-axis in-body image stabilization, hybrid AF system, and high-resolution 3.69M-dot viewfinder found on the older models (and also the second-generation Z6II and Z7II). $1,300 | www.nikonusa.com | www.backscatter.com
Who Should Buy It?
Unlike the Z6/Z6II and Z7/Z7II, which are all equally accomplished filmmaking tools, the Z5 may well disappoint in the video department. Only Full HD (1080p) capture uses the full sensor width, while 4K video comes with a heavy 1.7x crop—all but unusable for wide-angle subjects. For still photography, however, the Z5 is a lot of camera for a modest outlay.

Housing Options

Ikelite: Nikon's affordable full-frame camera is a perfect match for Ikelite's eminently affordable housing, with its ABS-PC construction, transparent back, and robust, well-designed controls. As you'd expect, the housing can accommodate Z-mount lenses as well as F-mount lenses along with Nikon's FTZ adapter. Out of the box, you get electrical triggering of various brands of strobes in manual mode, and by adding the optional DL1 DS Link TTL Converter, you can enjoy industry-leading TTL flash exposure with a compatible Ikelite DS-series strobe. $1,695 | www.ikelite.com | www.backscatter.com

Canon EOS R6
The R5's less-well-endowed sibling may not have big brother's headline-stealing specs, but there's still plenty of camera left after shaving $1,400 off the price of an R5: the DIGIC X processor, the Dual Pixel CMOS II AF system, and the image stabilization system. While you won't be able to shoot 8K or 4K/120p video, you can still capture 4K/60p internally at 10-bit 4:2:2 (albeit with a slight crop, unlike the R5). Plus, still shooters won't be disappointed with the impressive 12fps burst shooting with continuous AF, or 20fps with the electronic shutter. $2,500 | www.canon.com | www.backscatter.com
Who Should Buy It?
Not too long ago, the number of consumer-level cameras that could shoot 4K/60p video could be counted on a couple of fingers. So, the fact that the somewhat-affordable R6 can capture that at 10-bit 4:2:2 quality internally is still nothing to scoff at. And if picture taking is your thing, this is one midrange option that should definitely make your short list.

Housing Options

Nauticam: Very little separates Nauticam's housings for the R5 and R6. With the NA-R6, you get integrated handles, the company's famed ergonomic control placement (right thumb levers for AF-On and Q with sub-levers for M-Fn and Record), and the multi-direction pad mirroring that found on the camera. And most importantly for serious underwater filmmakers, there's a large-bore M24 port for connecting an Atomos Ninja V monitor/recorder via HDMI 2.0—to make full use of that lovely 4K/60p 4:2:2 10-bit output. $3,965 | www.nauticam.com | www.backscatter.com
Ikelite: This housing for the R6 offers all the good stuff you'll find in Ikelite's housings for top DSLR and mirrorless models: ABS-PC body with transparent back; Dry Lock (DL) port system, which accommodates both RF-mount lenses and EF-mount lenses with Canon's EF-EOS R mount adapter; and large control levers for shutter release and autofocus. In addition,

after

fitting the optional DL5 DS Link TTL Converter

,

you can get automatic flash exposure using one or two compatible Ikelite DS-series strobes

.

$1,695 | www.ikelite.com | www.backscatter.com

Sony a7C
What do you get if you put two of the most successful camera series of the last decade—the cropped-sensor Alpha 6000 series and the full-frame Alpha 7 series—in a pot, sprinkle fairy dust, and stir? The Sony a7C, of course! With its a6000-series styling and innards borrowing heavily from the a7 III, the a7C crams a lot of camera into a tiny body, including a 24MP BSI-CMOS full-frame sensor, 5-axis image stabilization, and 10fps continuous shooting with autofocus. Sony were even generous enough to use the same high-capacity battery found in the latest a7-series models, promising an impressive 740 shots per charge using the LCD. $1,800 | www.sony.com | www.backscatter.com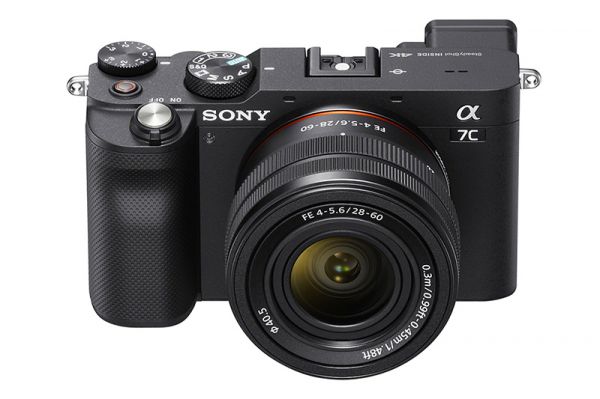 Who Should Buy It?
If compactness matters to you, the a7C has the edge over the slightly chunkier a7III. But while these two models are essentially the same excellent tool for still photography, videographers may want to look elsewhere: Like the a7III, the a7C shoots 4K/30p at only 4:2:0 8-bit and with a 1.2x crop.

Housing Options

Nauticam: Built around the same N100 port system used for the a7 series, the NA-A7C features the company's usual high-quality aluminum construction, integrated handles, and as-standard vacuum check and leak detection system. A large-bore M24 bulkhead supporting HDMI 2.0 output to an Atomos Ninja V external recorder allows you to squeeze 4K/30p 4:2:2 8-bit video from the camera, and strobes can be triggered via fiber-optic cables with the addition of an optional LED flash trigger. $2,586 | www.nauticam.com | www.backscatter.com

Fujifilm X-T4
While the likes of Sony, Canon and Nikon duke it out for hybrid mirrorless glory, Fujifilm has been steadily refining its flagship X-T series cameras—and in many people's eyes, outshining its Big Three rivals. The latest incarnation, the X-T4, boasts a 26.1MP APS-C sized sensor and in-body image stabilization, and musters 15fps burst shooting (mechanical shutter) and 4K/60p and 1080/240p video capture. $1,700 | www.fujifilm-x.com
Who Should Buy It?
The liberal use of manual dials gives the X-T4 a refreshingly different appeal, and the camera competes against the best in terms of the quality of both its image and footage. And if you're worried about lens quality or variety, don't: Fujifilm's expanding range offers some of the best glass around.

Housing Options

Ikelite: The U.S. company took the plunge by supporting the X-T3 with its first Fujifilm housing. The successor housing is no different, with all the usual Ikelite benefits at a competition-busting price: ABS-PC blend body, Dry Lock (DL) port system, and big control levers for the shutter release and AF-L button. Shoot with flash in manual mode out of the box, or add the DL4 DS Link TTL Converter for automatic TTL exposure with Ikelite's DS-series strobes. $1,695 | www.ikelite.com | www.backscatter.com
Nauticam: The new higher-capacity battery in the X-T4 was a less-talked-about but nevertheless important upgrade, and it allowed Nauticam to make its new NA-XT4 housing substantially smaller than its predecessor by removing the need to accommodate an optional USB power pack under the camera. Serious filmmakers who want to use a nice, bright external monitor—and record top-quality 4K/60p 10-bit 4:2:2 clips—will appreciate the M24 bulkhead that makes possible an HDMI2.0 connection to the Atomos Ninja V. $3,103 | www.nauticam.com | www.backscatter.com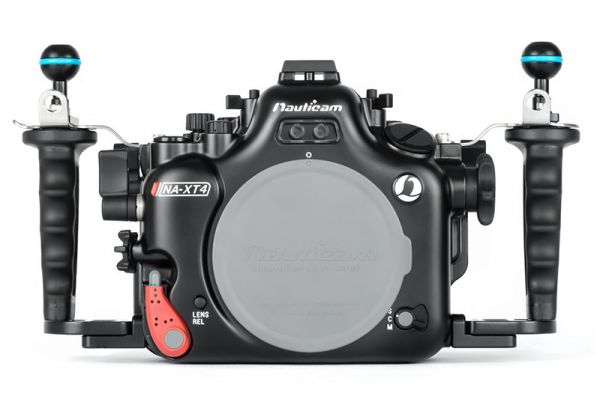 2. Compact Cameras

SeaLife Micro 3.0 Sets
The Micro 3.0 is the third iteration of SeaLife's hugely popular fully sealed ready-to-dive compact camera. Built around a Sony 16MP 1/2.3-inch image sensor, it improves on the Micro 2.0's Full HD video with 4K/30p and 1080/120p recording capabilities, boasts much faster burst shooting (10fps vs 5fps), and features much improved shutter lag (0.1s vs 0.5s). SeaLife makes it a breeze to start shooting by offering a couple of fantastic bundles: (i) the Micro 3.0 Pro 3000F Set, which includes a single Sea Dragon 3000F photo-video LED light; or (ii) the Micro 3.0 Pro Duo 5000 Set, which includes two Sea Dragon 2500F lights. Each set also comes with a tray and one or two grips. $600 (Micro 3.0 only) | $1,000 (Micro 3.0 Pro 3000F Set) | $1,300 (Micro 3.0 Pro Duo 5000 Set) | www.sealife-cameras.com

GoPro HERO9 Black
With rival action camera companies piling on the pressure, GoPro's latest HERO raises the stakes considerably: The new HERO9 Black now gives you 5K/30p capture, shoots higher-resolution 20MP images, and boasts not one but two screens—a bigger rear touchscreen and a new front-facing display to make it a snap to precisely frame yourself. And while the latest GoPro is now a little bigger and heavier than previously, you'll still be able to use the latest version of Backscatter's FLIP color correction system. $350 | www.gopro.com | www.backscatter.com
Who Should Buy It?
Who shouldn't buy it?! Whether it forms the heart of your video rig or functions as a B-roll camera alongside your primary camera, the HERO 9 Black is a no-brainer for almost any shooter.

Housing Options

GoPro: Unless you're going all-out with your GoPro rig (see below), the 50-buck GoPro-branded housing for the HERO9 will do a solid job of keeping your little black box nice and dry (down to 200 feet). Crucially, since the housing mount hasn't changed, Backscatter's FLIP system designed for the HERO8 housing will work here, too—no excuse not to capture footage with beautiful, accurate colors! $50 | www.gopro.com | www.backscatter.com
Hugyfot: Even ardent GoPro fanatics will concede that the planet's most popular action cam has a few limitations. That puny screen, for one thing. The exasperatingly short battery life, for another. Enter Hugyfot's Vision Xs: machined aluminum construction, integrated aluminum handles (with one-inch ball mounts), built-in 5-inch monitor, dual lithium-ion battery packs (one each for the monitor and camera), integrated vacuum leak detection system, plus a built-in red flip filter. Need we say more? It's the mother of all GoPro housings! €1,500 | www.hugyfot.com

Sony RX100 VII
In this era of photography with your phone, there's a very noticeable dearth of compact camera announcements. But not everyone wants to risk putting their beloved smartphone (aka your entire existence) in a waterproof housing. All of which is more than ample justification for including classic compacts like the RX100 series in guides like this one. The RX100VII boasts Sony's latest-generation BIONZ X image processor, a new 1-inch-type 20MP stacked-CMOS sensor, a souped-up AF system (with Alpha 9 real-time tracking abilities), 20fps burst shooting with continuous AF/AE, and 4K/30p and 1080/120p video. $1,300 | www.sony.com | www.backscatter.com
Who Should Buy It?
The latest iteration of the RX100 series is a miniature marvel that is capable of getting "the shot"—in high quality—more often than many a big interchangeable-lens camera. Also, consider saving yourself some money by going back a couple of generations to the RX100V, a still-current model that uses the more-underwater-friendly 24–70mm f/1.8–2.8 built-in zoom lens as opposed to the 24–200mm f/2.8–4.5 on the Mark VI and VII.

Housing Options

Isotta: Splashed with Isotta's signature red paint, and accommodating either the Mark VI or VII, this anodized aluminum housing features one-handed open/close, built-in moisture alarm, and a rectangular flat port that (somewhat surprisingly) accommodates the camera's full zoom range. Single or dual strobes can be connected via fiber-optic cable using an included adaptor. (A compact port and a macro port, both with 67mm threads, are also available.) $990 | www.isotecnic.it | www.backscatter.com
Fantasea: For a more affordable home for the RX100 Mark VI and VII, consider Fantasea's black polycarbonate housing, which boasts a double O-ring main seal, built-in moisture detector, and dual fiber-optic connectivity. The housing features a flat port with a 67mm thread, allowing you to shoot a variety of compositions on a single dive by using macro and wide-angle wet lenses, including the extensive range produced by Fantasea and Fantasea-AOI. $360 | www.fantasea.com | www.backscatter.com
4. Lighting

Retra Flash Prime X and Flash PRO X
Just announced, the Flash Prime X and Flash PRO X are the latest versions of Retra's now-popular strobes, instantly recognizable for their stylish aluminum enclosures and circular flash tubes. Differing principally in terms of power, the 100Ws Flash Prime X and the 150Ws Flash PRO X improve on their predecessors' weight (the housing is now 8% lighter), robustness (mode and power dials have been reinforced), recycle time (up to 25% faster), and number of flashes per charge (up to 20% more). $1,100 (Prime X) | www.retra-uwt.com | www.backscatter.com | $1,230 (PRO X) | www.retra-uwt.com | www.backscatter.com

Sea&Sea YS-D3 Lightning
Successor to the immensely popular YS-D2, the YS-D3 Lightning features a newly developed aspherical troidal lens covering the flash tubes that is designed to provide even light dispersion without hotspots. While the guide number sees only a slight increase (up from 32 to 33), an impressively wide beam angle of 150° can now be achieved with the use of the optional dome diffuser. Recycle times have also been improved and the target light has received a four-fold increase in brightness. $850 | www.seaandsea.jp | www.backscatter.com

Backscatter Mini Flash and Optical Snoot
While there's a healthy market for large and powerful strobes, bigger isn't always better, especially when it comes to shooting the small stuff. Enter Backscatter's uber-compact Mini Flash (MF-1), designed to be the perfect strobe for macro photographers. And like any self-respecting tiny-animal shooter, you can get even more creative results by pairing the MF-1 with the matching Optical Snoot (OS-1): Just position the modeling light exactly the way you want it, and squeeze the trigger! And don't worry, if you need to shoot some close-focus wide-angle or even most traditional wide-angle compositions, these little strobes are still powerful enough to handle the job. $500 (MF-1 and OS-1 combo) | www.backscatter.com | $400 (MF-1) | www.backscatter.com | $150 (OS-1) | www.backscatter.com
4. Accessories

Backscatter Color Filter System
While Backscatter's famed FLIP filter system is a great way to bring back color lost at depth, there's another type of filter that opens up exciting creative possibilities: light filters. Just attach a filter holder to Backscatter's Mini Flash (MF-1) and click in any one of the filters in Backscatter's Color Filter System. The full bundle includes a bold filter set, pastel filter set, and two holders—one that's compatible with the MF-1 strobe (and also Backscatter's Macro Wide MW-4300 video light), and another that can be attached to the company's Optical Snoot (OS-1). $99 (Full Bundle) | www.backscatter.com
| | |
| --- | --- |
| | |
| Bold filter set | Pastel filter set |
Nauticam WWL-1B Wet Wide Lens
The WWL-1B wet wide-angle conversion lens is designed to transform your system's 28mm lens and give it a field of view of around 130 degrees—while delivering exceptional clarity, contrast, and sharpness, from the center of the frame to the edges. Moreover, unlike most wet lenses, the WWL-1B is designed to work with zooms (28mm at their widest), including compact cameras' built-in lenses, Micro Four Thirds systems with power zoom lenses, and even full-frame zoom lenses. The recently released "B" edition of the WWL-1 features an integrated aluminum buoyancy collar that makes the lens almost weighless in water. $1,465 | www.nauticam.com | www.backscatter.com
SeaLife Sea Dragon Mini 900 and Mini 1300
SeaLife's extensive range of LED lights isn't only for underwater photography and video: The company also has you covered if you need an affordable but high-quality dive light. Two possibilities are the Sea Dragon Mini 900, which has a 900-lumen spot beam with an angle of 10.5° underwater, and the Sea Dragon Mini 1300S, with its 1,300-lumen output and 6° beam angle underwater. Depth-rated to 330 feet, the anodized aluminum lights can be operated with one hand via a single button. $100 (Mini 900) | $120 (Mini 1300S) | www.sealife-cameras.com
| | |
| --- | --- |
| | |
| Sea Dragon Mini 900 | Sea Dragon Mini 1300S |
Inon SD Front Mask and Filter Adapter for GoPro HERO9
If you're a GoPro HERO9 shooter who wants to make use of two of the best wet lenses in the business—Inon's "semi-fisheye" UFL-G140SD and "wide close-up" UCL-G165SD—you'll first need to attach Inon's SD Front Mask to your GoPro Protector Housing. (Inon's bayonet-style SD mount allows you to speedily change wet lenses underwater.) A similarly handy accessory for your GoPro housing is Inon's M67 Filter Adapter, which makes it possible to use the company's UW Variable Red Filter M67 for more color-accurate footage at different depths. $70 (SD Front Mask) | www.inon.jp | www.backscatter.com | $90 (M67 Filter Adapter) | www.inon.jp | www.backscatter.com
---

When purchasing underwater photography equipment like the products mentioned in this article, please support DPG by supporting our retail partner—Backscatter.com.
RELATED ARTICLES
LATEST EQUIPMENT
Be the first to add a comment to this article.
Newsletter
Travel with us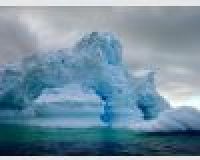 Antarctica
Plan Your Adventure >
Featured Photographer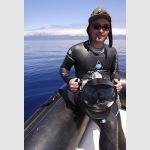 Jens Kuhfs
Expert Photographer
Born a Pisces, it should be no surprise that he has taken to the water. Jens Kuhfs has taken to the underwater. And he takes us with him when he captures his encounters in the blue depths of our planet with his camera, and...