News
Triton "ReBreather" Comes Clean
Last week, we brought to your attention the implausible story of The Triton—billed as the world's first gill-style rebreather.
At that time, the company claimed the device functioned like gills, by extracting oxygen from the water for divers to breathe. We were a bit more than skeptical, but that didn't stop thousands of people from donating nearly $1 million to the company's IndieGoGo campaign.
Mounting pressure and criticism led an investigation from IndieGoGo, and Triton campaign was suspended and all money refunded. Well, that didn't last long. The company has relaunched the campaign, hoping to clarify the product and sway skeptics:
Since launching we have been protecting our proprietary technology because it's so important to our success, but after careful consideration we think it's important to share these details and clarify how the device works. Inside of each Triton, the artificial gills utilize 'liquid oxygen', which combined with the other components allow users to breathe underwater, which you can see in the video above. We will release more information about the 'liquid oxygen' cylinders and safety strap."
"Note that the 'liquid oxygen' cylinders won't last forever so we plan to make it possible for backers to purchase and exchange cylinders through our website. They will come in packs of 1, 3, and 5, and we'll list prices as soon as they are finalized. We're also working on a solution to make them refillable.
Along with this explanation – albeit slightly less ludicrous – the company also released a 12-minute, uncut video of someone purportedly using the Triton underwater. Although more convincing than the original video, we would still like to note that a scuba tank could be hidden behind the subject with a hose inserted into the Triton device. Just sayin'.
Again, the hopeful have jumped on board: The new campaign has already raised $250,000 in just four days.
RELATED ARTICLES
RELATED PRODUCTS
Be the first to add a comment to this article.
Newsletter
Travel with us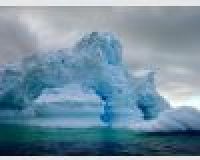 Antarctica
Plan Your Adventure >
Featured Photographer
Mark Doherty
Photographer
I have been diving for 12 years 4 of them have been working as an instructor in the Red Sea. Photography is my release and like nothing more than a day off diving with the camera. As yet I don't have a definitive style, I...