News
The Cocos Island American Express Members Project
Anybody who has dived Cocos Island, Costa Rica knows that this is one of the richest marine areas in the world, often compared to the Galapagos. Unfortunately, with this rich marine life, particularly the rich shark populations, comes the potential for illegal fishing. The remote island is under-patrolled by the Costa Rica, and massive amounts of illegal fishing are threatening this world heritage site.
Underwater photographers Georgene Bradley and Jay Ireland have a long history of shooting and filming the rich marine life in Cocos Islands, Costa Rica. They submitted a project to the American Express Members Project competition, which will provide funding to the top 5 projects that get the most votes. The Cocos project is now a finalist - one of 25 noble projects from 1,190 projects that were originally submitted. The objective is for American Express to fund great ideas that may help to positively impact the world. You do not need to be an AmEx card holder to vote. Let's help them by voting for their project.

Cocos Island, lies over 300 miles west of Costa Rica (CR), one of the earth's last spectacular wild places. The UN inscribed Cocos as a World Heritage Site, a place of "outstanding natural importance to the common heritage of humanity." But Cocos is now under threat. We will develop a "Virtual Cocos" exhibit providing CR, the US and the world with a breathtaking display of the beauty and the looming environmental crisis, providing a powerful tool to help conserve Cocos.
The Problem The Projects Addresses:

Cocos is remote and expensive to visit, only accessible via a 36 hour boat crossing. In the past this distance protected it from development and fishing. But as our seas become more depleted, fishermen turn to Cocos to fish illegally. Isolation makes it difficult for the authorities to enforce current laws. CR has a strong cultural history of fishing, and few CR citizens have visited the island and are unaware of its importance and beauty, as a result protection laws are unpopular.
The Impact The Project Will Have:

Our permanent exhibit in San Jose, CR and international touring display, will teach children, teachers and lawmakers about Cocos, raising awareness and support. Thousands will be able to tour the island remotely, without impacting the fragile ecosystem. 50% of sharks are on the endangered species list: Cocos could represent a safe haven, but only with protection. People love what they know and protect what they love. Enabling them to get to know the island, will make them want to protect it.
The Imagining Foundation, a not-for-profit founded by Georgene Bradley and Jay Ireland, created this video documenting the illegal fishing activiy in this world heritage site over the last few years.
Currently one of the world's most threatened spots is also a world treasure and a UN World Natural Heritage Site, Cocos Island continues to be significantly threatened by illegal fishing. The Cocos Island Project is in an attempt to counter this problem. Specifically, they are proposing to use images and films to create a "Virtual Cocos Island" exhibit that will "immerse the Costa Rican people in both the beauty and importance of this World Heritage Site." Two essential components of this project will:
1. present the importance of apex predators to our oceans
2. provide a real time database suggesting alternative jobs to the illegal fishermen
The project has been submitted to American Express for funding. Projects are selected for funding based on votes. Please take a moment to read over the information, and if you beleive in the project,
please cast your vote
and help make the Cocos Island Project a reality.
While you're at it, Cocos is also on the voting list for the new 7 Wonders of The World. Head on over to the
7 wonders website
and cast your vote for Cocos there as well.
RELATED ARTICLES
LATEST EQUIPMENT
Be the first to add a comment to this article.
Newsletter
Travel with us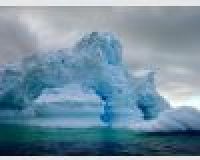 Antarctica
Plan Your Adventure >
Featured Photographer
Bruce Mozert
Expert Photographer
Bruce Mozert was born in Newark, Ohio on November 24, 1916. He had two sisters, Zoe Mozert (a famous pin-up artist) and Marsha (who did some hand modeling for Ponds Skin Cream). Bruce came to Florida in 1938 after leaving New...