News
Sea&Sea Announces YS-D3 DUO Strobe
By Ian Bongso-Seldrup, April 14, 2023 @ 01:00 AM (EST)
Sea&Sea has announced a new version of its flagship strobe—the YS-D3 DUO. The new strobe shares all of its main specs with the original YS-D3 Lightning and YS-D3 Mark II Lightning, including: a guide number (GN) of 33, a beam angle of 110° as standard (but increasing up to 150° with the optional dome diffuser), and a recycle time of 1.7 seconds at full power. Like the YS-D3 Lightning, the new strobe fires continuously at GN16 and recycles in 0.8 seconds when shooting at GN22.
While the manual operation of the YS-D3 DUO is much the same as for the YS-D3 Mark II Lightning, the new model is marked by its ability to make use of the RC flash protocol of OM System and Olympus cameras, allowing for precise automatic TTL flash exposure. The indicator color on the back of the YS-D3 DUO changes to red when in RC mode.
The Sea&Sea YS-D3 DUO will be available from Backscatter, but pricing has not yet been announced.

---

When purchasing underwater photography equipment like the products mentioned in this article, please support DPG by supporting our retail partner—Backscatter.com.
---

PRODUCT INFORMATION
YS-D3 DUO
OM SYSTEM RC flash system compliant. Further evolution with RC mode
FEATURES
Compatible with "Wireless RC Flash System"
The YS-D3 DUO is an underwater strobe that is compatible with the "Wireless RC Flash System" of OM SYSTEM digital cameras.
The "RC System" is a light control mode where the camera automatically controls the flash output based on the brightness through the lens. Since the camera can control the flash output based on digital optical signal, it can control the light more precisely than TTL mode of a typical underwater strobe. Of course, it is also possible to control the amount of light by selecting flash/non-flash or by manual operation.
In addition to TTL auto shooting in conjunction with the camera, the camera can also adjust the flash output compensation during TTL auto shooting.
High Performance Strobe
Newly designed circuitry and light-emitting unit produces powerful guide number of 33. In addition, a high precision aspherical optical troidal lens has been fitted over the two flash tubes to disperse an even light from the center to the edge. The strobe`s beam angle will increase to 110°by attaching the standard accessories Diffuser. When the optional Dome diffuser is attached, beam angle will increase to as wide as 150(TBD)
In order to avoid misunderstanding, the YS-D3 guide number (GN) and the beam angle are based on measurements taken on land (not underwater). Some competitors will often state a GN measured on land and the beam angle in water, for example a GN 33 and beam angle of 110 degrees. However, this GN 33 value is based on a beam angle of 60~70 degrees. The beam angle may be expanded in water by a dome effect, however the GN in water is significantly lower than the value measured on land.
Note: A land-based strobe that uses the same four AA batteries as the YS-D3 may provide a notation that the GN is 60, but these measurements are taken under the condition that the focal length is equivalent to 200 mm (= beam angle 12 °). When the beam angle becomes narrower, the brightness of the illuminated area increases due to the light-collecting effect.

Aspherical optical troidal lens
Various accessories available for all underwater imaging experiences
Click on the product name for more information.
Dome diffuser (optional accessory)
Increases beam angle to 150°×170° Essential accessory when fisheye lens is used, or soft light is required. + Guide number will drop to –1.5EV when it is fitted.
Snoot (optional accessory)
A strobe adaptor which narrows the beam angle to be directed at a target point. Diameter of the opening 25mm. Designed with internal prism which aligns target light`s light axis and strobe`s light axis to the center.
Slave prism (optional accessory)
Optical guiding device to fire the strobe when a fiber-optic cable is not used. This device is for manual use only. The device is effective if multiple strobes are used in a fixed position. However, the flash may not fire depending on the position of where multiple flashes are occurring in relation to that of the master flash.
Snoot
Dome diffuser

Slave prism

Excellent visibility
Backlight panel that is effective when shooting in dark environments. The indicator color on the back of the YS-D3 changes each time the position of the mode switch is changed. Blue (in DS-TTLII mode), Red (in RC mode), Yellow (in manual mode with pre-flash), and Green (in manual mode without pre-flash) The positioning of the operation system is obvious during night diving.

| | | |
| --- | --- | --- |
| | | |
| In DS-TTLII mode | In RC mode | In manual non pre-flash mode |
Connection method with arm that can be selected according to preference
YS-D3 comes with a straight type ball base
Optional YS base and new Diagonal ball base can be installed depending on the application.
YS base (common to YS-D1 / D2 / D3/DUO)
Traditional YS base. Easy vertical swing.
Diagonal ball base (only for YS-DUO/D3)
A ball base inclined at 35° compared to the straight type. This makes it easier to lower the strobe backwards, making it suitable for shooting when using a dome port. Also, when a Synchro Cord N is installed, interference between the cord and the ball clamp is minimized.
| | |
| --- | --- |
| | |
| | |
| YS base | Diagonal ball base |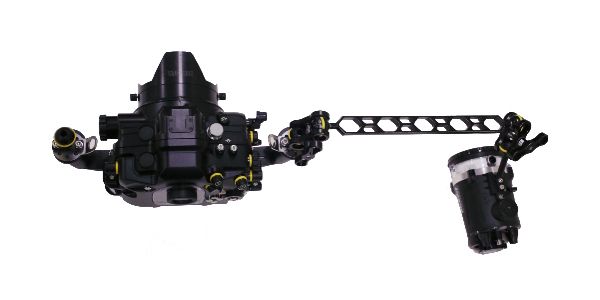 Diagonal ball base system example
Specifications
[Guide Number (ISO 100/m) (land)] : 33, 28 (with Diffuser attached)
[Beam Angle] : 80°x105° (without Diffuser), 100°x110°(with Diffuser)
[Usable Batteries] : 4xAA A: 6V Ni-MH: 4.8V
[Number of Flashes *1] : A: 140 Ni-MH: 220
[Recycle time (full) *2] : A: 3.5 sec. Ni-MH: 1.7 sec.
[Color temperature] : 5800K
[Color temperature w/diffuser] : 5500K
[Depth rating] : 100m / 330ft
[Dimensions (WxHxD)] : 92x111x147mm / 3.6 x 4.4 x 5.8 inches (excluding ball base)
[Weight] : 610g / 21.5oz (w/o batteries) (excluding ball base)
[Underwater weight] : Approx.-20g / -0.7oz (incl. batteries ball base)
[Others]

Exposure control: DS-TTL II, Slave TTL, Light level control dial (GN): 1 / 1.4 / 2 / 2.8 /4 / 5.6 /8 / 11 / 16 / 22 / 33 (11 steps)
DS-TTL II function
Slave function
Auto power OFF function 30min
Sync cord: 5-pin Sync cord/N, Fiber-Optic Cable
Over-pressure relief valve
LED target light (output is adjustable in 2 steps [300lumen/150lumen])
Audible charge signal
*1 Number of flashes and recycle time depends on the battery brand, temperature and frequency of use.
*2 Number of flashes and recycle time of Ni-MH batteries were tested on 2500 mAh batteries.
RELATED ARTICLES
LATEST EQUIPMENT
Be the first to add a comment to this article.
Newsletter
Travel with us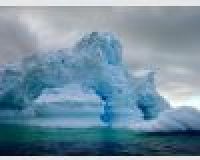 Antarctica
Plan Your Adventure >
Featured Photographer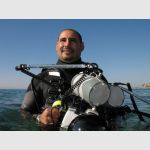 Noam Kortler
Expert Photographer
Noam Kortler is connected to the sea since he can remember him self. he was born on the coast of the Mediterranean sea of Israel and was diving and surfing when ever he could He moved to Eilat, the south popint of israel to...