News
Saving "Snapper Ledge" One Photo at a Time
The dive site "Snapper Ledge" is a special one to underwater photographer Tim Grollimund.
Less than the size of a football field, this shallow reef ledge is home to schools of blue striped grunts and snappers, turtles, rays, and even nurse sharks. In 2010, Grollimund was shooting on this small ledge as part of the John Pennekamp 50th Anniversary Photo Contest, when he decided to look under one final ledge. As luck would have it, Grollimund's shot of a giant green sea turtle hiding under the ledge helped him seal the contest victory; and he has continued to dive it ever since.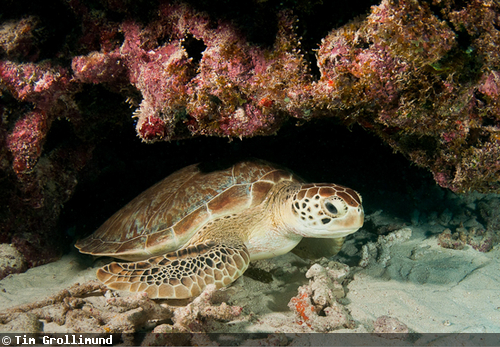 Snapper Ledge first gained notoriety when accomplished underwater photographer Stephen Frink stumbled upon it by accident one day, jumping in the water at the sight of Elkhorn coral and schools of fish hiding just under the surface. Since then, the main attraction at Snapper Ledge –that's the "walls of fish" in the words of Frink- has continued to draw in dive boats, and unfortunately, a growing number of fishing vessels as well.
"Snapper Ledge is a very small dive site that has more fish per square meter than any place I have ever seen in the Keys, and most places I have seen overseas," said Grollimund, who also writes an op-ed column for KeysNet.com. "I have been there many times, and now when I go I know it well enough to decide what I want to shoot before I go, and rig my gear accordingly."
While many of the poplar diving sites in the Keys are marked off as Marine Protected Areas (MPAs), "Snapper Ledge" still remains unprotected, at risk of being harmed by excessive fishing activities. Local fears of the human impact on the site were finally realized when Frink captured an image of an eviscerated nurse shark dying on the ocean floor.
"I snuck in, got close to frame my shot and saw there was something not right about this animal," recalls Frink in a video made to gain support to protect the area. "This was a shark that had been stabbed in the head and his whole belly had been slit open."
Frink's images of the shark and word of the risks facing the dive site spread quickly and garnered the attention of other big names in the diving community, including Wetpixel founder Eric Cheng who created a petition to make Snapper Ledge a protected marine area or a no-take zone. So when Grollimund found out about the petition, he quickly became signature number 2,790 on the list, joining Frink in the fight to protect a local dive spot.
Grollimund first met Frink in 1989 on a trip to Bonaire, and went on to join him on expeditions to Fiji, Vanuatu, Cocos Island, Indonesia, Philippines, and Africa. After losing his job in 1994, Grollimund battled with alcoholism for six years before finally hitting the "reset button" on his life, and two years ago he moved to the Keys to pursue his passion for underwater photography and journalism.
In his latest op-ed, Grollimund argues that the implementation of a marine no-take zone (nMPA) in the Snapper Ledge region would help preserve the proliferation of fish life, which he says is unique not only to the Keys, but the entire Caribbean as well. He points to similar precautions taken in the Dry Tortugas, which researchers believe will reduce the risk of stock collapse and benefit the health of the ecosystem in the long and short-term. But the real testament to the health of the dive site is the hundreds of underwater photographers it lures in every year.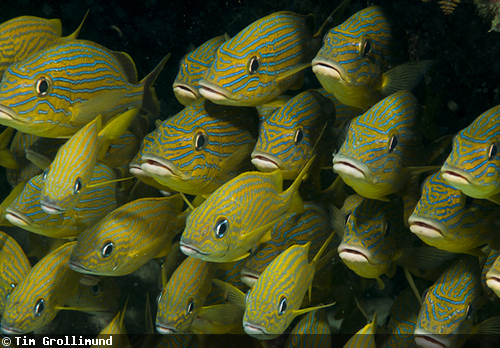 "This is a wonderful spot for a beginning photographer- it's shallow, it's heavily populated with schools, cleaning activity, eels, nurse sharks, a turtle now and then and enough trumpet fish to form their own orchestra," explains Grollimund. "For an experienced photographer, it's a study in light and animal behavior, and a wide angle paradise on the right days. [It is] versatile, easy to dive, unique in all it has to offer."
Underwater photography has continued to play an important role in raising awareness for the need to protect Snapper Ledge. It was Stephen Frink's images of the gutted shark that began the movement, and it was Grollimund's image of a schoolmaster with hook in mouth that helped re-spark the efforts last year. In fact, the local Sanctuary Advisory Council will be meeting on August 16 and the Snapper Ledge petition is on the agenda.
The important thing to remember, according to Grollimund, is that the effort to protect the site will be anything but simple: it will take years of planning and compiling data before it can be passed from councils to committees and finally be published in the Federal Register. But he doesn't seem to mind the wait or the challenge. After all, it wasn't until the looking under one last ledge on that site after ten years of staying sober that Grollimund found that picture of a green sea turtle, which would eventually land on the Key Largo Visitor's Guide.
"That cover is framed on my wall now, and each time I look at it I think about taking a look around one more crook in the ledge," he recalls. "Stephen [Frink] taught me that. So did recovery from addiction. Never give up - one little thing can change everything."
---
Please support the cause by singing your name to the petition.
RELATED ARTICLES
RELATED PRODUCTS
Be the first to add a comment to this article.
Newsletter
Travel with us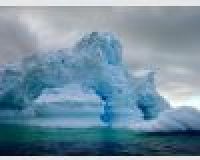 Antarctica
Plan Your Adventure >
Featured Photographer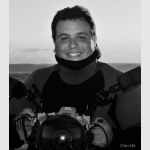 Daniel Botelho
Expert Photographer
Daniel was born at Rio de Janeiro,few steps from Copacabana Beach.Growing with the sea and with the rainforest around, he found in the wildlife photography a mission and work.Photojournalist,he is always trying to go beyond of...