News
It's a Pool Party! DPG/Wetpixel Underwater Imaging Cocktail Party 2011
By DPG, November 4, 2011 @ 08:25 PM (EST)
The Underwater Imagaing Cocktail party hosted by DPG and our good friends Wetpixel has become a staple of DEMA. Already known as one of the show's premier parties, we felt the need to pick it up a bit, considering this year it was also serving as the launch party of our new magazine, Scuba Diver Through The Lens. We think we threw a fiesta worthy of the industry's first global print mag -- it was our biggest bash yet.
Over 300 underwater photographers, videographers, and industry people showed up for 2011 DEMA Underwater Imaging Cocktail Party, and we partied until 2 AM. The warm fresh air of the Rosen Centre's pool deck, and the cool drinks served by the two bars, were a welcome change from the air conditioned, busy show hall.
A huge thank to the DPG team - Joe Tepper, Cal Mero, Maria Littlefield, and Rachel Messina. Their hard work made this all happen.

The crowd congregates around the pool bar for the party! We hit the two bars hard until 2 AM
To celebrate the launch of SDTTL, free copies were placed throughout the party area. The initial feedback has been amazing, and all the kind words make all the hard work worth it.
As always, the party served as a great venue to discuss the past and future of underwater photography. The fresher faces like Keri Wilk and Cal Mero were mingling with respected vets like Ana and Ned Deloach and Stepehn Frink. Members of manufacturers like Aquatica, Nauticam and Gates had a drink with the retailers Backscatter, Reef Photo and Video and ScubaPix, and we all showed the newcomers like GoPro, Aquapazza and others how much fun it is to be part of the underwater photo and video industry.
A huge thank you to our sponsors, without them this party isn't possible. Backscatter, Reef Photo and Video,Nauticam USA, Scubapix, Asian Geographic and Zen Underwater.
SD-TTL Launch Party
Team DPG in the house! From left to right - Cal Mero, Joe Tepper, Maria Littlefield, Matt Weiss, Rachel Messina and Keri Wilk

Maria Littlefield, Matt Weiss and Rachel Messina of DPG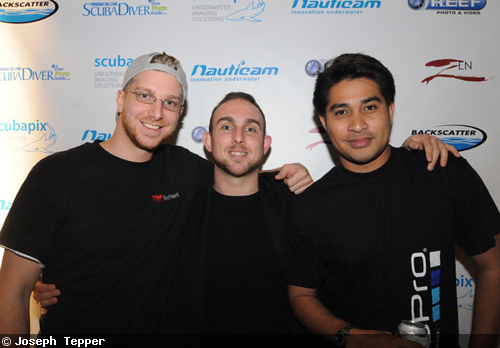 DPG's Cal Mero and Keri Wilk stand with Imran Ahmad. Imran and Keri were both contributors to the first issue of Scuba Diver-TTL
Matt Weiss of DPG with Mark Sandur and Frank Van Der Linde of Worldwide Dive and Sail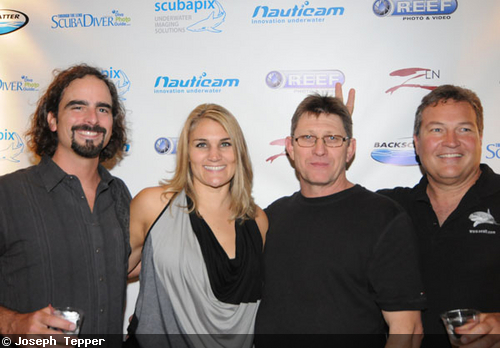 Backscatter's Berkley White, Critters@Lembeh's Kerri Bingham, ScubaPix's Peter Mooney and Sea & Sea's Andy Sallmon enjoyed the light atmosphere.
National Geographic photographer and Scuba Diver-TTL contributor Daniel Botelho catches up with DPG's Publisher Matt Weiss
Danny Charlton of Critters@Lembeh with Matt Weiss
Mauricio Handler arrives at the party
DPG's Associate Editor Joe Tepper takes a break from the tireless DEMA coverage to have some fun at the party. Well deserved!

The GoPro gang came to party, and were impressed the first issue of Scuba Diver-TTL
t
Alex Mustard hogs the drink tickets
Keri Wilk and Anna DeLoach catch up inside the DPG/Wetpixel cocktail party
Rachel Messina, Keri Wilk and Cal Mero
Matt Weiss and Rachel Messina of DPG with the GoPro team
The extreme team - Joe Romerio, Daniel Botelho and friends.

RELATED ARTICLES
LATEST EQUIPMENT
Be the first to add a comment to this article.
Newsletter
Travel with us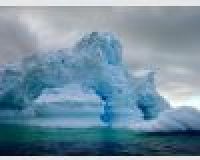 Antarctica
Plan Your Adventure >
Featured Photographer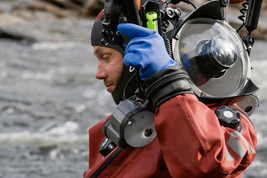 Magnus Lundgren
Expert Photographer
ABOUT MAGNUS Instagram - magnuslundgrenphotography "It is all about positive change for me, as an image may lure a person's mind and move the heart. I always use my own passion for nature to inject fuel into my...