News
Picture Perfect Curacao - The North American Underwater Photographer of the Year Competition
Each month for the past two years, DPG has held a themed contest in which photographers have competed against each other for amazing prizes and the glory of being labeled a DPG Monthly Contest winner. The winning images have been nothing less than spectacular.

Last year the public voted for your favorite of the 12 winners. The winner was crowned the DPG Underwater Photographer of the Year – no small feat!
A Unique Event: Compete, Get Paid, & Get Published
This year, in association with Curacao Tourism, we've cranked it up a notch and added an exciting event to determine the Photographer of the Year. We will be sending three talented Monthly Contest winners from the past two years , from the North American region, to compete in a very unique shootout. These three participants will be on a one-week assignment for the Curacao Tourism Board. They will be flown to the beautiful island of Curacao, paid $1000 each, put up in the luxurious Lions Dive Resort, and provided all the diving they need to shoot images of five different themes that capture the spirit of Curacao.

As a top Caribbean dive destination, Curacao is the perfect battleground. With endless photo opportunities, the competitors will be able to show off their true talents.
At the end of the week, the contestants will then submit their five best images in each category to a panel of judges comprised of underwater photographers and Curacao's marketing department. The winner with the best portfolio will be crowned the North American Underwater Photographer of the Year and their images will be shown worldwide as part of Curacao's new advertising campaign.
But, wait, there's a twist!
The three contestants will not only be competing against each other, but also against a world-renowned professional underwater photographer - a master of the craft. In order to be crowned Underwater Photographer of the Year, contestants must not only beat their peers, but also one of the most successful underwater photography competitors of all time – Keri Wilk! That's right -- it's the Iron Chef of Underwater Photography
The Competitors
The Pro – Keri Wilk

Although he is only 27, Keri Wilk has already accumulated more underwater photography awards than most photographers will in a lifetime. He has won or placed in over 100 competitions, which must rank him amongst the most successful underwater competition photographers ever. Perhaps his most impressive feat was nearly sweeping the 2010 Our World competition with three golds, two silvers and an honorable mention.
Educated as a mechanical engineer, he currently designs and develops products for ReefNet. Over the years, his work has appeared in countless magazines, scientific journals, field guides, books, and museums

Challenger #1 – Allison Vitsky


Allison began diving in 1992 and picked up her first compact underwater camera in 2006. By the end of 2007, she had become addicted enough to upgrade to a dSLR.

Allison is a regular contributor to California Diver magazine, and she recently coauthored a feature on the Philippines for Alert Diver. Allison's notable competition honors include placings and/or honorable mentions in 2009 Our World Underwater, 2010 DEEP Indonesia, 2010 Underwater Images, 2010 NCUPS Sea Competition, and 2010 LAUPS International Competition, as well as highly honored photographs in 2011 Nature's Best Photography Ocean Views competition and in the Oceans category of 2011 Nature's Best Photography Windland Smith Rice International Awards.
Challenger #2 – Jeremy Kozman

Jeremy Kozman began photographing the underwater world shortly after earning his first C-card, and has been obsessed ever since. Over the last two years he has been the recipient of a dozen international and regional awards for his images, most recently in the 2011 Scuba Diving Magazine Imaging Competition.

Jeremy's first international award was in the 2010 Beneath the Sea competition for his composite image of the U-352. Jeremy earned Gold and Bronze Medals in the Our World Underwater competition, considered the "Superbowl" of underwater photography.
Challenger #3 – Rand McMeins


Rand Mcmeins started diving in 2001 and first was interested in underwater photography when diving in Curacao at Habitat. Rand started off renting a film camera, but quickly upgraded to a digital compact before getting an SLR. Looking for extra motivation and a way to gauge his level as a photographer, Rand starting entering competitions.

He has now placed in most of the major American underwater photography competitions, including the LAUPS, NCUPS, Beneath the Sea and Underwater Images competitions. In 2006 Rand won the David Doublilet award at Beneath the Sea with an image of a wide angle image of a comorant, which he was particularly pleased with since he had become known for his macro work.

It's Iron Chef of underwater photography! The battleground is Curacao. Will one of the challengers win, or will the master reign supreme.
RELATED ARTICLES
LATEST EQUIPMENT
Be the first to add a comment to this article.
Newsletter
Travel with us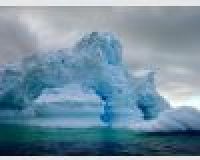 Antarctica
Plan Your Adventure >
Featured Photographer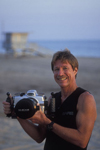 Mark Stickland
Expert Photographer
Mark Strickland's life-long interest in the sea has included over 10,000 dives and careers as a lifeguard, boat captain and scuba instructor. His passion for underwater photography has led him to many top dive...