News
Our World Underwater 2007
The 37th annual Our World Underwater show took place in Chicago on Feb 9-11, 2007. Despite the cold weather, exhibitors and divers came out in droves to the expansive expo, workshops and film festivals.
Very predictable weather forecast throughout the show...

















The exhibition of winning images from the 2nd Annual Wetpixel & DivePhotoGuide International Underwater Photo & Video Competition was a breathtaking sight. The winning images were outstanding, and the exhibition was very popular among the 15,000+ attendees.
Winning images and videos can be seen on the official competition website:
www.UnderwaterCompetition.com.




Christine Smith shows off her beautiful shot of Tarpon feeding on Silversides, captured in Grand Cayman. Christine snagged an Honorable Mention in the "Wide Angle Traditional" category.









Ryan Canon from Reef Photo & Video, Steve Philbrook from Inon America and Terry Schuller from Ultralight Control Systems.
A rep from Helix Camera (Chicago) and Rand from Fantasea.














Cathy Church travelled to freezing Chicago from warm and sunny Grand Cayman to give a few workshops on underwater photogra[hy. Cathy also just launched a new dive boat for private and small group workshops in Grand Cayman. Looks like great new option with a fantastic photographer and teacher.
Cathy is featured in the DPG galleries.





World renowned photographer Emory Kristof and Fathoms Magazine publisher David Fishman look over the winning images from the photo competition.
Emory Kristof is also featured in the DPG galleries.








Joe from Amphibico gives this underwater still photographer video envy.


















The Ikelite booth is always a popular spot on the show floor. Bob & Rhonda take a moment to show off some of the popular housings.









Michele & Danielle Gilbert gave a fantastic "musical imagery poem" on Manatees, and were also presented with a special award for their ongoing support and involvement in the Our World Underwater show. Their Manatee show was touching and the best I've ever seen on the subject.
The gentleman in the background is Dennis Gagnon. Dennis organizes the film festival and puts on a great show.






Richie Kohler & John Chatterton (Deep Sea Detectives, Shadow Divers, Dive Portal DVD) , Sherry and Patrick Hammer (Our World Underwater), Emory Kristof (National Geographic), at the after party following the film festival on Saturday evening.







Jack & Sue Drafahl were running digital imagery and photoshop workshops throughout the weekend.













I had to check out the Oceanic HUD mask. This mask integrates a wireless air integrated computer into an non-intrusive area in the lower right hand corner of your mask.You never have to take your hands off your camera to check your gauges again. Pretty cool!






Pat and Sherry Hammer, legendary film maker Stan Waterman and I were discussing the plight of the oceans and marine ecosystems after being touched by the Gold Video winner "Unnatural Selection" from Blue Sphere Media the night before. The 60 second film covered the rampant shark finning problems in Raja Empat.
Watch the Saturday night film festival presentation of the winning images and videos here. Special thanks to Joe Hoelley from MarineVisions.com for putting the presentation together for us!
RELATED ARTICLES
LATEST EQUIPMENT
Be the first to add a comment to this article.
Newsletter
Travel with us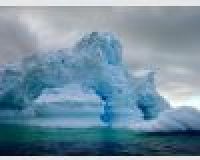 Antarctica
Plan Your Adventure >
Featured Photographer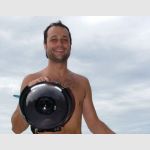 Andrej Belic
Expert Photographer
Andrej Belic is into diving for eight years now and has covered almost all possible aspects of it: scuba, nitrox, trimix, rebreather, deep air, caves and wreck penetration. Currently he´s into freediving and monofin swimming....