News
New Marine Species Found in Alaska's Aleutian Islands
This summer, during the second phase of a two-year scientific survey of the waters around the Aleutian Islands, scientists discovered what appear to be three new marine organisms. This year's dives surveyed the western region of the Aleutians, from Attu to Amlia Island, while last year's assessment covered the eastern region.
During the dives, two potentially new species of sea anemones have been discovered. Stephen Jewett, a professor of marine biology and dive leader on the expedition, says that these are "walking" or "swimming" anemones because they move across the seafloor as they feed.
While most sea anemones are anchored to the seabed, a "swimming" anemone can detach and drift with ocean currents. The size of these anemones ranges from the size of a softball to the size of a basketball.
Another new species is a kelp or brown algae that scientists have named the "Golden V Kelp" or Aureophycus aleuticus. According to Mandy Lindeberg, an algae expert with NOAA's National Marine Fisheries Service and a member of the expedition, the kelp may represent a new genus, or even family, of the seaweed.
Growing up to 10 feet long, the kelp was found near thermal vents in the region of the Islands of the Four Mountains.
"Since the underwater world of the Aleutian Islands has been studied so little, new species are being discovered, even today," said Jewett. Even more new species may be revealed as samples collected during the dives are analyzed.
The new organisms were found while surveying more than 1,000 miles of rarely explored coastline, from Attu to the Tigalda Islands.
Logging more than 300 hours underwater, the divers collected hundreds of water, biological and chemical samples during 440 dives.
RELATED ARTICLES
LATEST EQUIPMENT
Be the first to add a comment to this article.
Newsletter
Travel with us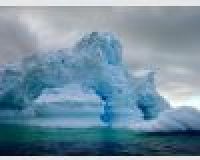 Antarctica
Plan Your Adventure >
Featured Photographer
Carlos Hiller
Expert Photographer
Carlos Hiller, 34 years old, is an artist dedicated to the painting of submarine seascapes. His paintings have traveled to diverse places all around the world- with individuals and art collectors who have bought his works. His...