News
New Electronic Marine Identification Guide
By Joe Tepper, December 16, 2010 @ 12:00 PM (EST)
Underwater explorer extraordinaire Neville Coleman has announced the release of his "Marine Life Identification: eGuide." The guide, which is currently available for download on iTunes for the iPhone and iPad, features sixteen major marine groups and 2000 accompanying photographs.
The contents are arranged in alphabetical order by family, genus, and species, and each major group is complimented by a natural history page that contains the group's features, lifestyle, reproduction, ecological associations and identifications.
Not the proud owner of an iPad and iPhone? No problem! The eGuide will be available in January for the Android, Blackberry, Symbian (Nokia), Windows Phone 7 and Windows Mobile. Stay tuned to DPG for a review coming soon!
---
Neville Coleman's MARINE LIFE IDENTIFICATION eGuide
Now available at the Apple iTunes Store.
Only US$ 20.00
Neville Coleman's easy to use Marine Life Identification eGuide includes representatives from the 16 major groups of Marine Life, from Algae to Marine Mammals, with over 2000 stunning photographic images are available as an App for iPhone and iPod Touch. You can download the App at the Apple iTunes store.
Each Phylum e.g. Crustaceans has all its known Classes, of which there is an introductory natural history page with 500 to 900 words containing = Features; Lifestyle; Reproduction; Associations and Identifications.

* All the species are arranged as Family, Genus and Species in alphabetical order. Common Names and Scientific Names are up to date and there is an extensive menu and complete indexes on Families, Scientific Names and Common names.

Each species has Family, Scientific Names, Common Name, Habitat, Size, Gender (where known) Locality and descriptive text up to 30 words, with a "Quick Search" function.
A simple and intuitive interface puts all of this information at your fingertips.

* Touch screen selection of Marine Life groups from a comprehensive, colour coded Main Menu that immediately brings the user to a Class, Family, Scientific Names and Common Names selection Menu. Species can be accessed and then scrolled forward to see the next species. Swiping up or, down, scrolls through all images of the species.
* By a mere turn of the device, the image expands to fill the screen in landscape viewing and presenting a more lifelike image on the screen than on any printed page.

* A tap on the image expands it to full screen, swiping your finger up and down scrolls through all images of the species, while swiping left or right moves on to previous and next species.
Tapping the text instantly makes it full screen, and rotating to landscape view increases the size of the text for easier reading.
Images can be selected and compared (or even two variations of the same species) are easy to set up, and swiping either species up or down scrolls through all images of that species, while swiping the top image left, or right, moves to previous, or next species.
Comparison species can also be viewed side-by-side in landscape mode simply by turning the device.
All in all, for those Instructors who wish, the Marine Life Identification eGuide provides another advance that goes "hand in hand" with PADI's Underwater Naturalist Specialty Course.
Marine Life Identification Application updates
The Marine Life Identification eGuide will be available in the New Year on Android, Blackberry, Symbian (Nokia), Windows Phone 7 and Windows Mobile and will enable even more divers to access the application.
Eventually, there will also be an upgraded version for iPad.
www.nevillecoleman.com.au
www.underwatereguides.com.au
RELATED ARTICLES
LATEST EQUIPMENT
Be the first to add a comment to this article.
Newsletter
Travel with us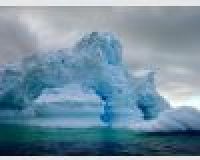 Antarctica
Plan Your Adventure >
Featured Photographer
Phillip Colla
Expert Photographer
Phillip Colla is a natural history photographer. He focuses on wild marine mammals, the California kelp forest, inhabitants of remote eastern Pacific islands, National Parks of the American West and, most recently, waves and...