News
Nauticam Announces Housing for the Fujifilm X-T4
By Ian Bongso-Seldrup, March 24, 2021 @ 07:00 PM (EST)
Nauticam has unveiled its housing for Fujifilm's newest flagship cropped-sensor mirrorless camera, the XT-4. The camera features the same 26MP BSI-CMOS APS-C sensor and X-Processor 4 as its predecessor but offers various improvements, notably the addition of in-body image stabilization, faster continuous shooting (15fps vs 11fps with AF), improved autofocus tracking, a dedicated AF-On button, and a much better battery, boasting 500 shots per charge.
Nauticam says its new X-T4 housing is also a similarly significant upgrade over its predecessor. The housing shares the company's well-known Mission Control concept, where the most important controls are rerouted to just the right positions around the integrated handles, especially thumb levers for playback and the new AF-ON button. Significantly, the NA-XT4 has been made substantially smaller than the X-T3 housing (337 x 178 x 115mm vs 350 x 210 x 120mm) by removing the ability to accommodate an optional USB power pack under the camera—unnecessary given the impressive performance of the X-T4's new battery.
Most importantly, for video shooters, the housing takes full advantage of the XT-4's ability to capture 4K/60p 10-bit 4:2:2 over HDMI by offering a wide-bore M24 bulkhead that accommodates an HDMI2.0 connection to the Atomos Ninja V—in Nauticam's dedicated monitor housing, of course. On the photography front, Fujifilm's included hotshoe-mounted EF-X8 flash can be accommodated inside the housing for automatic TTL exposure with various strobes via fiber-optic connections. Another possibility is using Nauticam's optional Mini Flash Trigger, which provides high-speed strobe firing in manual mode.
The NA-XT4 is shipping now, priced at $3,100.

---

When purchasing underwater photography equipment like the products mentioned in this article, please support DPG by supporting our retail partner—Backscatter.com.
---

PRESS RELEASE
Introducing NA-XT4
FUJIFILM X-T4
The Fujifilm X-T4 features an APS-C CMOS 4 X-Trans 26.1MP Sensor. The X-T4 is powered by a proven X Processor 4 which provides fast performance and improved responsiveness. Newly added in-body stabilization delivers up to a 6.5EV benefit which is a significant addition for video shooters. The improved autofocus tracking system now considers color and shape as well as distance information, providing a noticeable improvement over the X-T3.
Oversampled DCI or UHD 4K (using full sensor width) is possible at 30p whereas 60p can be recorded with a minor 1.18x crop. The 60p footage can be captured as 10 bit 4:2:0 H.265 at 200 Mbps and recorded internally. This increases to 4:2:2 when output over HDMI. The X-T4 also features F-Log capture to maximize dynamic range, protecting highlights and shadows for editing. New to the X-T4 is F-Log View Assist which applies a gamma correction to the EVF and LCD, helping to visualize the end result. Zebra warnings and focus peaking overlays as well as magnification during shooting are all features that video shooters will appreciate. Multiple custom white balance slots along with presets are easily accessible.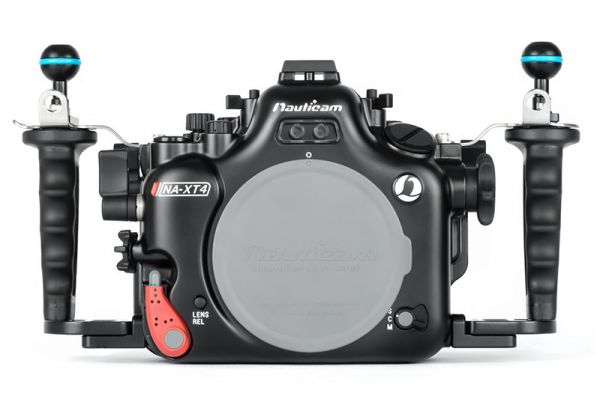 Key Camera Specifications
26MP BSI 'X-Trans CMOS 4' sensor
In-body image stabilization up to 6.5 EV benefit
20 fps shooting with AF (15 fps with mechanical shutter)
3.68M-dot electronic viewfinder
10 bit 4:2:0 H.265 internal video capture (4:2:2 over HDMI)
UHD/DCI 4K/60p from 1.18x crop region
UHD/DCI 4K/30p using full width of sensor
Internal F-Log capture
Dual UHS-II SD card slots
USB C-type connector can be used for charging battery
New NP-W235 battery

THE NAUTICAM NA-XT4 UNDERWATER HOUSING
Nauticam has supported X-T1, X-T2, XH-1 and XT-3 cameras and continues to create innovative and ultra-functional housings for this line with the NA-XT4. More than just an updated badge, the NA-XT4 is redesigned and considerably smaller than its NA-XT3 predecessor. The NA-XT4 features DSLR-style housing and port lock mechanisms as well as integrated ergonomic handles. The housing is designed with our Mission Control concept of placing the most important camera controls as close to the handles as possible to facilitate effortless and quick camera operation to ensure you don't miss the shot.
The NA-XT4 features thumb levers near both handles, with the left thumb lever actuating the playback function and the right thumb lever the AF-ON control. The housing includes two M14 and one M24 bulkhead openings to accommodate a variety of accessories.
The NA-XT4 uses the N100 Port System shared with the Fujifilm XH1 and XT3 system. A selection of port options are available for a variety of lenses.
Video Recording Features
The impressive video specs of the X-T4 prompted the addition of some video-centric features to the NA-XT4. The base of the housing can accept Nauticam's Mounting Ball Set for Tripod (PN 25218).
As the X-T4 can output DCI/UHD 4K at 60p with 4:2:2 quality over HDMI, a new M24 bulkhead has been incorporated into the housing to support an HDMI 2.0 connection to the Nauticam Atomos Ninja V housing (HDMI 2.0) for Atomos Ninja V 5" 4Kp60 4:4:2 10-bit Recorder/Monitor/Player (17922). An M24 Adaptor for HDMI 2.0 Cable (25086) is required when using the Nauticam Ninja V housing.


Flash Triggering
Reliable automatic flash exposure is available with the NA-XT4 and a variety of optically fired flashes, precisely reproducing the Fujifilm EF-X8 flash at a proportionally greater intensity. This system yields accurate automatic TTL flash performance – even in manual exposure mode – with no electrical sync cables to flood!
The NA-XT4 is also compatible with the Nauticam Mini Flash Trigger for Panasonic/Fujifilm (PN 26305). The Flash Trigger allows for rapid fire manual flash firing via fiber optic, with no camera battery drain.
The NA-XT4 comes fiber optic ready and accepts standard Sea & Sea style bushing connections. Nauticam Universal fiber optic cable system (PN 26216) for Inon, Sea&Sea strobes, provide exceptional light transmission for accurate TTL performance.
Integrated Vacuum Check and Leak Detection System
The Nauticam vacuum check and leak detection system is pre-installed in the NA-XT4 as standard equipment. Combined with an optional M14 Vacuum Valve II (PN 25624), this monitoring system provides constant updates throughout the dive as to watertight integrity of the housing via a multi-color LED on the rear of the housing.

Key Features
Housing Locking Latches

The industry's easiest to use housing closure system, requiring very little hand strength to operate, secures the housing back in place. The latches are safely locked to prevent accidental opening, but are easy to open when needed for a quick battery or memory card change.

M24 HDMI 2.0 Bulkhead

An M24 bulkhead has been incorporated into the housing to support an HDMI 2.0 connection to the Nauticam Atomos Inferno housing for Shogun/Ninja Inferno 7" 4K60 4:2:2 10-bit recorder/monitor.

Patented Port Locking System

Unveiled on the very first Nauticam DSLR housing in 2009, this locking lever has become a signature of the Nauticam brand. No twisting or threading action is required to mount a port, and it locks securely in place with this lever. Nauticam also offers locking port extensions, meaning a dome will never twist, even when used with a long extension ring.

Mission Control

The NA-XT4 places important camera controls as close to the handles as possible to ensure effortless and quick camera setting changes underwater to insure you don't miss the shot. Thumb levers for playback and AF-ON are within easy reach.

What's In The Box:
NA-XT4 Housing
Padded Travel Case
CR2032 Battery for Vacuum System
Spare 90120 main O-ring, removal tool and lubricant
2x Handles with mounting balls
Set of Allen Keys

Recommended Accessories:

HDMI Recommended Configurations:
For HDMI 2.0 Cable System
25086 M24 adaptor for HDMI 2.0 Cable
25077 M24D1R205-M28A1R170 HDMI 2.0 Cable (for NA-XT3/XT4/R5 to use with Ninja V housing) from SN: A467086 onwards.
17922 Nauticam Atomos Ninja V Housing for Atomos Ninja V 5" 4Kp60 4:2:2 10-bit Reorder/Monitor/Player (excl. HDMI 2.0 cable)
For HDMI 1.4 Cable System

Technical Specifications:
Dimensions (W x H x D): 337mm x 178mm x 115mm
Weight in air: 2.57kg
Weight in water: 0.55kg (includes camera and battery)
Depth Rating: 100m
Port Mount: N100

Model Number: 17157
USA Retail Price: $3,103
More information is available from Nauticam at: www.nauticam.com
RELATED ARTICLES
LATEST EQUIPMENT
Be the first to add a comment to this article.
Newsletter
Travel with us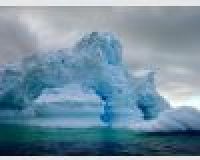 Antarctica
Plan Your Adventure >
Featured Photographer
Doug Sloss
Expert Photographer
Doug shoots and writes about underwater and topside photography for a living. Once a long time resident photo-pro and dive instructor in Micronesia, his work is regularly published in many diving magazines around the world and...