News
Loggerhead Sea Turtles Threatened With Extinction: Federal Study Confirms Oceana's Concerns
Tens of Thousands of Loggerheads Killed Annually By Destructive Fishing Gear
Washington (Sept 13, 2007) – All loggerhead sea turtle nesting subpopulations in the North Atlantic with trend data available are declining according to a new study released yesterday by the National Marine Fisheries Service and the U.S. Fish and Wildlife Service. This includes sea turtles that nest in the United States, Caribbean and along the Yucatan peninsula of Mexico. The study, a five-year status review for loggerhead sea turtles required by the Endangered Species Act, confirms what Oceana has been telling the federal government for the past five years.
The federal agencies admit for the first time that "the most significant man-made factor affecting conservation and recovery of the loggerhead is incidental capture in commercial and artisanal fisheries." Tens of thousands of loggerhead sea turtles are killed annually in the Atlantic Ocean and the Gulf of Mexico by destructive fishing gear, including trawls, gillnets and longlines. Loggerheads also are captured and killed by commercial fisheries that use hook and line, seines, dredges and various types of pots and traps.
"It is clearly time for the federal government to step up and take control of sea turtle bycatch in commercial fisheries," said Elizabeth Griffin, Oceana's marine wildlife scientist. "Taking the lives of tens of thousands of loggerheads every year will result in the disappearance of one of the oldest animals on earth."
Loggerhead sea turtles are currently categorized as a threatened species under the Endangered Species Act, which requires the National Marine Fisheries Service to take the necessary actions to protect the species in the water, and the U.S. Fish and Wildlife Service to protect their nesting areas on the beach. However, the National Marine Fisheries Service is allowing tens of thousands of sea turtles to be killed by commercial fishing operations annually.
When the number of sea turtles killed rises above the legal amount, the national fisheries service turns its head and lets it happen. "For years the government has argued that loggerhead populations were relatively stable and that further restrictions on commercial fisheries were unwarranted," said David Allison, director of Oceana's campaign to save sea turtles. "Now the government can no longer deny or avoid taking action to address this serious problem."
The study showed that loggerheads nesting in South Florida declined 22.3 percent from 1989 to 2005 and
39.5 percent since 1998. In the Florida panhandle loggerhead populations have declined by 6.8 percent annually. Finally, the report shows that loggerhead sea turtle populations in North Carolina, South Carolina, Georgia and northern Florida have declined by 1.9 percent each year. The loggerhead nesting population also has declined in the Yucatan, and a longer time series is needed to assess the populations that nest in the Dry Tortugas.
"If there is to be any real chance for restoring sea turtle populations, the federal government is going to have to take major steps to protect sea turtles from commercial fishing gear that includes increased time and area closures and increased monitoring on commercial fishing fleets," said Allison.
RELATED ARTICLES
LATEST EQUIPMENT
Be the first to add a comment to this article.
Newsletter
Travel with us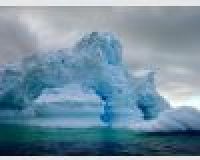 Antarctica
Plan Your Adventure >
Featured Photographer
Chris Crumley
Expert Photographer
Migrated from dive editorial to mainly advertising/commercial/stock photography with a wet & underwater specialty. SSI Platinum 5000 card. Additional information on website including four portfolios and pictureBlog.