News
Live From Eilat: Epson Red Sea Competition
by Keri Wilk
Hello from perpetually-sunny Eilat (Israel), and welcome to the first installment of DivePhotoGuide's coverage of this year's Epson Red Sea Photo Shoot-out! I'll be providing daily updates on all of the action here, both in and out of the water.
To follow the complete Eilat coverage this page will be updated with links to each daily coverage update as we post them.
For those of you who haven't heard of
Eilat
, I'll give you a few tidbits of info that I've picked up in the last few days. First off, I referred to Eilat as "perpetually-sunny" quite literally, as typically it sees less than half a dozen rainy days a year! Populated by around 50,000 people, this small city was founded in 1951, and is located at the southernmost tip of Israel. It lies in isolation on the calm northern tip of the Red Sea, where the surrounding mountains and otherwise desert landscape prevent much wave action from brewing, making water sports ideal. In fact, in the 3 days I've been here, without fail I've woken up to see the dead calm water already full of wake-boarders, windsurfers, parasailers, and kayakers. Though water sports are typically thought of as the main attraction of Eilat, there are also a host of other activities available to the hydrophobes out there, including 4x4 trips through the desert, camel treks, and of course a range of beachside nightclubs and pubs.
Anyway, a little about the
Epson Red Sea competition
. It has two parts: (1) a standard 'mail-in' international photo competition, and (2), a 3-day on-site shoot-out here in Eilat. The 'mail-in' competition has been closed for some time now, but the shoot-out will occur between November 11 @ 12:00am and November 13 @11:59pm (this should make for some interesting night dives!). The international images have apparently been displayed somewhere, so I'll get our readers a sneak peak of all of the entries tomorrow before they're judged. Photographers from around the world have already started arriving, and location-scouting for particular shots they have in mind has begun. The contest hasn't even begun, yet I already want to see the results.
Author/photographer, David Pilosof (Pilo), is the 'head honcho' around here, and for the last two days his cell phone hasn't left his ear in a valiant effort to tie all loose ends that remain. I managed to find a long enough lull between phone conversations to have a quick chat with him today. He explained how this contest's popularity has grown almost exponentially over the past 4 years...in it's maiden year it offered a TOTAL of $2000 in prizes, compared to this year's contest which boasts a massive $80,000+ pot in cash and prizes, including $10,000 CASH and 3 weeks in PNG for two including airfare for the portfolio winner! No wonder they're expecting about 150 entrants to fly in! Pilo also told me about a recent addition to the shoot-out: a 10-image land portfolio category, which has a $2,000 cash prize. That should make things even more interesting! More details to come tomorrow.
I've had the chance to do 3 dives since I've been here, and I must say that I'm impressed. Pilo, publisher of YAM, the Isreali dive magazine, and Noam Kortler (award-winning photographer and owner of
Nemo Divers
), were very helpful with getting me in the water. While I was gearing up, we talked about the diving and the community, and I was surprised (pleasantly) to hear what they had to say. They explained that since the city has recognized the importance of the underwater world as a source of income, they actively gather in groups to clean the coast of garbage. Additionally, a large stretch of coastline has been declared a marine life reserve. While this has been done in many places, what is unique about Eilat is the park rangers who strictly enforce marine conservation guidelines by patrolling the coast and punishing those who break the rules. And don't bother bringing your metal (or otherwise) poking-sticks...that's a big no-no around here, as is wearing gloves, or holding onto ANY piece of coral formation (dead or alive). The water was clearly beautiful and beautifully clear, as was the marine life of which I'd mostly never seen before. Here are some shots from today and yesterday:
I'm staying down the road from where all the diving activities are taking place (Isrotel Yam Suf), in what is unofficially known as the 'hotel district' of Eilat. The view from my room is great:
I'm right across the street from a miniature amusement park, which is very much out of place. They have a total of two rides. One of them is a slingshot/bungee ride:
Until tomorrow….stay tuned, and I'll report on the music, beer and fun that I'm told tomorrow holds in store for us.
RELATED ARTICLES
LATEST EQUIPMENT
Be the first to add a comment to this article.
Newsletter
Travel with us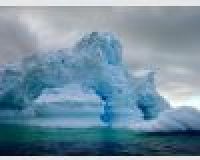 Antarctica
Plan Your Adventure >
Featured Photographer
Wyland w
Expert Photographer
One of the most recognizable artists in modern history, Wyland is renowned throughout the world for his commitment to marine life conservation. Each year, his massive Whaling Wall murals captivate spirit of wonder in more than...