News
Jason deCaires Taylor's Museo Atlántico Officially Inaugurated
By Ian Bongso-Seldrup, January 9, 2017 @ 09:30 PM (EST)

Underwater sculptor Jason deCaires Taylor's vast "Museo Atlántico," situated in the Atlantic Ocean off the Spanish island of Lanzarote, is inaugurated tomorrow. Constructed in waters around 14 meters deep, the unique project features 12 installations with over 300 figurative works. Work began in February 2016 and was completed in December.
Among the installations are a 30-meter-long wall weighing some 100 tons, a botanical sculpture garden featuring local flora of Lanzarote (a UNESCO World Biosphere Reserve), and a giant circular sculpture comprising more than 200 life-size human figures—"The Human Gyre." The project is designed on a conservational level to create a large-scale artificial reef to aggregate local fish species and increase marine biomass whilst raising awareness about current threats facing the world's oceans.
The formations are tailored to suit endemic marine life and are constructed using environmentally friendly, pH-neutral inert materials. deCaires Taylor invited local residents and visiting tourists to participate in the project by modeling for the casts. The installation is designed to last for hundreds of years.
See the press release below for more details.

---

PRESS RELEASE
Official opening and completion of Museo Atlántico
The final phase of Jason deCaires Taylor's monumental project "Museo Atlántico", in Lanzarote, Spain is now completed and officially inaugurated on the 10th of January 2017 by the President of the island, Pedro San Gines.
Consisting of over 300 works spread over 12 installations, it is the first time Taylor has installed large-scale architectural works. The new installations include a 100-ton 30m long wall, an underwater botanical sculpture garden referencing local flora and fauna, and a colossal formation of over 200 life-size human figures in a gyre.

Crossing the Rubicon

Crossing the Rubicon consists of a group of 35 figures walking towards an underwater wall and entrance, a boundary between two realities and a portal to the Atlantic Ocean. The wall, which is part industrial, part organic, stretches 30 metres long and 4 metres high and contains a single rectangular doorway at its centre. The wall is intended to be a monument to absurdity, a dysfunctional barrier in the middle of a vast fluid, three-dimensional space, which can be bypassed in any direction. It emphasises that the notions of ownership and territories are irrelevant to the natural world. In times of increasing patriotism and protectionism the wall aims to remind us that we cannot segregate our oceans, air, climate or wildlife as we do our land and possessions. We forget we are all an integral part of a living system at our peril.
To cross the Rubicon is to pass a point of no return. The work aims to mark 2017 as a pivotal moment, a line in the sand and reminder that our world's oceans and climate are changing and we need to take urgent action before its too late.



Deregulated

Deregulated consists of a children's playground enjoyed by suited businessmen. A swing, a sea-saw, a play dolphin ride all demonstrate the insouciance and arrogance of the corporate world towards the natural world. The sea-saw references a petroleum extraction pump, a comment on the control of these fossil fuels and their unregulated use. The dolphin ride is indicative of the burden we are placing on marine species and its ultimate collapse if left unchecked.


Deregulated

Portal

The Portal depicts a hybrid animal/human sculpture looking into a large square mirror, which reflects the moving surface of the ocean. Forming part of the underwater botanical garden the concept is intended to portray water within water, an interface or looking glass into another world, the blue world. The mirror is elevated on a series of cactus forms which contain a series of small compartments and "living stations" designed to attract octopus, sea urchins and juvenile fish.

The Immortal Pyre

The Human Gyre

The last exhibit in Museo Atlántico is the Human Gyre, over 200 life-size figurative works creating a vast circular formation or gyre. Consisting of various models of all ages and from all walks of life, the positioning of the figures constructs a complex reef formation for marine species to inhabit and is a poignant statement for visitors to take with them at the end of the tour.
The artistic installation reminds us that we have evolved from marine life, and are all subject to the movements and will of the ocean. The piece embodies our naked vulnerability to its inherent power, and our fragility in the face of its cycles and immense force. It provides the oxygen we breathe, it regulates our climate and it provides a vital source of nutrition to millions of people.
A visit to Museo Atlántico may lead us to a closer understanding of our relationship with the natural marine environment and appreciate the need to value and protect this fragile ecosystem in order to save ourselves.

Photo Op


Earlier works installed less than a year ago have seen an increase of over 200% in marine biomass

For further details contact: www.underwatersculpture.com
RELATED ARTICLES
LATEST EQUIPMENT
Be the first to add a comment to this article.
Newsletter
Travel with us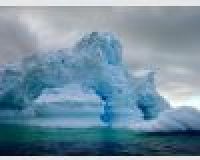 Antarctica
Plan Your Adventure >
Featured Photographer
Thomas Vignaud
Photographer
I'm most of the time trying to shoot "new" things. that means, things I never shot before, or things I already shot with new angle, composition, lightning... I think most photographers do that. I think the...