News
Ikelite Releases Olympus TG-6 Housing with Dome Port for Fisheye Converter
By Ian Bongso-Seldrup, October 6, 2020 @ 11:00 PM (EST)
Ikelite is now shipping its housing for the Olympus Tough TG-6 together with its Dome Port for the FCON-T02 Fisheye. The Olympus attachment offers both circular fisheye (when zooming to the widest position) and diagonal fisheye (when zooming to the x2.0 position), and as such, the setup is perfect for split shots and capturing the biggest wide-angle subjects. The FCON-T02 also allows you to shoot close-ups: When zooming to the maximum focal length, you get the equivalent of a full-frame camera shooting with a 30mm macro lens.
Depth-rated to 200 feet, the ABS-PC blend housing features Ikelite's signature transparent back, hard anodized aluminum and acetyl controls, and large, curved shutter release. Two fiber-optic ports allow for the triggering of strobes via the camera's built-in flash. Ikelite's TTL receiver is required to convert the optical signal to an electronic one for triggering a DS-series strobe, either in TTL or manual mode.
Effectively packaging the company's housing for the TG-6 with the separate dome port for the FCON-T02 Fisheye, the housing and port combination is priced at $549—which is $100 less than it would cost you to purchase the housing and port individually.

---

PRODUCT INFORMATION
Underwater Housing for Olympus Tough TG-6 with Dome Port for FCON-T02 Fisheye
A full featured and durable waterproof housing for Olympus Tough TG-6 cameras. If you're looking to shoot everything from split shots (half-in, half-out of the water) to wide angle fisheye to macro on the same dive then this housing is for you. Recommended for use in conjunction with the FCON-T02 Fisheye Lens (sold separately). Suitable for scuba, snorkel, surf, pool, and any application in or around the water.
This housing has been designed for ergonomic underwater use. A side-mounted shutter lever makes shooting a breeze. Hard anodized aluminum and acetyl controls operate smoothly and are fully serviceable for many years of enjoyment.
Two 1/4-20 mounts on the bottom of the housing allow the rotation-free attachment of optional trays and lighting arms.
Our ABS-PC blend housing material provides strength and corrosion-free performance year after year. The specially formulated color deflects the sunlight to keep your camera running cooler, longer. Durable construction keeps the system watertight shallow and at depths up to 200ft (60m).
Ikelite products are designed, built and tested in the USA. We use locally sourced, top-grade materials. Our housings are built by hand and individually tested for fit, function and waterproof integrity. We back our products with over 50 years of experience and service within the dive industry.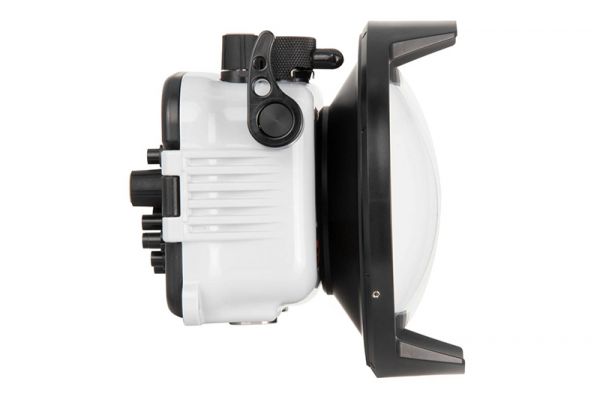 Wide Angle Photography
The FCON-T02 Circular Fisheye Converter (not included) provides a circular fisheye perspective when the camera is set to 24mm, and diagonal fisheye capabilities when the camera is zoomed. The resulting image quality is spectacular; comparable in coverage to a Canon or Nikon 8-15mm Fisheye lens on a full frame DSLR body. It's the perfect combination for ultra wide angle, close focus wide angle, and over-under underwater photography.
The optical grade acrylic dome provides super sharp and bright imaging while being lightweight for handling and travel.
This dome port cannot be removed and replaced underwater. The dome port may be used with or without lens attached. Without the lens attached some reflections may be present when shooting towards a bright light source (like the sun).
Macro Photography
The good news is that you aren't limited to a fisheye or ultra wide-angle perspective. The camera may be zoomed while the lens is attached and can focus up to a 30mm macro equivalent underwater.
The dome port precludes the attachment of external lenses or color filters.
Flash
Due to the position of the camera's flash in relation to its lens, the built-in flash is not suitable to illuminate photos under water. For the best color and clarity, we recommend adding a filter, strobe, or constant-on light. The built-in flash may be used to trigger external strobes via fiber optic sync cord. Two ports are provided for the connection of up to two fiber optic cords.
Any current model Ikelite DS strobe can be triggered fiber optically with true automatic Olympus TTL exposure using the RC1 TTL Receiver # 4412 and Fiber Optic Cord # 4501. The AF35 strobe is not compatible with this housing. Read more about fiber optic strobe options here...
Compatibility
This housing accommodates Olympus Tough TG-5 or TG-6 cameras. However, only the TG-6 camera is compatible with the Olympus FCON-T02 Fisheye Lens (sold separately). This housing is only compatible with Olympus Tough TG-5 and TG-6 cameras as shipped by the manufacturer. Unless otherwise noted, this housing does not accommodate the use of add-on grips, LCD covers, or other accessories.
Differences in lens and control placement prevent other Olympus camera models from being used in or adapted to this housing. We are not aware of any other models which may be used in or adapted to this particular housing.
Specifications
200 ft (60m) depth rating
6" diameter optical grade acrylic dome
Controls for all camera functions except Log Switch
Slightly positive buoyancy in fresh water
Two 1/4-20 thread tray mounts with 3" spacing
1.1 lb (500 g)
6.2 x 5.5 x 3.6" (158 x 141 x 85 mm)
2 year limited warranty
In the Box
Housing
O-ring # 0132.45 (installed)
Port cover # 0200.1 (installed)
Lanyard # 0321.10
Silicone lubricant 1cc tube
Product # 6233.14
$ 549.00

RELATED ARTICLES
RELATED PRODUCTS
Be the first to add a comment to this article.
Newsletter
Travel with us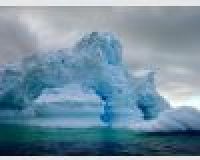 Antarctica
Plan Your Adventure >
Featured Photographer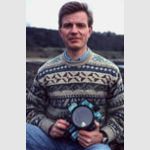 Mark Webster
Expert Photographer
Mark Webster first developed his interest in underwater photography whilst working in the commercial diving industry. This quickly developed from an essential skill to a passion and a fascination for competitive photography....