News
DEMA 2007: DEMA Awards Party, David Doubilet Honored
David Doubilet was one of two recipients of the 2007 DEMA Reaching Out Awards. David, along with dive industry legend Bob Soto, were honored in recognition of their significant contributions to the sport of scuba diving. The DEMA Reaching Out Awards are akin to the diving Hall of Fame. DivePhotoGuide was there covering the award ceremony...
DEMA's Press Release
DEMA is pleased to announce that dive industry icons David Doubilet and Bob Soto are the recipients of the 19th Annual DEMA Reaching Out Awards (ROA). Given in recognition of their significant contributions to the sport of scuba diving, the Awards will be presented on November 2, 2007 at the DEMA Awards Party in affiliation with DEMA Show 2007.

This year's pirate-themed DEMA Awards Party will be the place to be to dine, party and network with other industry professionals and will include a "bounty" of food and cocktails, live entertainment, surprises and fun. The party will officially begin at 7:00 p.m. at the Rosen Centre Hotel Ballroom on November 2, 2007. While costumes are optional, attendees are encouraged to come dressed in their buccaneer best and femme fatale finest as we honor these newest members of DEMA's Hall of Fame. DEMA would also
like to recognize the Party's Gold Sponsor, Cayman Islands, for their participation.

One of the world's leading underwater photographers, Doubilet has shot more than 60 stories for National Geographic magazine since 1972. Doubilet's undersea reporting has taken him to the Red Sea, Pearl Harbor, the South Pacific and beyond. Along the way, he has captured groundbreaking images of great white sharks, flashlight fish, shark-repelling flounders, creatures of the undersea desert, florescent coral (shot with ultraviolet light), World War II wrecks and much more.

Born in New York City in 1946, Doubilet began snorkeling off the coast of New Jersey at the tender age of eight. At twelve, he took up scuba diving and
photography, using a Brownie Hawkeye in a rubber bag as his first underwater camera. Growing up, he spent his summers diving and photographing in New Jersey and working as a dive guide in the Bahamas.

Doubilet's honors include the prestigious Sara Prize, the Explorers Club Lowell Award and the Lennart Nilsson Award. He is an honorary fellow of the Royal Photographic Society of London and was elected to the International Diving Hall of Fame. In 2001, Doubilet was named a contributing photographer-in-residence of the National Geographic Society. Doubilet's books include Light in the Sea: An Undersea Journey, Water
Light Time and The Great Barrier Reef.

Bob Soto stands out as an originator of the dive travel destination, having launched Bob Soto's Diving in Grand Cayman in 1957, the first successful, full-service, full-time dive operation on Grand Cayman Island.

Soto, whose family emigrated from CUBA to the Cayman Islands when he was just an infant, served as a salvage diver for the US Navy during World War II. Having participated in the rescue of a US Coast Guard ship after a collision in the Atlantic, Soto was
decorated by President Harry S. Truman. Returning to Cayman after the war, Soto began a journey that would evolve into one of the world's leading dive operations.

Initially starting with a homemade plywood boat, a surplus air compressor and some early scuba gear, Soto began offering dives to tourists. By 1970, Grand Cayman was known as a desirable destination and Bob Soto's Diving Limited was well established as a major tourism component.

The Cayman Island Government presented its first Marine Conservation Award to Soto for his important
role as one of the country's earliest crusaders for marine conservation laws and a system of protected underwater parks. Furthermore, Soto was instrumental in creating community awareness, championing the need for additional marine parks in the Cayman Islands, and legislation granting the development for the parks, which was successfully passed in 1986.

Soto is the recipient of the prestigious Cayman Islands Certificate and Badge of Honor and the Cayman Islands Chamber of Commerce 1994 Business Community Award. Today, Soto remains active in conservation efforts as a volunteer Fisheries Officer and
involved in diving and water sports issues with the Cayman Islands.
___________________________________
Photos Above:
1. David Doubilet accepts his reaching out award from DEMA's executive director Tom Ingram.
2. Bob Soto accepts his award
3. Jen Hayes, David Doubilet and Wendy Heller hanging at the DEMA Awards Party
4. Dan Orr (DAN), and Keith Sahm (Sunset House, and DEMA board member)
5. Ty Sawyer (Sport Diver) and Michelle
6. Kristin and Drew (PADI) catch themselves a pirate, Captain Tom Ingram from DEMA
7. The girls just enjoying life: Wendy Heller & Jen Hayes
Thanks to Dave and Lorraine Riscinti, from Blue Water Divers (Dave sits on DEMA's board representing the retail category) for inviting us to join their fun table full of New Yorkers and New Jersians. The ironic part is that we see each other more at shows than we do back home.
The DEMA Awards Party was a lot of fun, and we again congratulate David Doubilet on yet another well deserved and pretigious award. David is of course also featured in the DivePhotoGuide PRO Galleries. Spend some time looking at his images and you'll be sucked back into the moment every time.
For more people photos, also see:
People, Players, & The DivePhotoGuide Booth
RELATED ARTICLES
LATEST EQUIPMENT
Be the first to add a comment to this article.
Newsletter
Travel with us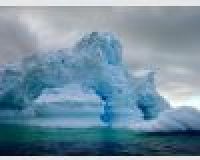 Antarctica
Plan Your Adventure >
Featured Photographer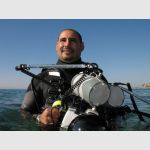 Noam Kortler
Expert Photographer
Noam Kortler is connected to the sea since he can remember him self. he was born on the coast of the Mediterranean sea of Israel and was diving and surfing when ever he could He moved to Eilat, the south popint of israel to...