News
DEMA 2021 Coverage: Part 1
By DPG Editorial Staff, November 24, 2021 @ 07:00 AM (EST)
Editor's Note: In the first part of our DEMA coverage, we pay a visit to the SeaLife and Kraken booths, and also get the latest from show absentees Backscatter, Ikelite and Nauticam.

Waiting for the first attendees to arrive

After nearly two years of uncertainty, lockdowns and travel restrictions, the DPG team were back at the DEMA Show in Las Vegas last week. We finally caught up with some of our friends and partners in the industry to see what the future holds for divers and underwater photographers in these unprecedented times. Companies from all over the world normally travel to the show every year to promote their products or destinations, but government mandates and safety concerns prevented many from attending this year. The event was no more than one third of its normal size, with many well-known exhibitors missing from the show floor.
While it was undeniably quieter than usual, the companies that chose to attend were kept busy and reported doing good business throughout the week. Although the aisles sometimes seem emptier than usual and the social side of the show was much more low key, people were still there to do business, plan future expeditions and get new gear—which is encouraging to hear after so many months of bad news. Normally, we post daily coverage of the show, reporting on the latest gear, popular dive destinations and the infamous DPG/Wetpixel party, but as things were a bit different this year, we decided to wait until the show was over and split the coverage into two parts, focusing specifically on underwater photography equipment and dive travel.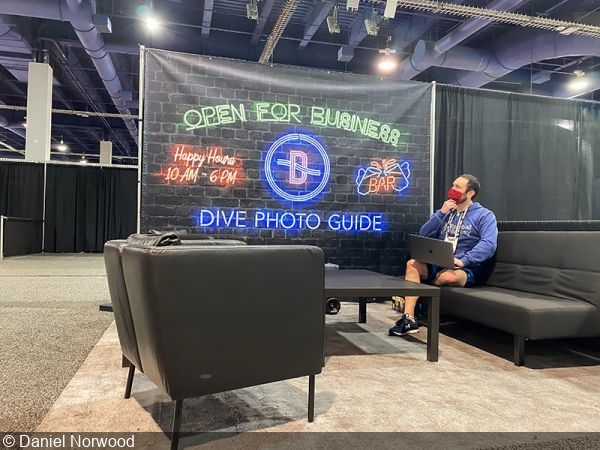 DPG Editor-in-Chief Joseph Tepper ready to host friends at the DPG booth

Sadly, the part of the show that suffered more than most this year was the Imaging Resource Center, and many of the big players in the underwater photography world were absent, including our sponsors Backscatter and Ikelite, and other popular brands such as Nauticam, Isotta, Inon and Seacam. The presentation area was also unusually quiet, with few scheduled talks or lectures, but we were grateful to catch up with the few manufacturers that did choose to attend, and learn all about their latest products and plans for the future. Some of those that couldn't make it were kind enough to send in video presentations instead, so below is a roundup of new gear to get you excited for next year when hopefully we can all travel and dive freely again.

Sven from SeaLife demonstrates how to use the latest Sea Dragon video light
SeaLife
Perhaps the busiest booth of the entire show, SeaLife seemed unaffected by the smaller-than-average crowds, and Sven Harms, Vice President of Pioneer Research (the company behind SeaLife), and his team had people lining up to talk to them about their new gear, particularly their SportDiver underwater smartphone housing and new Sea Dragon 3000SF Pro Dual Beam video light.

The SportDiver smartphone housing alongside the popular Micro 3.0 camera

Although the SportDiver housing has been available for a while, its popularity continues to increase as divers realize it is now possible to capture high-quality images using just their cellphone and an affordable and intuitive waterproof case. The best thing about the SportDiver housing is that it can be used with a multitude of different phones, and as the camera quality and video capabilities of these devices continues to improve, so too does the product's appeal. For $349 you can capture amazing images and video direct to your smartphone and share them with friends or family on social media before the dive boat even arrives back at the dock.
While the housing has worked seamlessly with Apple products since its release, SeaLife has now introduced a new Android app—meaning that almost anyone with a smartphone released over the last several years can now use the SportDiver and dabble in the art of underwater photography with relative ease. Sven was kind enough to send us a housing and accompanying video light recently, so keep an eye out for a holiday season review of this product on DPG next month.

A large banner promotes the SportDiver smartphone housing

SeaLife's new Sea Dragon Pro Dual Beam video light

Aimed at more experienced shooters, the new Sea Dragon Pro Dual Beam light offers 3,000 lumens of power over a wide 120-degree flood beam (90 degrees underwater). At the press of a button, you can lower the power, switch to a 15-degree spot beam (11 degrees underwater), or use a red 88-degree LED (66 degrees underwater) that won't scare away nighttime sea creatures—or blind your dive buddy! Expect this all-rounder to be another popular product in the SeaLife portfolio and consider pairing two of them with your video system for optimum results.

The SeaLife booth also displayed its other popular cameras such as the Micro 3.0 and a new ultra-wide wet dome lens

The Kraken Sports booth decorated with some sweet shark photography
Kraken Sports
Alongside SeaLife, Kraken were the only other underwater imaging retailer to have a proper booth at the show. They were also very busy and had many new products to show off. Among the most recent additions to their ever-expanding catalog were a macro-to-wide conversion lens that converts a Nikon or Canon 60mm macro lens to a 154-degree fisheye lens and is perfectly suited to shooting reef scenes and close-focus wide-angle images. Like other wet lenses, it attaches to the front of your housing using a flip bayonet system. It is neutrally buoyant in the water, making it easy to use, or remove, depending on your chosen subject.
Having the ability to switch from macro to wide angle underwater when shooting a DSLR or mirrorless camera is a bit of a game changer I have yet to experience, and I hope to get my hands on one of these lenses and put it to the test next year.

Kraken Sports ultra-wide angle conversion lens

Kraken are known for their collection of excellent video lights, and the latest addition to the Hydra range is an outrageously powerful 15,000-lumen multicolored monster that features a 120-degree beam (in air) with 11 different power levels and a USB-C battery pack that makes charging easy and convenient. Expect this product to appeal to videographers everywhere and compete with Keldan for a share of the pro market in the future.

The new Hydra 15000 video light alongside its slightly less powerful brother, the Hydra 8000

The Hydra 15000 and other lights were on display on very cool Kraken logo stands

Other additions to the collection include a snoot adapter that threads to the popular 6,000- and 8,000-lumen lights, quick-release ball mounts, and further macro and wide-angle lenses aimed at improving your creativity when taking underwater photos.
Backscatter
DPG's equipment partner made the call not to attend this year's DEMA Show, but with the holiday season coming up, Backscatter is busy preparing tons of great deals on all the latest and greatest gear. Media Producer Robin Dodd could entertain us all day with the cool stuff they have in store, but we asked him to give us just a few highlights.
In the video below, he concentrates on the company's own most recent products, including their Macro Wide 4300 video light, Mini Flash MF-1 compact strobe (as well as their matching Optical Snoot), and FLIP9/10 filter system. Robin also talks about their latest tray and new Arch, and two of their favorite cameras of the moment.

Ikelite
Another major absentee this year, Ikelite made the decision to stay home instead and work on getting out their latest housings—as well as new and updated strobes. In the following video, Vice President John Brigham—who would normally be manning the Ikelite booth at DEMA—offers his take on the most exciting gear on the market right now and how Ikelite is making it easy for shooters to get the best out of it.
John chats about the Canon EOS R5 paired with the 14–35mm wide angle and Ikelite's compact and full dome options, their large-bore M24 accessory port option for hooking up HDMI recorders, and their new mounting bracket for monitors. He also talks about tweaks to their venerable DS160 as well as two brand new strobes, the DS162 and DS230.

Nauticam
Underwater photographers and videographers also greatly missed the Nauticam booth, which is always crammed with housings for exotic cameras festooned with mind-boggling optical attachments. The Hong Kong headquartered company may not have treated us with their presence this time around, but they had plenty to say in the three videos they shared with us below.
In the first video, Hergen Spalink provides a slick tour of Nauticam's new housings for the Sony Alpha 1, Sony a7S III, Canon EOS R5, Nikon D6, and Fujifilm GFX 100S (among various others), including asides on the company's wet optics (WACP, SMC, and WWL) and housings for monitor/recorders.


In the second video, Hergen dives into pro videography territory with a look at Nauticam's new and forthcoming high-end cinema housings for cameras such as the RED Komodo 6K, Canon EOS C70, and Canon EOS C500 Mark II.


Finally, in the last video, we get a detailed look at some of Nauticam's new wet optics and accessories. Hergen covers the company's next-generation viewfinders, new Universal Quadra-Pod Plate filming platform, and Extended Macro Wide Lens (EMWL-1).


In the second part of our DEMA coverage, we catch up with dive operators from around the world to see how they have coped with COVID-19, and to discuss the future of dive travel and their business.

---

When purchasing underwater photography equipment like the products mentioned in this article, please support DPG by supporting our retail partner—Backscatter.com.
RELATED ARTICLES
LATEST EQUIPMENT
Be the first to add a comment to this article.
Newsletter
Travel with us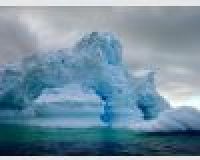 Antarctica
Plan Your Adventure >
Featured Photographer