News
DEMA 2019 Coverage: Part 1
By Joseph Tepper, November 14, 2019 @ 11:30 AM (EST)
Editor's Note: This is the first of four parts of DPG's DEMA coverage. Check out our DEMA 2019 Home Page for a comprehensive look at this year's show.


Life moves pretty fast. If you don't stop and look around once in a while, you could miss it. That advice applies especially to the show floor at DEMA, where manufacturers unveil their brand-new gear at a voracious pace.
That's why DPG has sent not one, not two, but three editors to the show! Editor Andrew Marriott, Photo Editor Dan Norwood and Editor-at-Large Joe Tepper will be scouring the show floor for gear items big and small. Because whether it's an impressively intricate housing or a small, new flash trigger, there's nothing we want to miss.
So here we go. Day one's coverage includes an inside look at the following booths: SeaLife, Sea&Sea, Isotta, and GoPro.

It's happening! DEMA 2019 kicks off in Orlando, Florida
SeaLife
You don't need a massive map to find the SeaLife booth. Seriously—it's located right past the entrance to the show floor rather than in the imaging section. Its location is perhaps emblematic of a strategy to appeal to a wider market than just hard-core underwater shooters through new compact cameras, lighting and other accessories.

DPG Editor Andrew Marriott chats to Lindsay Lynch about SeaLife's latest gear—and reminisces about his first underwater camera!

The SeaLife booth is located right as you walk in the show floor. So why not stop by?

At the center of SeaLife's upcoming lineup is the ReefMaster RM-4K. This much-anticipated compact camera is aimed at bridging the gap from the GoPro throng to dedicated underwater photographers. The 4K/30fps recording specs are on par with other top action cameras. But where the ReefMaster stands out is in underwater performance. The camera features underwater modes and color correction and an ultra-wide fisheye lens. The housing incorporates a significant "moisture muncher" and other design features to limit the risk of fogging caused by condensation due to the heat of the camera.
The ReefMaster can be used solo or with a combination of SeaLife's existing or new accessories. The company is anticipating their setup with their 2,000-lumen SeaDragon light and tray to be popular among other action camera converts. The ReefMaster is expected to be available in mid-December for a base price of $299.

SeaLife's new ReefMaster RM-4K is an power-packed action camera designed for divers

The ultra-wide fisheye lens is ideal for capturing big animals and large underwater scenes

Speaking of new accessories, SeaLife is continuing its efforts to meet the needs of intermediate-to-advanced videographers with the SeaDragon 5000 light. This video light not only gets a boost in lumens—5,000, obvs—but it also has a smaller body, refined form factor and adds red focus lights (which will be incorporated into most new Sea Dragon lights going forward). Demanding shooters will appreciate advanced features like auto flash detection and auto vicinity lighting.

The SeaDragon 5000 adds a red focus light—and just looks so cool

SeaLife's DC2000 setup is still a go-to for many underwater photographers looking for a compact setup
Sea&Sea
Fun fact: Did you know that the iconic Sea&Sea yellow branding was inspired by the famed Beatles' song "Yellow Submarine"? Almost sounds like we made that up—we didn't!
This bright yellow is splashed more than ever on the Sea&Sea booth as part of their efforts to renew and refresh their gear lineup. Noticing that consumers want more basic luxuries from their housings, Sea&Sea has introduced refined features like yellow silicon handle accents to reduce hand fatigue, ball mounts included as standard, and the new Leak Sentinel 6 detection system to secure your precious cargo. In addition to features, the company is dedicated to minimizing the time between a camera's announcement and when you can take it underwater in a Sea&Sea housing.

"We all live in a yellow submarine..."

An up-close look at Sea&Sea's redesigned, silicon grips
The big headline at the Sea&Sea booth is the new YS-D3 "Lightning" strobe, which boasts a recycle time of 1.5 seconds at full power and 0.6 seconds at half power, with no recycle time at quarter power. The strobe might be a follow-up to the YS-D2 J, but it's been completely redesigned. While the previous strobe featured 26 soldering joints, the YS-D3 is completely modular for quick repairs on the fly. The YS-D3 doesn't make the jump to a circular flash tube, but a new lens spreads the native beam (80 degrees) without hotspots, according to the company.
While the strobes have yet to be put in the hands of reviewers, we can already see some features you'll appreciate. Ergonomically, the strobe has increased tapered knob size (power and mode) and a backlit display. Of note, the YS-D3 features a custom mode, which can be modified with a firmware update to match virtually any camera's pre-flash.
Sea&Sea has also added a 1,000-lumen focus light. While this won't be enough to light up a wide-angle video scene, it will be more than enough for a focus light and even to light macro video. The strobe comes standard with a 45-degree ball mount. This automatically situates the strobe at an ideal angle when positioned slightly behind the housing—ideal for wide-angle shooting. Other features include a new bayonet for accessories like a dome filter and a snoot. The YS-D3 is expected to be available in March–April 2020.

DPG Editor-at-Large Joe Tepper is wowed by the new Sea&Sea YS-D3 Lightning strobe. It has a guide number of 33 and runs off just four AA batteries

Sea&Sea has also updated their YS-01 and YS-03 "Solis" strobes with new features like a batter post separator and battery exhaust valve

Dome ports don't often get the buzz at DEMA, but that might change with the new Sea&Sea 210AR port. It's neither acrylic nor glass, but rather made from "Planext," an amorphous bioplastic that aims to offer better performance than optical glass with a higher durability than traditional polycarbonates or acrylics.
The AR in the model name indicates the "anti-reflective" coating inside the dome to help prevent internal reflections. The 210mm size is designed to be smaller and lighter than Sea&Sea's largest dome port while still being large enough not to lose depth of field. The dome will be available in both AR and non-AR versions and comes as standard with a Nauticam adaptor.

It looks like any other dome, but this new "Planext" material might just be the future of underwater optics
Isotta
The Isotta booth had us seeing red. Then, nothing. OK, that was partly my fault for looking directly at the full power test fire of the new Isotta Red 64 strobe. After all, this 270W unit outputs a guide number of 22 in water—let alone a few feet away on land!
But the Red 64 is much more than pure power. For starters, the company has moved the controls on the "underside" of the strobe. It's not really underneath, as most shooters tend to prefer inverting the strobe positioning for wide-angle (and macro) so that the bottom is facing up. The power, mode, and focus light controls are located on the far side of the ball mount, while the output adjustment is located right within reach.

Isotta's Simon Lorenz demonstrates the power and speedy recycle time of their new Red 64 strobe

Joe Tepper (right) recovers from the blinding light of the Red 64 strobe

Isotta has moved the Red 64's controls from the back of the strobe to the "underside"

The Red 64 features a circular flash tube to keep the light quality super soft and wide (130 degrees underwater). Unlike other circular flash strobes, Isotta's is powered by eight AA batteries—arguably making it easier to deal with tricky battery situations in the field. Even without a bespoke battery pack, the Red 64 recycles super quick. We watched Isotta demonstrate continuous shooting up to a guide number of 16. According to the company, the strobe can fire off two shots in one second even at full power.
The Red 64 strobe will be available in the next several months for a price of $1800.

The Red 64 is neutrally buoyant underwater and features a bayonet to add accessories

Many shooters are opting for this bridge handle to secure their strobes and make hand-off easier
GoPro
GoPro took a DEMA hiatus in 2018, but it's back in black for 2019—HERO8 Black, that is. The new HERO8 is the first body redesign in several generations in an effort to allow for body modifications (for topside use). Other topside improvements include HyperSmooth 2.0, TimeWarp 2.0, and SuperPhoto + Improved HDR. More applicable for underwater use is LiveBurst, which captures 90 still images in a matter of three seconds.
Of note, the new HERO8 Black ($399) doesn't come standard with a housing. But since it's only out-of-the-box depth-rated to 33 feet, you'll likely want to add on their Protective Housing ($50), which is good down to 196 feet.

Joe signaling it's time to go up

Without an additional housing, the GoPro HERO8 Black is only depth-rated to 33 feet

Take advantage of the live burst mode to capture events 1.5 seconds before and after the shutter

The masses gather in the hopes of getting a free GoPro...

That's all for the first day of DEMA 2019. And the fun has only just begun! Tomorrow, we will be covering more booths and gearing up for the DPG-Wetpixel Underwater Imaging Party. Hope to see you there! Until then…

What do you call a shark's sunglasses? "Ray"-bans

RELATED ARTICLES
LATEST EQUIPMENT
Be the first to add a comment to this article.
Newsletter
Travel with us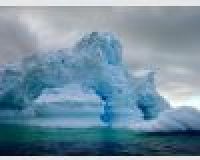 Antarctica
Plan Your Adventure >
Featured Photographer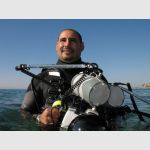 Noam Kortler
Expert Photographer
Noam Kortler is connected to the sea since he can remember him self. he was born on the coast of the Mediterranean sea of Israel and was diving and surfing when ever he could He moved to Eilat, the south popint of israel to...