News
DEMA 2017 Coverage: Day 2
By DPG Editorial Staff, November 4, 2017 @ 12:00 AM (EST)
Editor's Note: This is the second of four days of DPG's DEMA coverage. Check out our DEMA 2017 Home Page for a comprehensive look at this year's show.


Life moves pretty fast. If you don't stop and look around once in a while, you could miss it. The same goes for the DEMA Show. There's so much new gear that it seems like we're always playing catch-up. After a successful first day, we geared up to cover a fresh round of booths, including Ikelite, Ultralight, Intova, Cinebags, Gates, and FIX Neo.

John Brigham from Ikelite shows off their newly announced housing for the Nikon D850
Ikelite
Ikelite is continuing its transition over from their old style housing and port system to the new—and highly reviewed—Dry Lock (DL) port system. By the end of the year, expect to see the new port system retrofitted on popular DSLR housings such as the Canon EOS 7D Mark II and EOS 5D Mark III, as well as Nikon's D810 and D7200.
There are also some overall improvements to Ikelite's housing line including new overmolded knobs that offer beter ergonomics and grip—as well as looking cooler! Ikelite has begun to use more aluminum in certain components, which can decrease weight upwards of 40 percent. Machining the components (opposed to laser cutting) makes them more sturdy and solid.

Always looking to improve their housings, Ikelite has begun using lighter aluminum components to reduce weight

Appealing to the water-sports user, Ikelite has begun to ship some of their housings with only a single handle. But with two handles, you can add on an optional trigger extender that makes it easier to reach without moving your hand.
In terms of new housings, Ikelite remains one of the first-to-market manufacturers. Housings for the Sony a7 III and Sony a9 are both in the works. The Ikelite housing for the a7 III is expected to ship by December, with the a9 housing following by the end of the year. As well, Ikelite aims to accomplish all retrofitting of existing housings with the new, popular port system by the start of 2018.

Ultralight
Ultralight continues to make refinements to their existing accessory and arm products, which were on display at the show. Their updated handle and tray set now comes with only threaded holes—giving the user the option to arrange various accessories. One such option is Ultralight's new lanyard plates with lanyards that are ideal for easy carrying of a housing from compact to DSLR size. Of note, if you wish to have the standard 1-inch ball configurations, the balls will be an additional purchase to be installed in the threaded holes.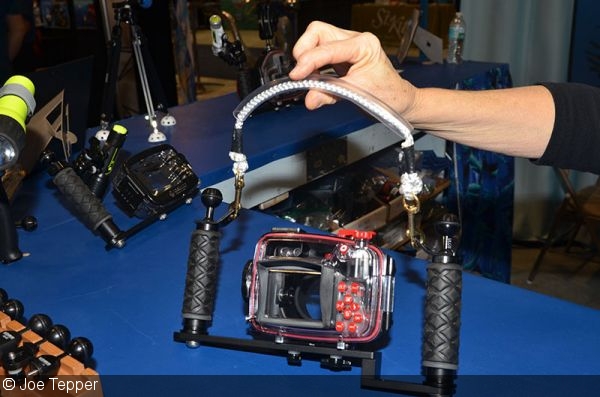 In the future, Ultralight is considering more substantial clips and matching lanyard for larger DSLR-style systems

Utralight's compact tray system is also now compatible with the new Kraken smartphone housings

Looking for a pointer and mounting point as an all-in-one? Ultralight now makes a reef stick with a ball at one end
Intova
Intova is the creator of a line of waterproof cameras aimed mostly at the entry-level market. Their action camera line gets a boost with the new X4K action camera. Named appropriately for its 4K/30p specs, the camera gets improvements in the form of an easier side latch and upgraded memory capability (up to 128GB).

Intova's new X4K puts ultra-high resolution in the hands of beginner underwater photographers

Similar to other action cameras, the X4K features a two-inch touchscreen. The model differs most notably because of its built-in 168-lumen light for close-range subjects. The camera is depth-rated to 330 feet, and if you have accessories from previous Intova action cams, they'll still be compatible.
Intova has also updated its wide line of accessories. A new "selfie" stick is more corrosive-resistant than before. As well, the new "ultramount technology" allows for maximum flexibility and can be found on all of the 2018 accessories.
Cinebags
We all know how cumbersome it can be to carry an underwater housing to the boat or to be in a location without a rinse tank. The Cinebag team has underwater photographers covered with their attractive line of housing bags—or "transport and rinse tanks" as they call them. The latest bag in their line up of multipurpose cases is the Square Grouper. Easily collapsible and compact, the bag serves as a rinse tank and soft carrying case for those that like to treat their gear well.


Cinebags' new Square Grouper is, well, square—and doubles as a rinse tank


A Nauticam housing gets some love in a new Cinebag

Gates
We had the pleasure of learning about some new pro underwater housings at the Gates booth today. The Sony AX700 Z90 housing, the Pro Action and the Pro Explore were all out on display, and we had a chance to go over the main features of each.

Pivoting external monitor capabiltiies

The lightweight Pro Action housing has been designed with freedivers and surf photographers in mind and features a pivoting external monitor for "run-and-gun" shoots. The Pro Action housing is actually the lightest system produced by Gates.

The Pro Explore prototype

The neutrally buoyant Pro Explore was designed for the new RED DSMC2 cinema camera line and has 14 assignable buttons, external monitor pivoting capabiltiies, and media cards and batteries are easily changed in under two minutes. Based on feedback from users, Gates has also added threaded cheeseplates to the top of the housing for easy attachment of polecams and other accessories.


The Gates AX700 housing
FIX Neo
We are going to preface this by saying that this is one of our fave new gear items on display at DEMA this year. FIX Neo's new Premium 40/30 DXII is unique in that it offers "sync flash mode." What this means is that the light (when connected via fiber-optics) can sense when your camera is firing and emits an especially powerful 4,000-lumen burst.

FIX Neo's new Premium 40/30 DX2

This burst can be used with low or high continuous shooting for focus bracketing (super macro) or when you want to take a single image with your video light: The 40/30 also emits a 3,000-lumen wide light for videography.

The new FIX Neo Mini WRS allows the users to switch between spot, red, and a wide-angle (video) light in one compact package

On the more prosumer side, the Premium 1500 DXII features a boost in power and quality—outputting 1,500 lumens at a high CRI of 90

Well, we're wrapping up coverage of DEMA Day 2—but for good reason. In a few hours, it will be time to close the books (on coverage) and open the tap on some drinks for a good time at the DPG-Wetpixel Underwater Imaging Party. Stay tuned for that. Or better yet, stop on by!
RELATED ARTICLES
RELATED PRODUCTS
Be the first to add a comment to this article.
Newsletter
Travel with us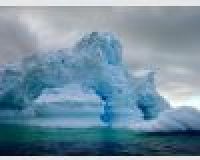 Antarctica
Plan Your Adventure >
Featured Photographer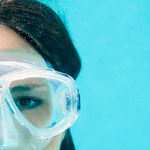 Elena Kalis
Photographer
Over the past few years I have been doing some underwater projects with my children and friends.