News
DEMA 2010 Coverage - Day 2
DEMA carried on today, and Day 2 meant more booth coverage madness for Jason Bradley and Matt Weiss (me). You can check out yesterday's coverage here. Coverage below.
Watershot

Watershot was displaying their line of housings and video lights. The new Watershot housing is for the T2i/550D. Following Watershot tradition the housing is very close to the camera making for a really compact model. It retails for $2500 and comes with a flat port and really nice rubber zoom gear.


Watershot also expanded their lighting lineup with the two new models, both built off the 10 watt light from MCE that gives off around 700 lumens. Their are two models, corded and uncorded. The corded lights run on an lithium ion battery back, while the uncorded has the battery attached. An interesting feature is that additional battery packs can be added to the back of the uncorded lights which allows for additional burn time. You can even recharge the battery of your lights with the extra battery backs. This makes for a modular system where battery packs can be swapped between units easily.


The uncorded lights retail for $699 and the cordeds go for $999 for two heads. The battery packs range from $300-$400 depending on the size.

i-Divesite

i-Divesite is not a company many US photographers know about, but they have some interesting accessory products. They make a 550 lumen light with a 65 degree beam that comes with a YS-mount and retails for $99.


They also have 650 lumen 85 degree LED light that has 4 different power settings and an additional red light setting for timid critters and retails for $350.



Other accessories include anodized arms, a tray designed to be universal with pretty much all housings, and an interesting clamp that is angled to allow 65 degree movement.



Dyron

Dyron is another company that is not main stream in the U.S. yet, but they have some products that will likely interest compact camera users. Dyron makes wet lenses and adapters for compact cameras to use wet lenses. The make 67mm adapter for just about every kind of housing, and now they will also release an adapter for a 77mm macro wet lens that they say removes distortion found in the 67mm lenses.


They also make a nice set of wide angle conversion lenses with glass dome ports.

Along with their lenses they make a set of other accessories including some super buoyant arms that give off 800 grams of lift.


BS Kinetics

Bodo of BS Kinetics showed us their booth with their carbon fiber housing line up. They showed off their universal housing that works with Canon, Panasonic and Sony video cameras. The Sony cameras are attached electronically so you can have full access to the touch screen controls. They have two models of universal housings. One offers access to all controls and the other which only gives access to the basic zoom, on/off, photo capture, white balance, and record.



B.S. Kinetics also had a 3D housing with footage on display. It was good fun to listen to all the "oohs" and "aahhs" of the crowd as they put the glasses on and walked by.

They continue to be the ONLY manufacture that makes housings for Sony SLRs and had a Sony a900 housing on display. In the future they will also be making housings for Nikon and Canon cameras including the D7000 and and 60D



Lastly, they had a RED prototype housing that was only weighed 7kgs.




Light and Motion -

Light and Motion had a booth that was certainly designed to push their new Sola light system. In fact, they are no longer making the Sunray's and only focusing on the Sola line.

The Sola light line now has three different sub lines - dive, video and photo.

Their are three Sola dive lights, The Sola dive 500 with a 500 lumen spot light for $379.99, The Sola Dive 600 that has a 500 lumen spot and 670 lumen flood light, and lastly the Sola Dive 1200 that has a 500 lumen spot and 12000 flood light.




The already wildly popular Sola photo line gets a new edition, the Sola 500 which puts out 500 lumens and loses the red light option but costs $200 dollars less than the Sola 600.


Light and Motion also put out a Sola video light line to replace their Sunray line. It consists of a Sola Video 2000 that gives off 1200 lumens and costs $679 and a 4000 lumen super Sola that costs $1599. The Sola Video 200 is the only light that doesn't have the same body as the rest of the Sola's, as it is much bigger.



The Light and Motion housings have all gone down about $500 in price and the Stingray plus has been renamed the Bluefin.


Patima

Patima has shifted their focus to 3D products and was showing their 3D housing for the Panasonic TM700 and TM750. The 3D housing came in both a vertical and horizontal model. The vertical is used for shooting macro within 2 meters and the horizontal is used for subjects beyond 2 meters. It also has a housed external monitor that can be attached to the housings. The whole system also includes 4x2700 lumen lights and retails for $23,500.



Patima also had on hand their Canon G12 housing that comes with 2 ports including a flat port with a 67mm thread. The G12 housing provides access to the camera's new front wheel and retails for $1,000.



Reef Photo Video

Ryan Canon was on hand to take us through the latest products being carried by Reef Photo Video. He was glowing about the Zen dome ports, and had Jason Bradley pretty excited about them too. Two Zen domes were created for the Olympus PEN housing that only came with a flat port. The DP-100EP is designed for 8mm Panasonic fisheye and the WA-100EP is designed for the Olympus 9-18mm. There is also a flat port made for the Panasonic Leica 45mm macro lens which includes a 67mm thread to add a macro wet lens.


Also on display where the full line of ZEN dome ports designed for SLR housings. They had the mini dome that's only 100mm in diameter and works well with the Tokina 10-17mm fisheye. There is also a 200mm and and 230mm which is a favorite among full frame rectilinear wide angle shooters.
The Zen domes are optically coated both inside and out and have a 99.9% light transmission.

I got to see Inon's new X2-GF1 housing for the first time at the Reef Photo booth, that was fitted with a dome port and LCD magnifier. It looks like a very nice set-up. They also had the new UWL-H100 28LD wide angle lens that is compatible with Canon's popular WP-DC38 housing for the Canon S95.




Lastly, they had a Saga zoomable fiber optic ring flash that looked as weird as it sounds. It reminded me of one of those Komondor mop dogs. The fiber optic cables stretch from the strobe and reached around the flat port. It can be extended or retracted to give of a beam more suitable for either supermacro with a wet lens or macro without one.
Fisheye

Fisheye didn't have their own booth, but was displaying products at their distributor's, Backscatter and Reef Photo Video, booths. They have a new video light with a 95 degree beam angle.


They also had their new compact camera housings for the popular Canon S95 and G12. The housings are incredibly small and compact housings that offer access to every function of the camera including both models front wheel.

The S95 even has a 52mm thread to attach a wide angle wet lens that has no vignetting.



More to come tomorrow!

RELATED ARTICLES
LATEST EQUIPMENT
Be the first to add a comment to this article.
Newsletter
Travel with us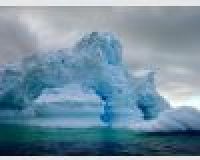 Antarctica
Plan Your Adventure >
Featured Photographer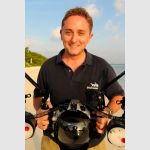 Christian Loader
Expert Photographer
I've been working for Scubazoo Images as a videographer & photographer since 2007. I spent 3 fantastic years based in the Maldives at 'Four Seasons Resorts' and 'Holiday Inn Kandooma', filming and...